The Art of Noticing—Publication Day!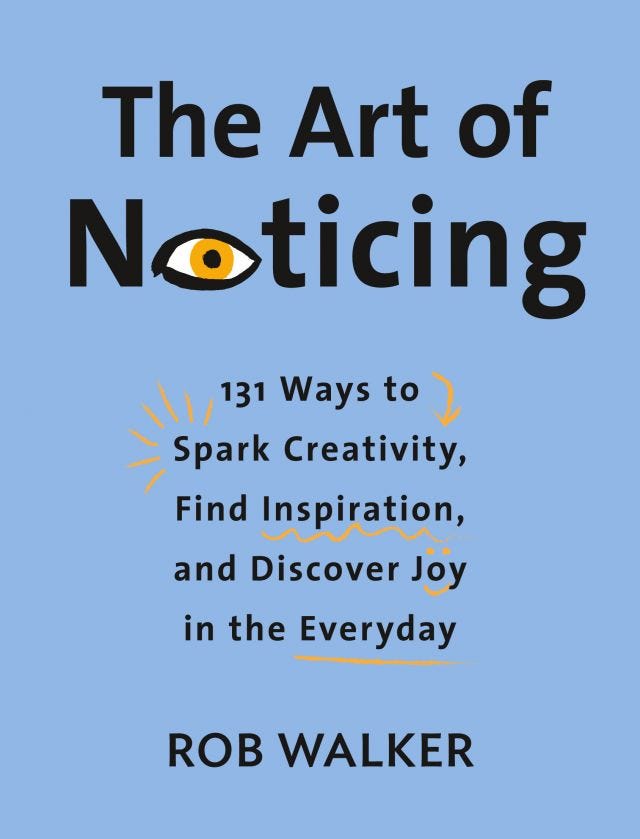 Folks, I am excited:
The Art of Noticing: 131 Ways to Spark Creativity, Find Inspiration, and Discover Joy In the Everyday offers exercises and prompts and games and things you can actually do to build attention muscles, stave off distraction, pick up on what everybody else overlooked, and experience the joy of noticing. And it is officially out today!!

May 7 NYC Book Launch,
w/ Lifehacker EiC Melissa Kirsch!
And to those of you in NYC, here again are details on the official launch event for The Art of Noticing TONIGHT:
Tuesday May 7 at 7pm, I'll be in conversation about the book with the delightful Melissa Kirsch of the mighty Lifehacker. The event is in conjunction with Books Are Magic, and will happen at Warby Parker on 55 Bergen Street in Brooklyn. I'm told there's a nice outdoor space, so let's hope for good weather.

Also there will be "Something to eat and drink." And books for sale! And eyeglasses, I assume. More here.
Twitter | Facebook | Medium | RobWalker.net | NB: I use Amazon Affiliate links.