The Art of Noticing No. 8: Change Your Mind;


Hello again,
Skip ahead if you already know this: The Art of Noticing: 131 Ways to Spark Creativity, Find Inspiration, and Discover Joy In the Everyday (coming in May, but available for preorder: Indiebound, Amazon, Barnes & Noble, Knopf) is a book that presents a series of exercises and prompts and games and things you can actually do (or reflect upon) to build attention muscles or just get off your phone and enjoy noticing stuff that everyone else missed. The book is finished, but I keep coming across new and relevant ideas — either for prompts you can try, or interesting or inspirational projects or writing you can check out. That's what this newsletter is for.
Here goes:
1. Change Your Mind About Something. The other day my wife, E, recommended this Vox essay on "the importance of knowing you might be wrong." I don't think she was trying to make a point about any specific disagreement we'd had. But either way, it's a fascinating (if lengthy) piece, summarizing all kinds of research that essentially argues for "intellectual humility." Vox's Brian Resnick defines this as "the characteristic that allows for admission of wrongness. "
We all, even the smartest among us, need to better appreciate our cognitive blind spots. Our minds are more imperfect and imprecise than we'd often like to admit. Our ignorance can be invisible.
Right after I read this, I read a terrific essay by Anne Midgette of The Washington Post, neatly summarized by the headline: "As a classical music critic, I used to think the 'Star Wars' score was beneath me. I was wrong." It struck me as a great example of intellectual humility. When is the last time you actually just flat-out said, "I was wrong"?

If you're a fan of making New Year's Resolutions in February, consider this one: Try to change your mind about something this year. Make an effort to question things you believe. Maybe "intellectual humility" comes down to noticing or attending to things you'd previously overlooked or ignored or just flat-out failed to understand or even register. That could mean noticing what has changed — even if what's changed is something about you. Think about what you take for granted. Challenge it.



2. "Prompts for Participatory Walks." My pals at Fathomers brought this Kickstarter campaign to my attention:
Elastic City: Prompts for Participatory Walks is a new book that will include instructions (aka prompts) from more than 35 artists' walks along with a section that features the insights and philosophy of Elastic City Founder Todd Shalom, who spent 14 years presenting and refining walks.
Elastic City has a delightful history of commissioning and organizing creative walks, read more about that here. Also part of the book: practical tips for creating your own walks. And the artists involved include Nina Katchadourian and Wayne Koestenbaum, among others. Obviously I backed it, and can't wait to see the book!

3. Icebreaker of The Week: I've mentioned my fondness for creative or unusual icebreaker questions to help foster interesting conversations with new people. I asked for your icebreakers and got several good replies. Keep sending if you've got one!

This week I'm departing from your contributions to pluck one from a recent David Brooks column. Whatever you make of Brooks' politics, I hope you'll allow that his theme of tips for cultivating kindness is well-intended. Among his notions for an imagined get-together that includes people with cultural disagreements:
To start such a gathering, have all participants go around the room and describe how they got their names. That gets them talking about their family, puts them in a long-term frame of mind and illustrates that most people share the same essential values.
4. Random Endorsement: The debut episode of Mad Men — but with all the cigarettes replaced by kazoos. Watch it here. Courtesy of "Cignature Films," a project of MSCHF Internet Studios. Read more on Hyperallergic.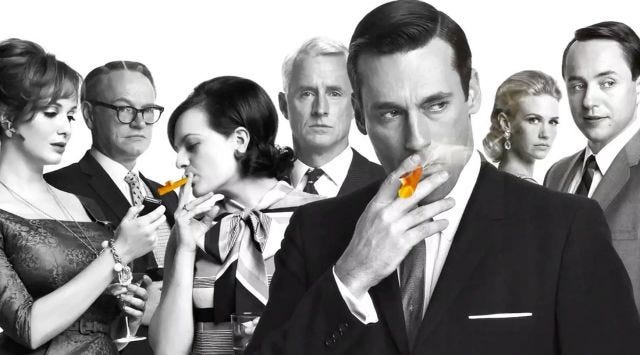 5. A Personal Note: Got my copy of Culture Is Not Always Popular, the anthology drawn from the mighty Design Observer. It looks fantastic, and I'm honored to be included with Allison Arieff, Mark Dery, Steven Heller, Karrie Jacobs, Mark Lamster, Alexandra Lange, Adam Harrison Levy, Mimi Lipson, Phil Patton, Rick Poynor, Alice Twemlow, Alissa Walker, and many more. Details here.

Okay, that's it! As always, I value your feedback (suggestions, critiques, positive reinforcement, constructive insults, etc.), as well as your tips or stories or personal noticing rituals (and your icebreakers). Reply to this email or use consumed@robwalker.net.

Thanks for reading!

rw

P.S. If you enjoyed this, share it and/or sign up here: https://tinyletter.com/robwalker

Twitter | Facebook | Medium | RobWalker.net | NB: I use Amazon Affiliate links in the hope that it will offset the time cost of this endeavor