The Art of Noticing No. 7: Schedule some "deep work" time, and make better small talk

Hello again,
Skip ahead if you already know this: The Art of Noticing: 131 Ways to Spark Creativity, Find Inspiration, and Discover Joy In the Everyday (coming in May, but available for preorder: Indiebound, Amazon, Barnes & Noble, Knopf) is a book that presents a series of exercises and prompts and games and things you can actually do (or reflect upon) to build attention muscles or just get off your phone and enjoy noticing stuff that everyone else missed. The book is finished, but I keep coming across new and relevant ideas — either for prompts you can try, or interesting or inspirational projects or writing you can check out. That's what this newsletter is for.
Note: Due to an unrelated (but bill-paying) deadline, there will be no Art of Noticing newsletter next week! (I have to schedule some "Deep Work.") It will return two weeks from now.

Here goes:
1. Schedule "Deep Work." My editor pointed me to this interview (NYT link) with Cal Newport, author of Deep Work: Rules for Focused Success in a Distracted World. Newport explains: "Deep work is my term for the activity of focusing without distraction on a cognitively demanding task." Here are the two things he said that I like best:
If you want to successfully integrate more deep work into your professional life, you cannot just wait until you find yourself with lots of free time and in the mood to concentrate. You have to actively fight to incorporate this into your schedule. It helps, for example, to include deep work blocks on my calendar like meetings or appointments and then protect them as you would a meeting or appointment.
There's a prompt in The Art of Noticing about "making an appointment with yourself." While I'm more into prompts than rules, I strongly agree that "protecting" such time is vital. If you don't prioritize it, you'll never do it.

And I also like this:
My philosophy is that instead of focusing too much on what's bad about distractions, it's important to step back and remember what's so valuable about its opposite. Concentration is like a super power in most knowledge work pursuits. If you take the time to cultivate this power, you'll never look back.
Yes. We've all spent enough time complaining about distractions; nobody needs to convince you that there are too many of them these days! That's exactly why The Art of Noticing (book and newsletter) is all about being proactive. Noticing is a potential superpower, too! Making an appointment with yourself might just help cultivate it.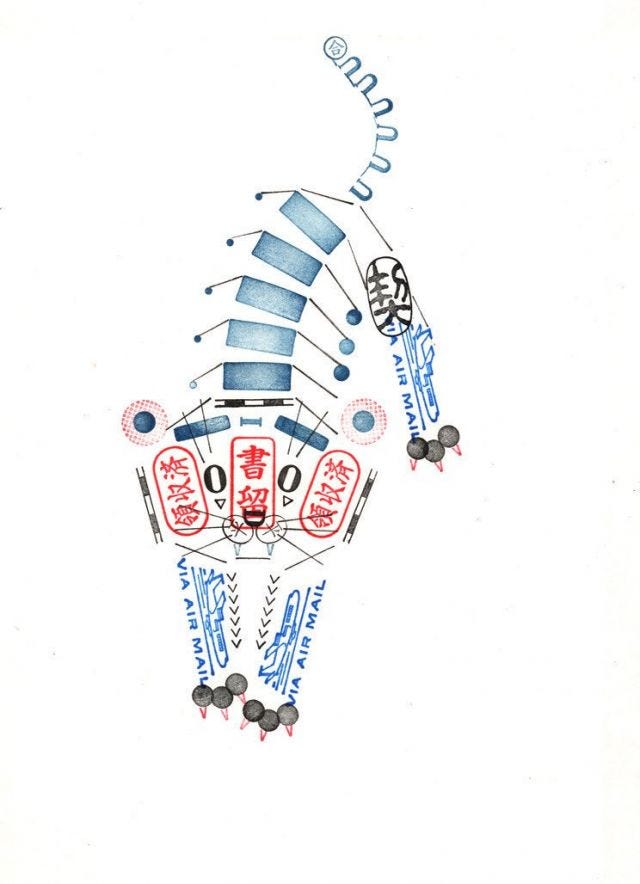 2. Random Endorsement: "Exceptional drawings made using office supply rubber stamps." At left. Via Present & Correct, which I consistently enjoy.

3. Icebreaker of The Week: I've mentioned my fondness for creative or unusual icebreaker questions to help foster interesting conversations with new people. I asked for your icebreakers and got several good replies. Keep sending if you've got one!

Here's one from Jen Mayer: "I like to ask this question, based on the great title from David Foster Wallace: What is a supposedly fun thing that you did — that you'll never do again?"

(She adds that she has two answers: "1. We took the train from Chicago to San Francisco—beautiful, uncomfortable and glad that we did it, but I don't need to do it again! 2. A production company filmed scenes for a TV pilot in our house—some parts were fun, some weren't, we got paid, but too disruptive to do again." Thank you Jen!)

4. Speaking of Icebreakers. The "Quartz Obsession" email bills itself as "a daily deep dive for curious minds," always focused on some single topic or idea and going it from multiple directs: stats, history, tips, quotations, polls, quizzes, etc. Recently there was a good one on "Small Talk," defined as "the words we utter when we're more interested in the act of talking with another person than in the subject of the talk itself."

Some people enjoy small talk, others detest it. I think the ideal stance is to try to view it as an opportunity, and make the most of it — make better small talk! (That's why I'm interested in better icebreakers.) So I was pleased to see Quartz include this bit:
Kio Stark, author of the book When Strangers Meet, advocates the "triangulation" approach to starting conversations. Picture three points: you, the person you're talking to, and a third thing you can observe together: the weather, the food, or some eye-catching artwork in your host's home.
Great starting point! (And yes, of course, Stark is cited in The Art of Noticing, too!)

5. "Architecture of Power." In an earlier issue I mentioned my interest in power lines, and Amy Santee alerted me to this terrific Flickr set by Isaac Sachs. Really wonderful images of something most people would never notice. Recommended! (As a total aside: This made me nostalgic for Flickr. It was so good, once upon a time.) Thank you Amy!



Okay, that's it! As always, I value your feedback (suggestions, critiques, positive reinforcement, constructive insults, etc.), as well as your tips or stories or personal noticing rituals (and your icebreakers). Reply to this email or use consumed@robwalker.net.

Thanks for reading!

rw

P.S. If you enjoyed this, share it and/or sign up here: https://tinyletter.com/robwalker

Twitter | Facebook | Medium | RobWalker.net | NB: I use Amazon Affiliate links in the hope that it will offset the time cost of this endeavor