Discover more from The Art of Noticing
Ideas, inspiration, and provocations for creativity, work, and staying human. From author Rob Walker.
Over 36,000 subscribers
TAoN No. 55: Pay attention to what you care about; care about what you pay attention to
Plus: Stray shoes as inspiration, and a new Icebreaker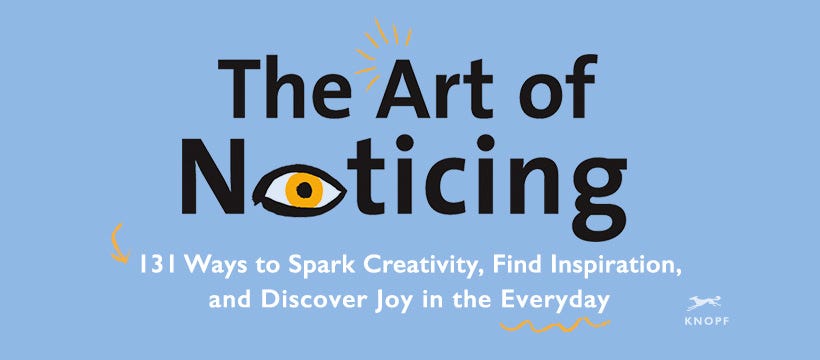 The Art of Noticing: 131 Ways to Spark Creativity, Find Inspiration, and Discover Joy In the Everyday offers exercises, prompts, provocations, games and things you can actually do to build attention muscles, stave off distraction, pick up on what everybody else overlooked, and experience the joy of noticing. Indiebound | Amazon | Barnes & Noble | Knopf. This newsletter offers related news and ideas and noteworthy projects that have come along since I finished the book. ****Subscribe or unsubscribe at: robwalker.substack.com.****
Care About What You Pay Attention To; Pay Attention To What You Care About
[I'm late again this issue! Excuses excuses; I'll try to make this quick & get back on schedule!]
Ever-inspirational Friend of TAoN Austin Kleon had a great post the other day that drew my (ahem) attention to the work of artist Amy Meissner, and specifically a comment she made about a "mending and clothes repair workshop" she was involved in:
"Once you've mended something, if you didn't have sentimental value attached to it before, then you certainly do once you've taken the time to care for it."
While I'm very into that sentiment*, Austin made a connection to The Art of Noticing book that wouldn't have occurred to me.
As I've mentioned before, the book ends with a prompt I got from one of my students. In response to an assignment, he had made a planter for a cactus, which he was now caring for. He'd done this, he said, on the theory that "by nurturing or caring for something, you pay more attention to it." It was an unusual take on the assignment, but a wonderful one.
Pulling on these threads, Austin weaves in some thinking from Alison Gopnik's book, The Gardener and the Carpenter. I recommend reading his thoughts on the connections to care and love in full — especially if you're a parent — but I'm going to go in a slightly different direction.
When the book came out, and I was out meeting people and talking about it, this "care for something" idea — the connection between noticing and attention and caring — came up a lot. Often we end up "noticing" or paying attention to things we really don't care about: They're irrelevant distractions, forced on us through screens or social networks or billboards or whatever. The book was written to help remedy that problem.
And at some point while talking about this I simply blurted out, "Pay attention to what you care about, and care about what you pay attention to."
Or maybe the order was reversed. Or maybe I said "noticing," not attention. Any of those variations work, and in fact I like the flexibility, because the message is fundamentally the same. In fact, in an unprecedented move, I'm going to share a notebook doodle I made at one point that tried to capture what I saw as the pleasing circularity of the idea: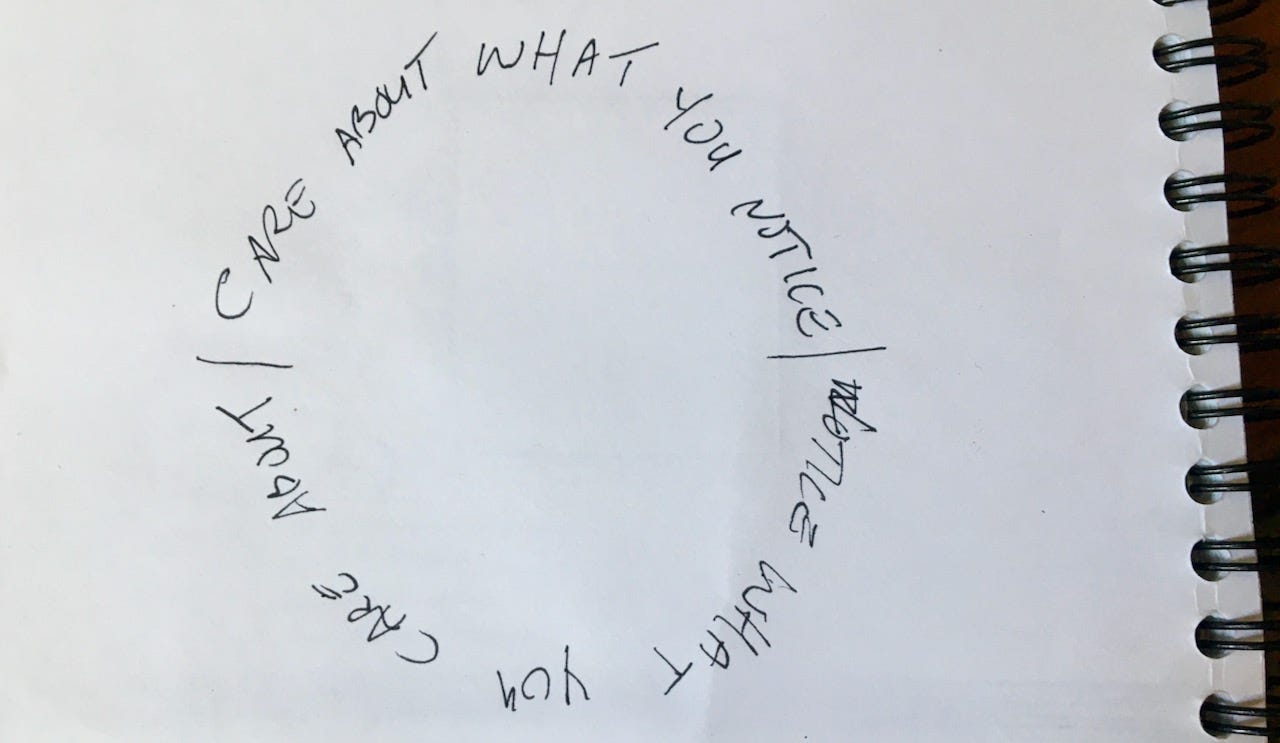 (Now you really have to read Austin's post to see where he lands on the care-and-love connection.) (Also, side note: I think this doodle could be the starting point of a cool sticker — or a coaster! But nevermind that.)
My only regret about this mantra is that, obviously, it's not actually in the book. (Although I have inscribed versions into a few copies at various events!) But upon reflection, I think it's a helpful idea to keep in mind, and ask yourself:
This thing I am paying attention to, do I actually care about it? Did I notice it for reasons of my own, or was I forced to notice it?

This other thing I really do care about — am I giving it the attention I should? (Does it, perhaps, need mending?) Am I noticing what I want to notice?
Try to ask these questions at least once a week.
Thank you, Austin, for inspiring yet again. (Subscribe to Austin's newsletter, read his blog, follow him on Instagram, and above all buy his books!)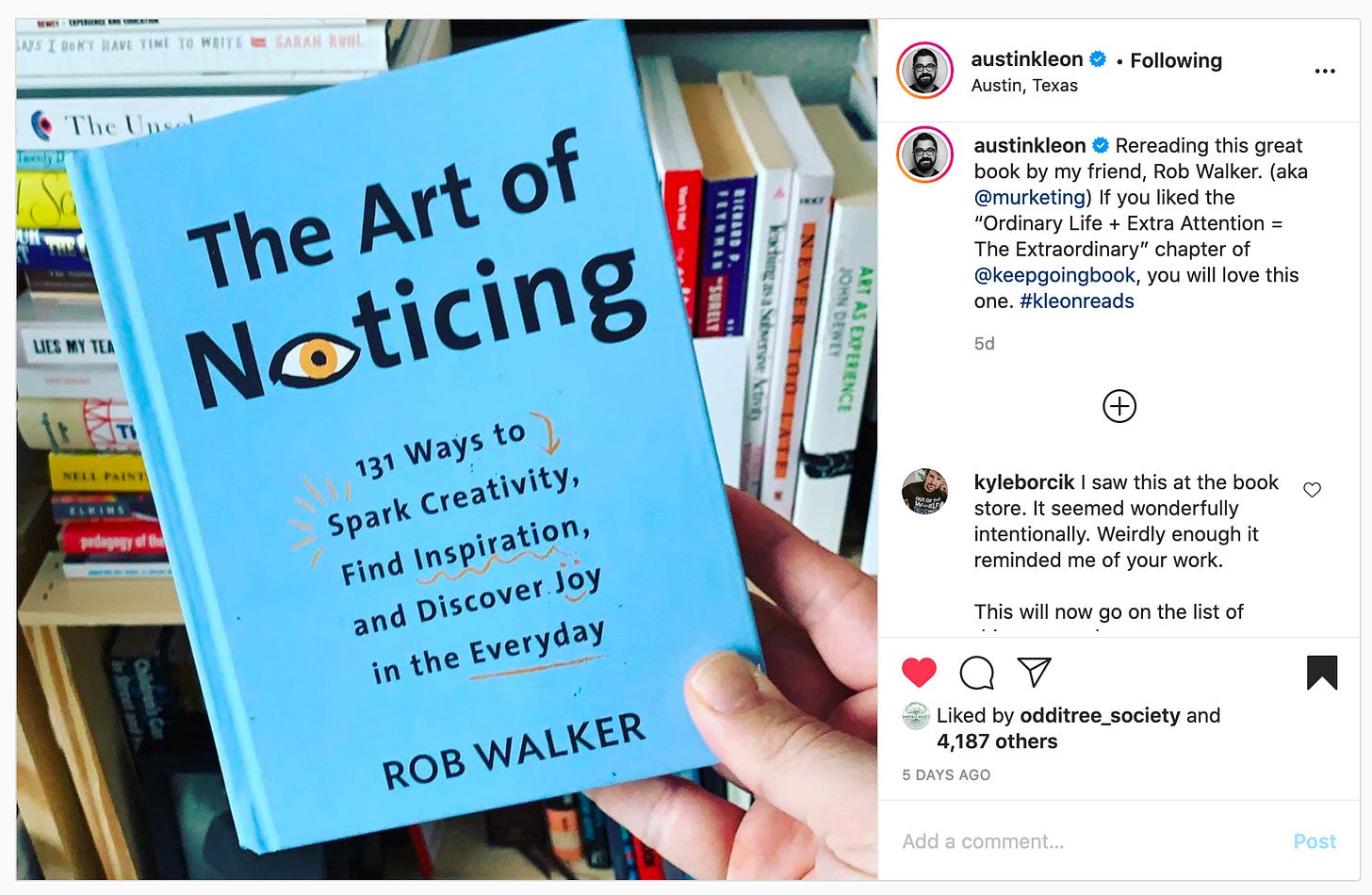 * Some of you you may recall the Unconsumption project; the mentioned workshop's "mend a thing" message would have been on point for that!
---
Something To Notice
"Something To Notice" is a simple suggestion for something you might want to make an effort to notice in the weeks ahead. That's it. This week's suggestion comes from reader Phyllis Thibodeaux Fasel.
A Lone Shoe
Back story: "For decades, I've walked and hiked trails and sidewalks. And driven country roads. Sometimes … more often than seems plausible … I come across a shoe. One shoe. Never a pair of shoes. I make up a story about how each one must have ended up this way. Or about the person who has the other shoe. I don't remember all the shoes or all the stories. But I always remember to take the time to ponder."
I can only agree: I also come across lone shoes, in every neighborhood I've lived in as an adult. I love the idea of inventing stories about them! Thank you, Phyllis!
Have a suggestion for Something To Notice? Tell me: consumed@robwalker.net
---
Icebreaker Of The Week
This week's icebreaker comes from reader Alexandra Carter.
What is a boring fact about yourself? 
Alexandra says this came from a teacher friend, who used it with students in part to "help mitigate privilege inherent in 'what is one interesting fact about you' or 'what did you do over the summer'" sorts of questions. ("I won X championship with my horse, Nibbles," etc.) Asking about boringness is more of an equalizer. Besides:"This gets kids talking, which is fun — real mundane stuff like 'my favorite sandwich is club' or 'I prefer dogs to cats' ends up being a nice way to make connections — and can be sometimes surprising, actually." 
I can only add that coming up with a suitably boring fact may be more of a creative challenge than coming up with an interesting one. I love it. Thanks, Alexandra!
I'm still working through the backlog of icebreaker submissions, but as always, I still want more:
Send your favorite icebreaker (whether you made it up or found it elsewhere) to consumed@robwalker.net
---
In Other News
Okay that's it! Next issue in two weeks.
As always, I value your feedback (suggestions, critiques, positive reinforcement, constructive insults, etc.), as well as your tips or stories or personal noticing rituals, and your icebreakers: consumed@robwalker.net.
Thanks for reading!
rw

P.S. If you enjoyed this, share it and/or sign up here: robwalker.substack.com.
Twitter | Facebook | Medium | RobWalker.net | NB: I use Amazon Affiliate links
All this by Rob Walker PO Box 171, 748 Mehle St., Arabi LA 70032 

Unsubscribe Here if you wish.