TAoN No. 53: Agenda For A Group Walk
PLUS: The sound of thunder, a new icebreaker, and more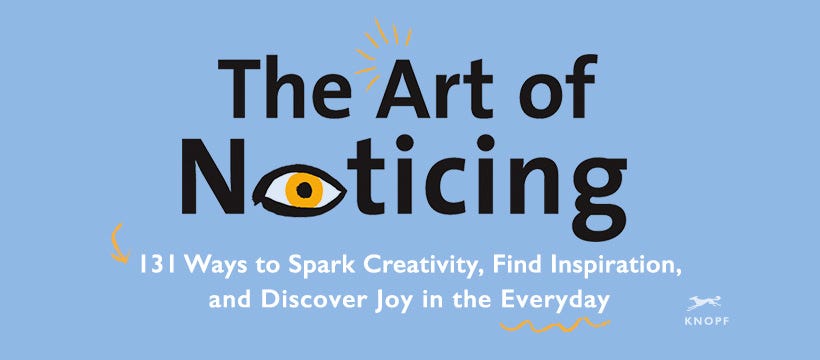 The Art of Noticing: 131 Ways to Spark Creativity, Find Inspiration, and Discover Joy In the Everyday offers exercises, prompts, provocations, games and things you can actually do to build attention muscles, stave off distraction, pick up on what everybody else overlooked, and experience the joy of noticing. Indiebound | Amazon | Barnes & Noble | Knopf. This newsletter offers related news and ideas and noteworthy projects that have come along since I finished the book. ****Subscribe or unsubscribe at: robwalker.substack.com.****
Agenda For A Group Walk
Last year, I was supposed to coordinate a two-hour round-trip hike, working with experts from the Berkshire National Resource Council, in connection with the Solid Sound festival. For personal reasons, I ultimately wasn't able to do this — but I did create a kind of agenda/plan for the hike before I had to beg off.
I came upon that plan recently, and I'm sharing it here, because I think it's not a bad starting point for any group-walk agenda.
It would probably have to be modified or adapted (you may not have an expert guide, for instance). But the only real requirement is that this should be a "destination" walk – you're going to some pre-determined spot, and turning around to walk back the way you came.
As for the "group" element, that may take some forethought to make sure you're observing pandemic safety, but it could just be a family, or a small number of properly distanced friends, or even a group of one. Or clip and save for a group-ier future.
I've modified the agenda slightly, but I've left in the page number references to The Art of Noticing book that I noted to my erstwhile collaborators on this effort. Consulting the book is not necessary, but if you have it, it might add something. Or not. Anyway here goes:
Pre-walk:
 If you do have (or decide to be) an expert, that person should in advance identify a few points of interest worth pausing over, both on the way up and the way back. I note these as Stop 1, etc. below. [The book recommends taking "a walk with an expert" in the exercise on page 106.]
More generally, all participants should prepare to pay attention:
Look out for one thing you've never seen before. 

Keep an eye out for the oldest thing you can spot, and the newest. Think about which will last longer and why. [P89]  

Look for "ghosts and ruins," meaning evidence of change & the past. [P101]

Think about who made the path you are on and why; be on the lookout for what would not be here if this had remained untouched nature.

Imagine that when the walk is over you will make a personal map of the trail pointing out the most interesting parts, for you (include sounds, smells, etc). [P205]
On the way to the destination, stop twice:
Stop 1: 
Point of interest chosen by the expert [or improvise and pick a spot as you go].

Hunt for a sound. "Collect" sounds as you go, from here on out. Keep an ear open to the unexpected.
Stop 2
Point of interest from the expert [or choose your own etc.]

For the rest of the walk in this direction, everyone stays silent. No conversation or chitchat. Just focus. [P181]
Arrive at Destination
Spend the first two minutes maintaining silence, just observe, take in the view or whatever the attraction may be — "look slowly." [P18]

Discuss what you saw during the silent stretch.
On the way back: 
Be alert to smells, and textures.

Consider what object (natural or otherwise) you encounter that you would most like to interview. [P214] 

Try to notice something you missed on the way up.

Take a "sound shot," a snapshot but of sound, using the voice recorder on your phone to capture one minute of sound. Later, send it to someone and see if they can guess where you are/were. [P74]
Stop 1 (Different stops than on the way up) 
Point of interest.

Look up; look further up. [P21]
Stop 2
Point of interest.

Have a No Picture moment: Look for something that would make a terrific snapshot. But instead, just look at it, and try to remember it. [P104]
End: 
Pause a moment, let anybody make any observations they want to (if somebody took and wants to play a sound shot, for example, or bring up results from any of the other prompts above). Take as much time as you need.

Adjourn. 
Going through this, I'm sorry this planned walk never happened. But maybe you'll make your own version happen!
---
Okay That Was A Long Entry!
Notebook-Mining, the calendar challenge update, and other reader feedback will all return next time.
---
Something To Notice
"Something To Notice" is a simple suggestion for something you might want to make an effort to notice in the weeks ahead. That's it. Here's this week's suggestion:
The sound of thunder.
Back story, from reader Page Inman: "One thing I noticed after reading your book was the sound of thunder. I had never really listened to a clap of thunder from beginning to end. It's an interesting sound to follow. Weather sounds are like a mini symphony from wind, rain and thunder." Yes. Extra true here in New Orleans lately. Thank you so much, Page!
Have a suggestion for Something To Notice? Tell me: consumed@robwalker.net
---
Icebreaker Of The Week
This week's icebreaker comes from a tweet by writer and friend of TAoN Ben Greenman:
Dark question, but what song would you like to be played at your funeral?
Check out the answers he got, here. And check out Ben's work in general, he's brilliant!
Next time I'll get back to working through the backlog of submissions, but as always, I still want more:
Send your favorite icebreaker (whether you made it up or found it elsewhere) to consumed@robwalker.net
---
In Other News

@soymajoacevedo, @tandaard_uitgeverij, @toolsforourlife
Okay that's it! Next issue in two weeks.
As always, I value your feedback (suggestions, critiques, positive reinforcement, constructive insults, etc.), as well as your tips or stories or personal noticing rituals, and your icebreakers: consumed@robwalker.net.
Thanks for reading!
rw

P.S. If you enjoyed this, share it and/or sign up here: robwalker.substack.com.
Twitter | Facebook | Medium | RobWalker.net | NB: I use Amazon Affiliate links
All this by Rob Walker PO Box 171, 748 Mehle St., Arabi LA 70032 

Unsubscribe Here if you wish.