Discover more from The Art of Noticing
Ideas, inspiration, and provocations for creativity, work, and staying human. From author Rob Walker.
Over 39,000 subscribers
TAoN No. 50: Against Habituation
PLUS: TAoN eBook for writers; notebook-diving; and a new icebreaker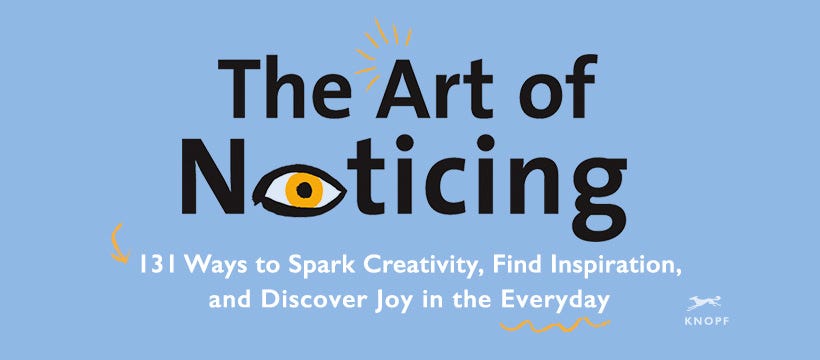 The Art of Noticing: 131 Ways to Spark Creativity, Find Inspiration, and Discover Joy In the Everyday offers exercises, prompts, provocations, games and things you can actually do to build attention muscles, stave off distraction, pick up on what everybody else overlooked, and experience the joy of noticing. Indiebound | Amazon | Barnes & Noble | Knopf. This newsletter offers related news and ideas and noteworthy projects that have come along since I finished the book. ****Subscribe or unsubscribe at: robwalker.substack.com.****
Breaking the Habituation Habit
I've been enjoying a newish podcast from the Freakonomics folks — No Stupid Questions, with Angela Duckworth and Stephen Dubner. It's a half-hour show with a relaxed format: Duckworth and Dubner have very informed, but still casual, conversations about two ideas per episode, broadly drawn from behavioral psychology. It's good listening for my pandeomic-era attention span: smart and provocative, but not exhausting or demanding.
A recent episode focused in part on habituation — which as you may know basically refers to the human tendency to get used to things. A mentioned example: The Holland Tunnel is a miracle of engineering, but if you drive it regularly you take that for granted (and in fact maybe find it a little grubby). You stop noticing the familiar, and focus what's different or new instead.
Clearly habituation is a practical adaptation. For evolutionary reasons, we are wired to clue in to the unusual in order to detect opportunities and threats. We can't all go through life constantly agog at the marvels of indoor plumbing or refrigeration, etc.
But now might be a particularly good time to resist habituation. Many of us have been stuck in sharply limited routines for months. It's numbing. Certainly in my case it's made me absurdly tuned in to finding something, anything, new to appreciate. (Hence last issue's soliloquy on, uh, garbage.)
Duckworth & Dubner chat about reasons to resist habituation and find time to appreciate the good things we've come to take for granted. (They reference the "three good things" exercise: "In this daily reflection, you list three things that went well for you, and why they went well." ) In that spirit, I'll suggest a few noticing and attention prompts, not for daily use, per se, but as one-off exercises in fending off habituation right now:
That last one is the big one, of course: Think of all things we took for granted just six months ago, that we would love to have back. Some day. I hope.
As always, love to hear any interesting results, consumed@robwalker.net. Listen to the No Stupid Questions segment on habituation here; it starts about halfway through the episode.
New Mini-Feature: Notebook-Mining
Recently I devoted some time to cleaning up the "notebook" where I pile up material for big writing projects — which is not a physical notebook, but rather Evernote. (I use physical notebooks for other things.)
Turns out there is a lot of material that I collected over the years leading up to the publication of The Art of Noticing that I didn't use. It's a random assortment, as you'd expect, and obviously some is "old." But a lot of it is still fun and/or useful. So I'm going to start sharing the best of those items here —with minimal explanation, and when appropriate paired with a prompt. Here are a few to get it started.
Art of Noticing For Writers: eBook short for 99 cents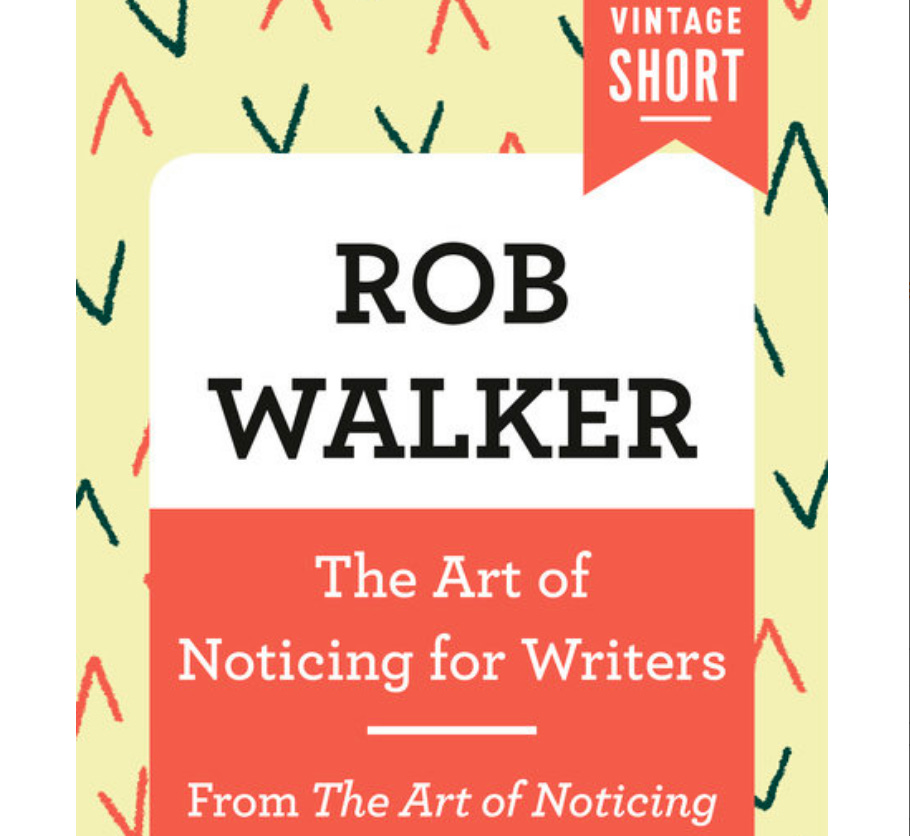 I'm not sure I ever mentioned this, but if I did it's been a long time and there are lots of new subscribers, so: For those of you who have never picked up The Art of Noticing, the book that inspired this newsletter, perhaps you'd be interested in this 99-cent eBook short: The Art of Noticing for Writers.
In the era of white noise, when the ability to be present is often lost, Rob Walker's provocations and exercises will enchant and delight, and help writers of all stripes develop an original point of view.

Drawn from his gorgeous illustrated volume, The Art of Noticing, twenty selections ranging in scope from "Hunt for a feeling" to "Detect imaginary clues" make for an enjoyable cure for writer's block, and a resource that writers of all walks of life will treasure and come to for inspiration again, and again. 
As indicated, this mini-eBook includes 20 of the book's 131 provocations that my editor and I think will inspire and help writers. And it's less than a buck! It's part of a series of eBook shorts for writers, including selections from Anne Lamott and Toni Morrison, all 99 cents each. Buy the Kindle version on Amazon, or see other options here.
Icebreaker Of The Week
This week's icebreaker comes from Yael, on Twitter (via swissmiss).
Without using the title of your job, tell me what you do.
As swissmiss notes, some of the responses are very fun. More about Yael (not someone I know) at Patreon and on Twitter. A great one! (And yes, it's from 2019 — another product of my notebook dive.)
I'll get back to the backlog next time I promise, please be patient if you sent one in that I haven't used yet. That said, as always:
Send your favorite icebreaker (whether you made it up or found it elsewhere) to consumed@robwalker.net
In Other News

@alexandrabemerfalk, @ivonneannajasmin, @pixelsplay_
Okay, that's it! Next issue in two weeks.
As always, I value your feedback (suggestions, critiques, positive reinforcement, constructive insults, etc.), as well as your tips or stories or personal noticing rituals, and your icebreakers: consumed@robwalker.net.
Thanks for reading!
rw

P.S. If you enjoyed this, share it and/or sign up here: robwalker.substack.com.
Twitter | Facebook | Medium | RobWalker.net | NB: I use Amazon Affiliate links
All this by Rob Walker PO Box 171, 748 Mehle St., Arabi LA 70032 

Unsubscribe Here if you wish.