TAoN No. 49: Trash Talk
PLUS: UbuWeb, neighborhood calendar update, and Icebreakers on the job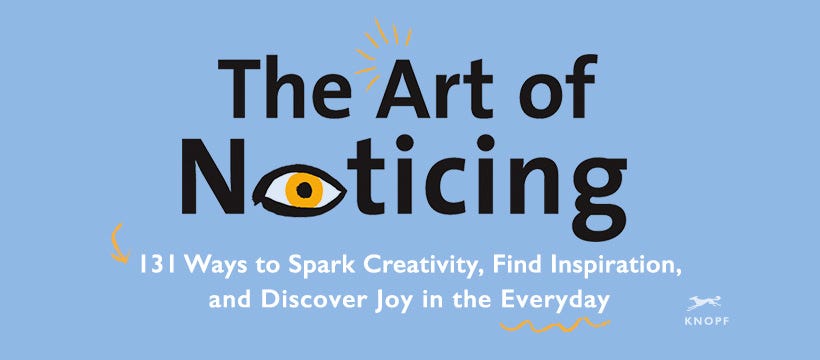 The Art of Noticing: 131 Ways to Spark Creativity, Find Inspiration, and Discover Joy In the Everyday offers exercises, prompts, provocations, games and things you can actually do to build attention muscles, stave off distraction, pick up on what everybody else overlooked, and experience the joy of noticing. Indiebound | Amazon | Barnes & Noble | Knopf. This newsletter offers related news and ideas and noteworthy projects that have come along since I finished the book. ****Subscribe or unsubscribe at: robwalker.substack.com.****
Talking Trash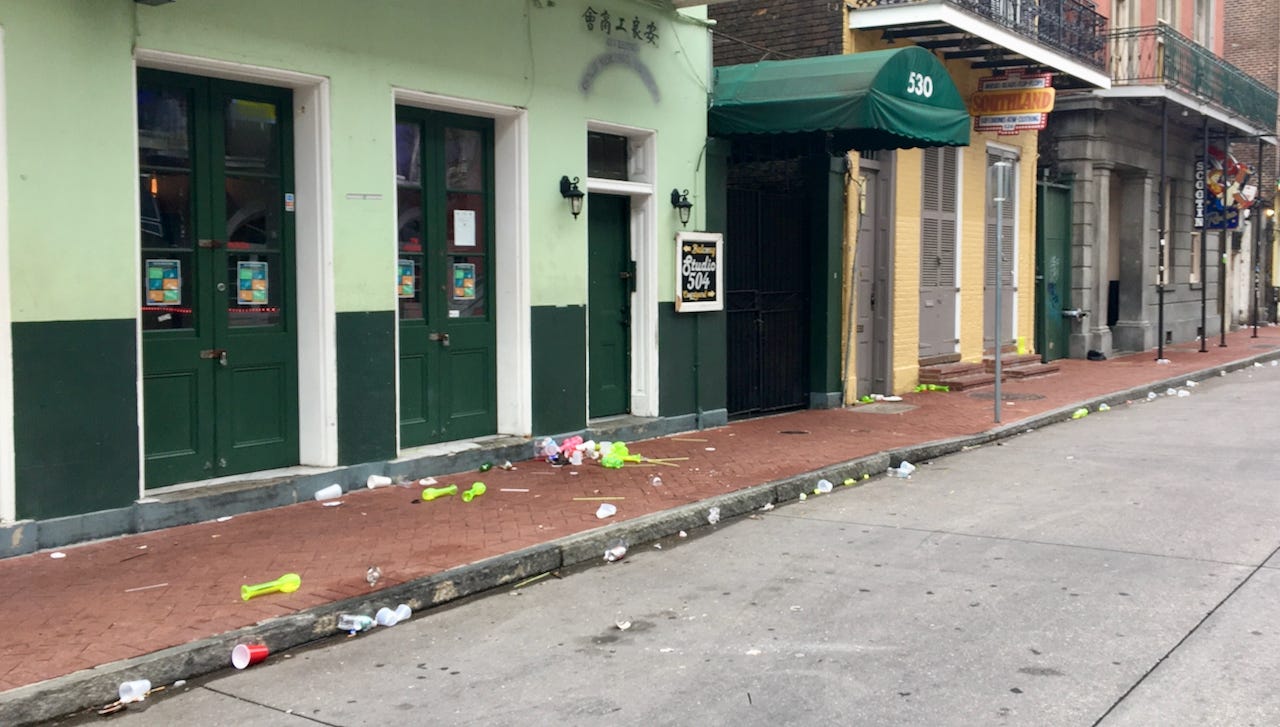 Litter is, at best, a bummer. To the extent we notice it, we wish it wasn't there — maybe we even pick it up, or maybe we just leave the area. Mostly we overlook it. Rarely doese litter seem worth a second thought. But last year, I had an interesting opportunity to consider the meaning of litter. And lately I've been thinking about it again.
I met Corin Gisel, co-founder of design research non-profit common-interest, through SVA's Design Research Summer Intensive a few years back. More recently, they asked me to advise on their thesis work as part of an MA in Cultural Publishing at the Zurich University of the Arts. This involved a deep-dive piece of writing ultimately titled "Engineered Cleanliness."
This (oddly fascinating) research described Zurich's "meticulous measures" to keep the city clean and orderly, "in the name of public safety." There's a lot to this (way too much for me to summarize here) but one of my favorite details involves the city government annually sending workers out to comb through neighborhoods … rating the litter. There are fourteen categories of litter (and other symbols of disorder like grafitti) and everything is rated on a scale of one to five, cross-referenced with a "disturbance factor" rating. Things like chewing gum or cigarette butts are at the relatively benign end of the scale; at the other end are things like syringes and broken glass. The idea is that areas where there's a high concentration of the worst stuff need extra attention — and not just in terms of cleanup.
While I gather Zurich is a very clean city (partly as a result of all this "engineered cleanliness"), I seem to have spent much of my adult life in neighborhoods where litter is part of the scenery. And since reading Corin's work, I've found myself occasionally rating the refuse I encounter while walking the dog, or riding my bike.
I'm not going to call this a fun game because (as noted) litter is a bummer at best. But, thinking about it has made me scrutinize and see things I'd ignored. One example: I distinctly remember the first time I noticed a discarded face mask a couple months back. This symbol of pandemic-era safety had become so commonplace that it had joined the ranks of plain old trash. Good news or bad news? Hm.
Also, since the lockdowns started back in March, I've gotten in the habit of making an early Saturday morning bike trip to the French Quarter — and, gradually, monitoring the litter situation has been part of the point. The snapshot above is from July 4, and I took it because it was the messiest I'd seen Bourbon Street since the old days. This suggested business was picking up; trash as economic indicator. Good news or bad news? Hm.
More recently New Orleans has brought back some lockdown rules, most notably ending to-go liquor sales from bars, closing them altogether. I got rained out of my ride this weekend, but I'm anxious to get back to Bourbon Street — to check out the trash.
For better or worse, you can learn a lot from litter.
Corin's writing on "Engineered Cleanliness" is not yet published as they are busy with other projects — including a forthcoming online design-focused magazine, Futuress, "which will examine the designs that shape our lives, foregrounding the perspectives most often neglected." Learn more about that, and sign up for updates, here. Thank you Corin!
UbuWeb & the 'Magic in the Margins'
Do you know UbuWeb? Founded in 1996 by Kenneth Goldsmith, it's an online "pirate shadow library consisting of hundreds of thousands of freely downloadable avant-garde artifacts." That includes film, music, writing, video, sound, visual poetry, obscure publications and all kinds of expression from the likes of Patti Smith, Samuel Beckett, Marcel Duchaump, Pauline Oliveros, Yoko Ono, countless others. It's one of the all-time great resources of the online world. I use material from UbuWeb when I teach — and it's material I don't think I'd be able to access otherwise. UbuWeb is amazing, unlikely, and vital.
Goldsmith — a friend of TAoN; he's in The Art of Noticing book in two or three spots — tells the story of UbuWeb in his own latest book: Duchamp Is My Lawyer: The Polemics, Pragmatics, and Poetics of UbuWeb. It lays out the site's history, addresses how Goldsmith has navigated (or ignored) intellectual property issues, and sketches the aesthetics and ethos that animate UbuWeb as well as inspirational kindred spirits such as Wobbly and People Like Us.
If you don't know UbuWeb, I recommend spending a little time poking around. It can be overwhelming, so one way to browse is through UbuWeb Top Tens: various people (Maira Kalman, Luc Sante, Wayne Koestenbaum, etc.) listing their favorite UbuWeb artifacts. (I did one of these back in 2012.) It's not that you'll love everything you find — in fact, much of it will be off-putting! But you'll surely find something you do love, and that you never would have found without this site.
As Goldsmith writes in the intro: "While all eyes are elsewhere, magical things can happen in the margins." Words to live by. More about Duchamp Is My Lawyer here.
Icebreaker Of The Week (on the job edition)
I know it's only been a month since this newsletter had an item inspired by Dan Ariely's WSJ advice column — but I can't resist returning to that source for this week's icebreaker.
Responding to a reader's question about how to improve Zoom work-team happy hours, Ariely replies:
"The problem isn't that your co-workers are unusually boring; rather, it's the social norms for your meetings. Research has found that people usually gravitate toward small talk even when they crave connection because sharing important things about ourselves can be socially risky. Talking about unimportant things carries zero risk, but it also doesn't offer much personal or social benefit."
Indeed, Ariely's Irrational Labs conducted experiments via networking events, testing the payoff of using unusually "probing" questions, such as (I've modified slightly):
What's something you would not tell someone about yourself on a first date?
"The results, showed that those who asked deeper questions had more meaningful discussions," Ariely writes. "You could try something similar in your Zoom happy hours by giving everyone a question to ask their colleagues."
Irrational Labs has sets of "No Small Talk" question cards. And, as you may recall: A central collection spot for all of this newsletter's icebreakers to date is here, and there's a free Icebreaker Slack app based on that list, here. (Back story on that here.)
I'll return to sharing icebreakers from the backlog of ideas readers have sent next time. But as always:
Send your favorite icebreaker (whether you made it up or found it elsewhere) to consumed@robwalker.net
In Other News

@counterprintbooks, @tweis74, @tedpoketo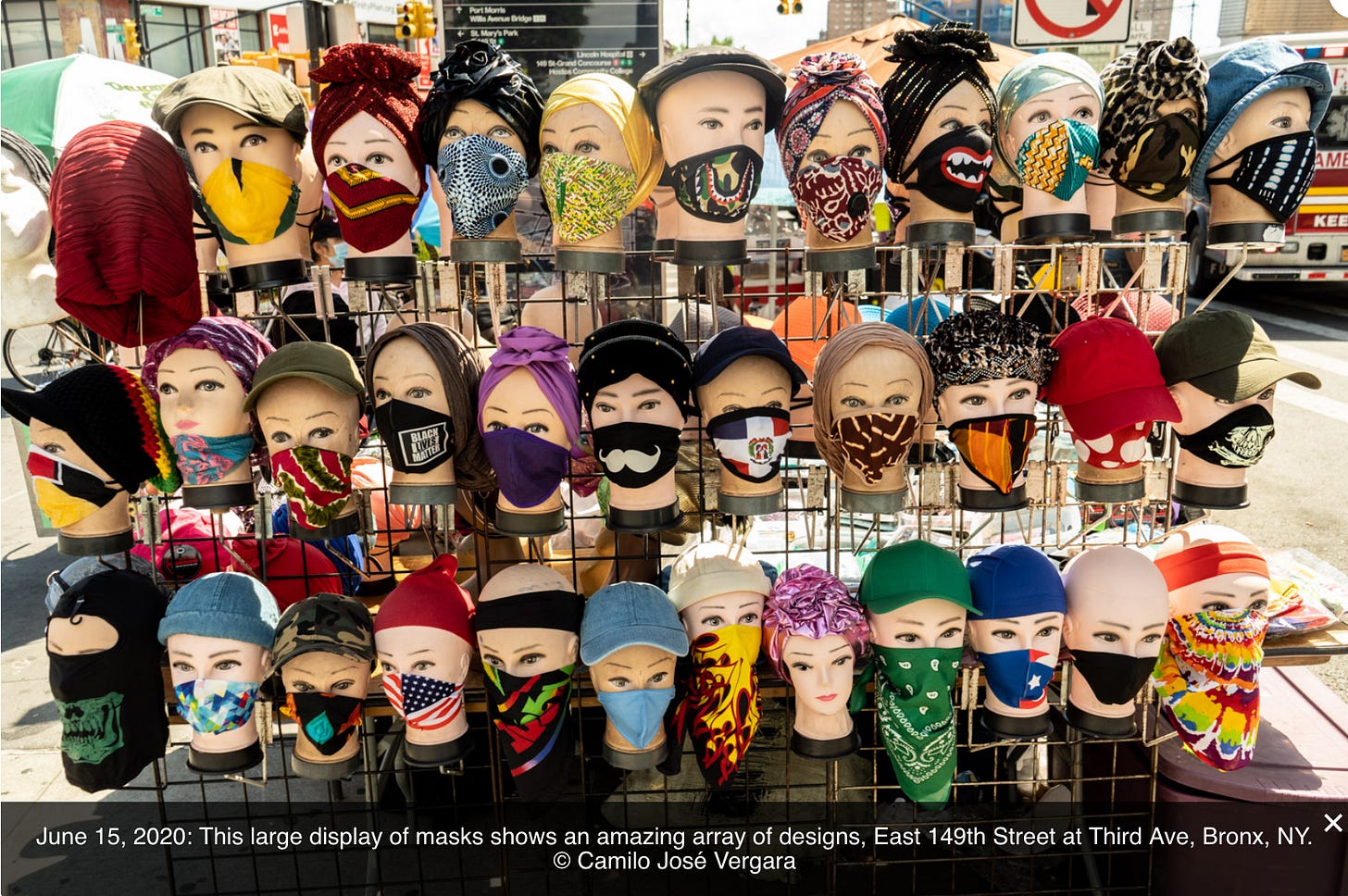 Okay, that's it! Next issue in two weeks.
As always, I value your feedback (suggestions, critiques, positive reinforcement, constructive insults, etc.), as well as your tips or stories or personal noticing rituals, and your icebreakers: consumed@robwalker.net.
Thanks for reading!
rw

P.S. If you enjoyed this, share it and/or sign up here: robwalker.substack.com.
Twitter | Facebook | Medium | RobWalker.net | NB: I use Amazon Affiliate links
All this by Rob Walker PO Box 171, 748 Mehle St., Arabi LA 70032 

Unsubscribe Here if you wish.