TAoN No. 45: Snapshots (but with sound)
PLUS: Drawing dinner, photographing the dishes, and a new icebreaker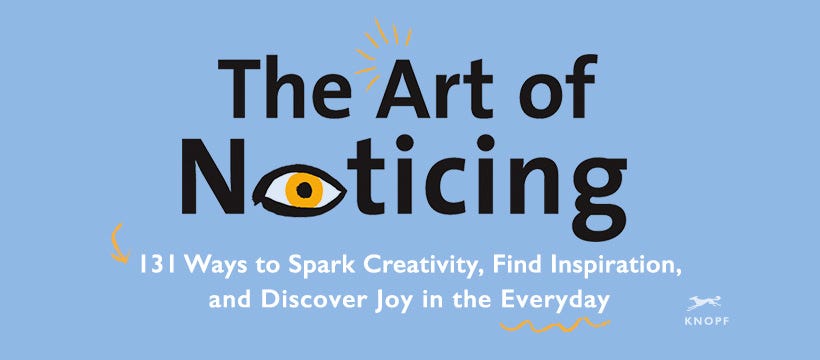 The Art of Noticing: 131 Ways to Spark Creativity, Find Inspiration, and Discover Joy In the Everyday offers exercises, prompts, provocations, games and things you can actually do to build attention muscles, stave off distraction, pick up on what everybody else overlooked, and experience the joy of noticing. Indiebound | Amazon | Barnes & Noble | Knopf. This newsletter offers related news and ideas and noteworthy projects that have come along since I finished the book. Subscribe or unsubscribe at: robwalker.substack.com.
[Note: Sorry I'm running late this week. Like many of you, I am sad and angry and despairing about the ongoing violence against people of color in America, and its consequences. You probably opened this newsletter looking for some brief respite from all the awful news, but since it feels wrong to ignore it altogether I'll just endorse this useful collection of Black voices compiled by Kottke, and add : Please, when the time comes, vote. ]
Snapshots …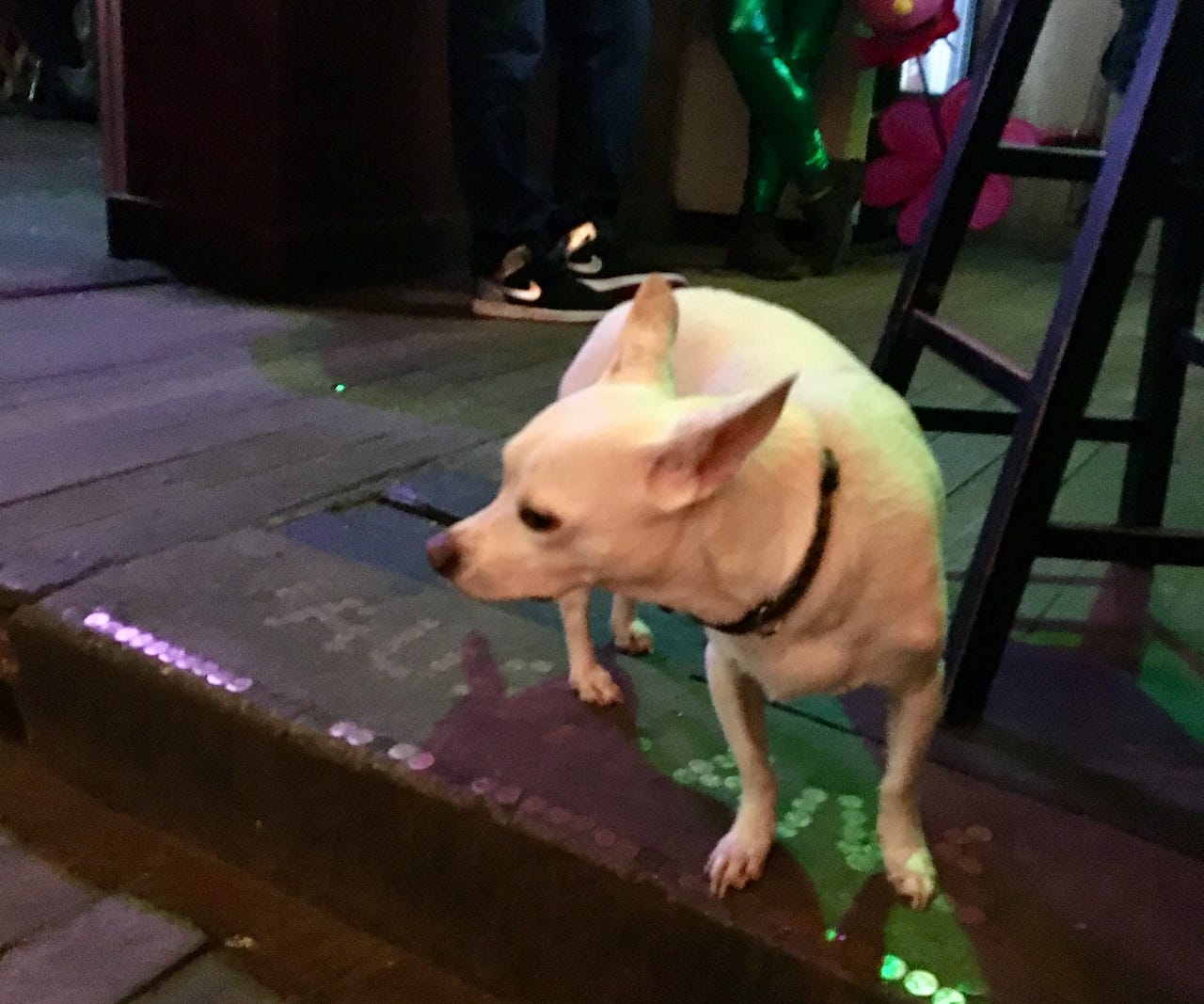 Recently the BBC asked people to perform an interesting reflective exercise: Dip back into that jumble of snapshots so many of us have piled up in our phones, and pick the last "normal" one — meaning the last snapshot reflecting a world that hadn't yet been rewritten by the pandemic.
I liked this idea, and my answer is above. I don't take a lot of pictures, but on February 25, I convinced E to go to Vaughan's for a drink, and I got to enthuse about the bar's resident dog, Chapo. Such a badass! I hope I get back to Vaughan's some day.
Anyway, this got me thinking. What about identifying your first pandemic snapshot? That is, the first picture you took that, directly or indirectly, signals the onset of an era we're still stuck in.
Mine is below — and yes, it's boring as hell. That's the point! It's from March 5, from the locker room of the public pool I used to visit several times a week. By then I was aware that there was a lot of fear of this virus building up, and I was starting to notice little manifestations of concern here and there — like this curiously conspicuous jar of hand soap. It has, to me, become a very poignant image. I had no real comprehension of what was coming. How I wish that this was a picture that I now looked at it simply could not remember why I took it.
So: as a personal, inward-looking prompt that takes you away from the news a bit, dip into that photo archive in your pocket. Find the two pictures that represent "before" and "after" — to you.
… and "Sound shots"
The snapshot exercise indirectly reminded me of "sound shots," and specifically a prompt in The Art of Noticing book. It was partly inspired by Peter Cusack, who has called his documentation of sounds gathered from places or events a form of "sonic journalism." Here's an edited snippet from the book:
Over the course of a day or a month, make a point of using the voice memo app on your phone to take audio snapshots — sound shots, as it were. … Play some for a friend and see if he or she can figure out what they are. Talk about where you recorded them and why. Invite your friend to do the same with you.
Now is a good time to experiment with sound shots. In many places this pandemic moment has a sonic signature. Namely, it's been much quieter than usual. That's why you might think that birds are singing louder (though they probably aren't; thx to the indispensable This Week In Sound for that link).
So on my most recent bike ride to the French Quarter, I paused in a sparsely populated Jackson Square to take a one-minute sound shot. (Again, pretty boring; again, that's the point!) New Orleans is gradually starting to open up, so I guess things will get less quiet. The idea is to capture this particular sonic landscape while it lasts.
The next day I paused on another ride to take a more interesting, and definitely bird-centric, sound shot, in Holy Cross. I think this practice might make me more attuned to notable sounds. I hope to keep it up.
Kitchen Arts ;)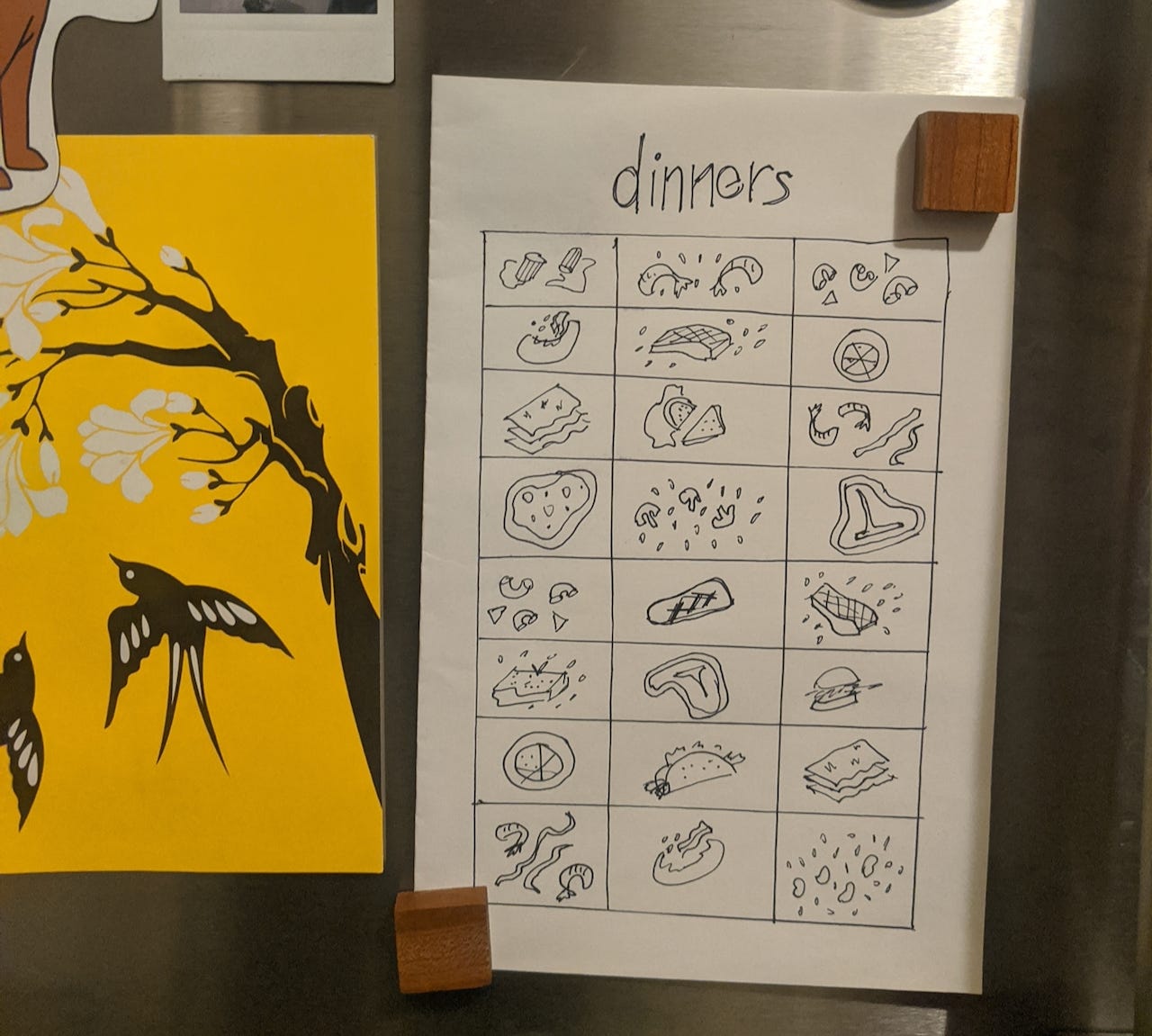 Several items in recent issues of TAoN have addressed very home-based creative projects and prompts — making the most of close observation in the limited domestic spheres many of us have been contained to. So I was delighted when valued friend of TAoN Katelan Cunningham sent me a note: "TL;DR I've started drawing my dinners."
"Since grocery store trips have turned into expeditions, we've started buying enough for 2 weeks instead of just a few days," Katelan explained. "I started writing out our list of dinners after we shop. It makes dinner decisions easier, less food goes to waste because it's all accounted for, and it's kind of exciting..? It feels more like we're picking from a menu." This ritual helped restore a little of the enjoyment that pandemic-enforced planning had stolen from the cooking process.
Then, one night recently: "I made a list after we got a large grocery delivery — but then I decided I wanted to draw out dinner options instead." She continues:
It was freeing not to overthink it. Drawing tomato soup is hard, noodles look like worms, and I can honestly say, I don't think I'd ever drawn a mushroom before. But it was a brief escape into food, one of my favorite places to escape to and one that I was starting to grow numb to.
I love everything about this. And I strongly identify with the way pandemic food planning can be at odds with food enjoyment. It's challenging. Bravo, Katelan!
Then, completely separately, a week or so later, Nick, on Twitter, alerted me to this, which I think explains itself:
Of course that's art. Again: Bravo!
I love hearing about activities or adventures or projects or experiments the book or this newsletter have inspired. Send yours to consumed@robwalker.net, or reach out on Twitter.
Icebreaker Of The Week
There's now a central collection spot for all the icebreakers to date, here.
This week's icebreaker comes from a reader who modestly deflects credit to "the wonderful training team in Bristol City Council, England." 
Describe something that's made you smile today. 
"You get a huge range of responses," my correspondent says. "Everyone smiles along with the stories, and you get a short glimpse of the personal story behind each response."
Yes. And maybe this is a particularly good one to ask right now, when smiles are scarce but valued. Thank you!
I'm still working through the icebreaker backlog, but I'm happy to hear more new ideas! So as always:
Send your favorite icebreaker (whether you made it up or got it elsewhere) to consumed@robwalker.net
In Other News

@blandynalidia, @counterprintbooks, @contrarians_bookshelf
Okay, that's it! Next issue in two weeks. Let's hope the world improves by then.
As always, I value your feedback (suggestions, critiques, positive reinforcement, constructive insults, etc.), as well as your tips or stories or personal noticing rituals, and your icebreakers: consumed@robwalker.net.
Thanks for reading!
rw

P.S. If you enjoyed this, share it and/or sign up here: robwalker.substack.com.
Twitter | Facebook | Medium | RobWalker.net | NB: I use Amazon Affiliate links
All this by Rob Walker PO Box 171, 748 Mehle St., Arabi LA 70032 Unsubscribe