Discover more from The Art of Noticing
Ideas, inspiration, and provocations for creativity, work, and staying human. From author Rob Walker.
Over 39,000 subscribers
TAoN No. 42: Remember Something for the Rest of Your Life
Plus: Upbeat walk assignments, a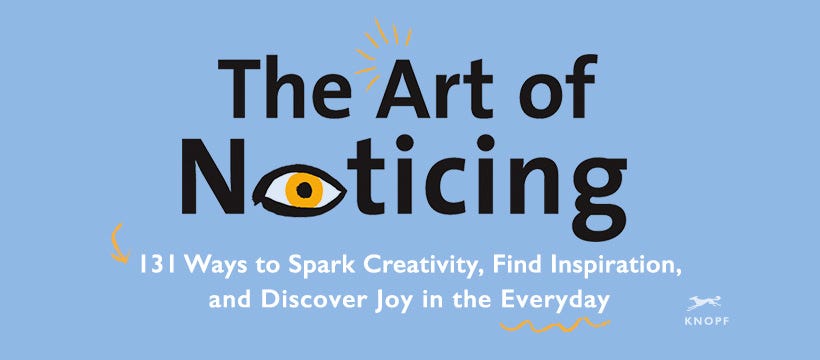 The Art of Noticing: 131 Ways to Spark Creativity, Find Inspiration, and Discover Joy In the Everyday offers exercises, prompts, provocations, games and things you can actually do to build attention muscles, stave off distraction, pick up on what everybody else overlooked, and experience the joy of noticing. Indiebound | Amazon | Barnes & Noble | Knopf. This newsletter offers related news and ideas and noteworthy projects that have come along since I finished the book. Subscribe or unsubscribe at: robwalker.substack.com.
Remember something for the rest of your life
You hardly need me to tell you about Lynda Barry. Everybody loves her, probably including you! And that's deserved, as she proved yet again in a recent-ish interview on Bullseye that I keep thinking about and can't resist bringing up. Here's the bit that got me. Barry says:
Remember when you're a kid and you suddenly understand the concept of 'for the rest of your life'? When I first understood that concept I said to myself: 'I'm going to remember something for the rest of my life!' And it was just — there was a fence that was across from me when I made that vow. So that's what I chose to remember. And I still do remember this fence. From when I was like four!
And then she laughs. She goes on to talk about getting older and reading and choosing comics that she would read "for he rest of her life," and so on (Of the ones she chose, only Family Circus remains.)
It's all very light and charming. But I think it's also really quite beautiful. I love that some random fence became a thing she remembered for the rest of her life — because she made it so. I mean, why not?
So I recommend you get that framework in your head — "for the rest of my life." Try to capture the childlike discovery of that idea that Barry describes. Use this when you consider things you see, sounds you hear, at home or in the world, even tiny encounters you may have with people you see every day, or a stranger in the park. Think about what you want to remember, to hang on to, to not forget.
And then go ahead and do it. Pick something to remember for the rest of our life. That's all.
New Walk Assignments: Nature, Improvement, Hope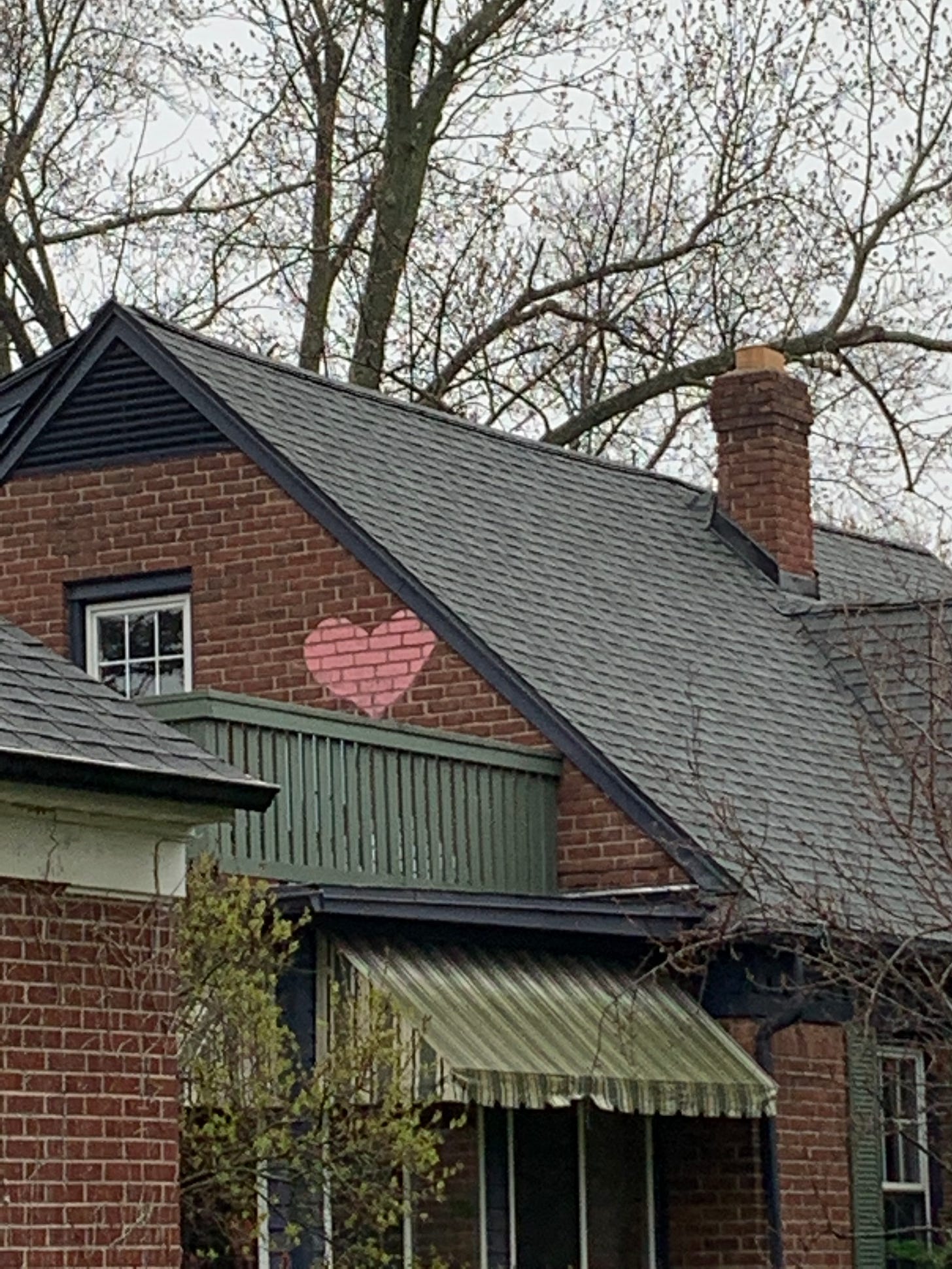 Photo courtesy of reader JW, from her hope walk.
I often note my habit of informatlly "hunting" for things — specific recurring objects, colors, numbers, etc. — as a way to enhance a walk. Lately I've gotten interested in hunting for more abstract things. Such as nature, improvement, and hope.
It's been widely observed that the retreat of humans from the streets and sidewalks of cities and towns has led to a lot more renegade nature — animals showing up in unexpected places, for example. Or maybe just elements of nature that were always there are now more apparent. For instance, a recent NPR piece (via This Week In Sound) mentions that "birdsong is more noticeable right now because noise pollution levels are down." So: look for nature where it didn't used to be.

Lower noise pollution seems like an improvement — and this column in the Los Angeles Times explores the return-of-nature idea as part of a retreat of human-made problems, leading to, say, bluer skies than some cities have seen in ages. Look for improvements. Does your sky seem clearer? Does the air feel fresher?

Just as I was thinking about all this, I got a lovely email from reader JW, who wrote: "I recently took an early morning walk around my neighborhood. As I wandered I decided to document signs of hope." What a great idea. I'm sharing one of JW's pictures above; thank you, JW. Look for hope.
Icebreaker Of The Week
There's now a central collection spot for all the icebreakers to date, here.
I've mentioned friend of TAoN Ingrid Fetell Lee's appealing book, Joyful. Recently, she wrote on her terrific related blog, Aesthetics of Joy, about "joyful ways to change the subject." You know, if there's some all-consuming subject that you're tired of but nobody seems to be able to stop going on about.
One way, in short, is to start another conversation. Ingrid suggests a couple of examples, drawn from her Joyful Conversation Starters Guide, a set of "36 prompts to help you change the subject and bring more light and laughter to your conversations." Here's one that might be particularly interesting now — although it might not change the subject, so much as reframe it:
What's something new you've learned about yourself in the last three months?
"This question offers a gentle way to zoom out from what's happening in the moment and reflect," Ingrid writes. Read the rest of her post here, and download her (free) Joyful Conversation Starters guide here. Her book is Joyful: The Surprising Power of Ordinary Things to Create Extraordinary Happiness.
I'm still working through the icebreaker backlog, but I'm happy to hear more new ideas! So as always:
Send your favorite icebreaker (whether you made it up or got it elsewhere) to consumed@robwalker.net
In Other News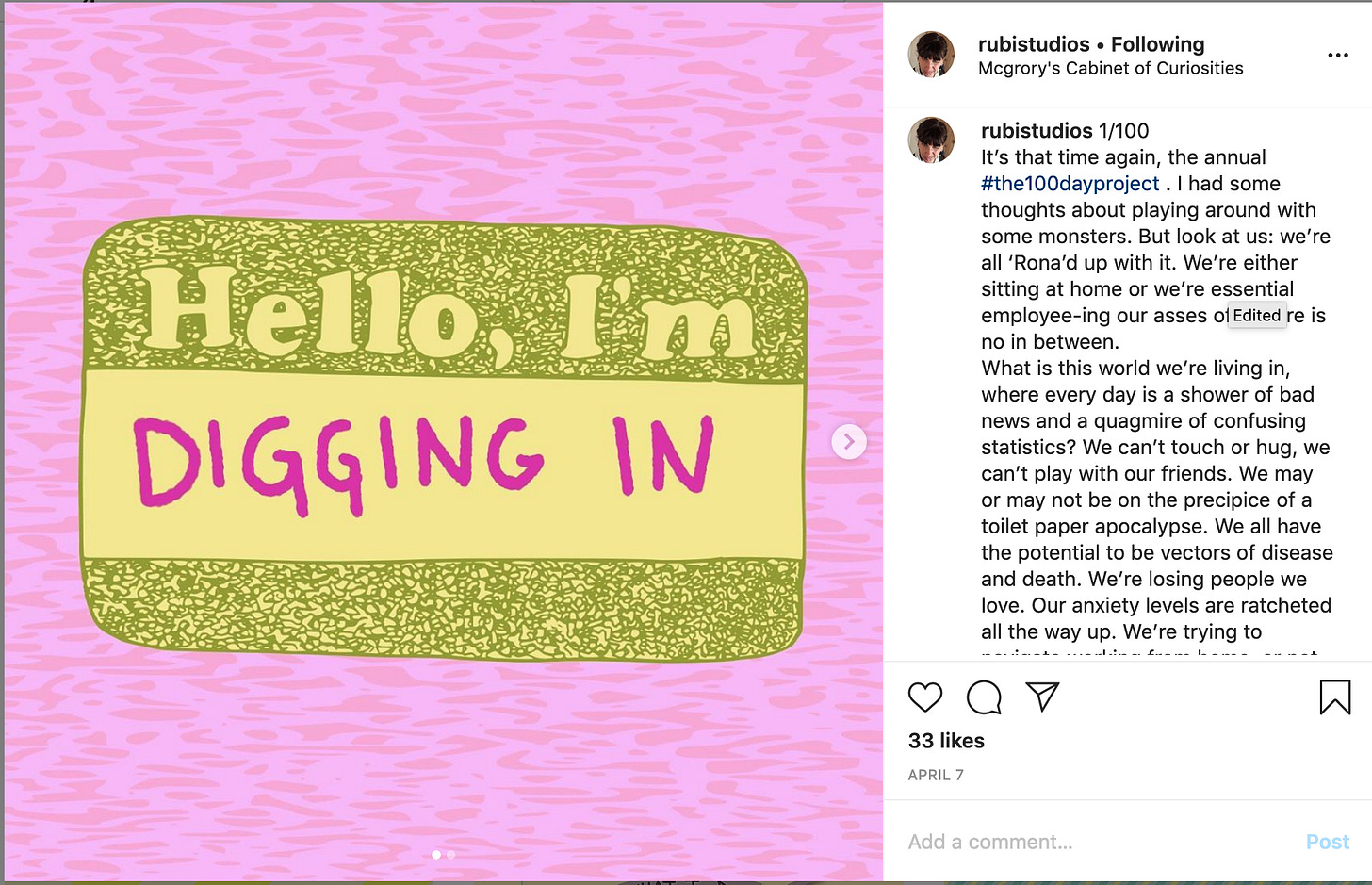 #100daysofwhatevermovesme from @rubistudios, 1/100
Okay, that's it! And I'm now back to the regular schedule, so next issue in two weeks, not one.
As always, I value your feedback (suggestions, critiques, positive reinforcement, constructive insults, etc.), as well as your tips or stories or personal noticing rituals, and your icebreakers: consumed@robwalker.net.
Thanks for reading!
rw

P.S. If you enjoyed this, share it and/or sign up here: robwalker.substack.com.
Twitter | Facebook | Medium | RobWalker.net | NB: I use Amazon Affiliate links