TAoN No. 41: Indoor (Bonus) Issue
Plus: Make Bad Art; Taking a Blue Walk; and a New Icebreaker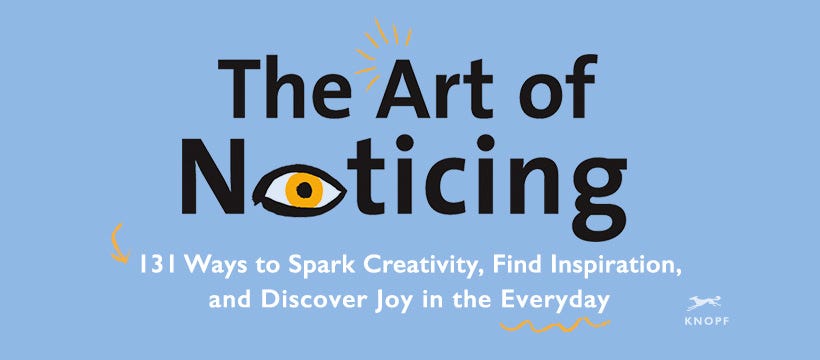 The Art of Noticing: 131 Ways to Spark Creativity, Find Inspiration, and Discover Joy In the Everyday offers exercises, prompts, provocations, games and things you can actually do to build attention muscles, stave off distraction, pick up on what everybody else overlooked, and experience the joy of noticing. Indiebound | Amazon | Barnes & Noble | Knopf. This newsletter offers related news and ideas and noteworthy projects that have come along since I finished the book. Subscribe or unsubscribe at: robwalker.substack.com.
The Indoor Roundup
What we have here is a bonus issue. I'm not planning to go weekly permanently. But last time I mentioned I'd started working on an indoor-centric roundup of ideas from The Art of Noticing book, and got distracted with all the looking-out-the-window possibilities. Well, here is a fuller list, heavily condensed from the book versions, and tweaked as needed. Some may be good for families, others better for individuals. Here goes.
Look Slowly: Pick five "works of art" you own — paintings or posters or photos or whatever is on your walls. Look at each one for ten solid minutes. See what you notice, and how this exercise changes the familiar. If there are others in your household, have them do this too, either with the same works or different ones. Discuss. If you're alone, write out your observations, as a document of this time.

Make It Art: Usually this exercise involves noticing something interesting out in the world and declaring it to be art — sort of in the tradition of Duchamp signing a urinal. You can do this indoors, too. Re-examine your own highly familiar environment, and spot the "art" you'd overlooked. Art is everywhere, if you say so.

Sketch A Room You Just Left: Take in the room you're in. Now go to another room and sketch the layout of the space you just left, in as much detail as possible. Particularly interesting, perhaps, for a room you believe yourself to be very familiar with. Go back and see how you did.

Cover 4'33": In the tradition of the John Cage composition (a piano not played for four minutes and thirty-three seconds), spend that amount of time not playing an instrument, or speaking. Just be still, and listen. Record this "performance," and share it online. Do it again tomorrow, or a week from now. See what's different.

Make An Audio Inventory: Take note of every sound you hear (or as many as you can, or find notable) over the course of a day.

Review the Everyday: Write a five-star Yelp-style review of an object you have owned for years. Now do the same, but for a one-star item (perhaps more recently purchased).

Make a Sensory Map of Your Living Space: Collect tactile sensations, toggling between things you naturally touch, and touching things you normally wouldn't. Now explore the smells of the space. Now focus on interior sounds, however small. Taste is hard (this is no time to start licking the furniture!), but try to be alert to the places where the edible resides, and whether, say, the kitchen table is a site of savory snacks, while the couch hosts sweet treats. Map your findings.

Change the (Time) Scale: Look for the oldest thing around you. Now the newest. Consider which will outlast the other, and why.

Think Outside the Five Senses. You don't have to touch an open flame to feel its heat. That's because of a sense called thermoception, the ability to detect temperature differences. Close your eyes and bring your finger almost to your nose. This is called proprioception, our sense of bodily spatial relations. Then there's nociception, or the detection of pain. Duchamp endorsed the poetic idea of the "infrathin" — sensations or qualities that are outside the five senses, that represent "states between states," as Kenneth Goldsmith once put it. Look for the infrathin!
Okay that's probably enough for now. Maybe I'll do a sequel later. Or you could always get the book, there's much much more there ;)
Make Bad Art
The Washington Post recently offered "5 tips to spark your creativity while working alone, from artists who do it all the time." Lots of good practical ideas, but my favorite bit is a side comment quote from the always-entertaining artist and writer (and friend of TAoN) Dean Haspiel: "A lot of bad art is going to come out of this nightmare — including my own — and that's okay."
This is funny, but it's also really smart. Now is a great time to experiment creatively without worrying about "getting it right." Give yourself permission to just do something different, something you've never done and frankly lack the skills or training to attempt. Write a bad short story! Make a bad painting! Maybe you'll surprise yourself. If not, what have you lost? Nothing.
Field Report: Take A Themed Walk (or Hunt)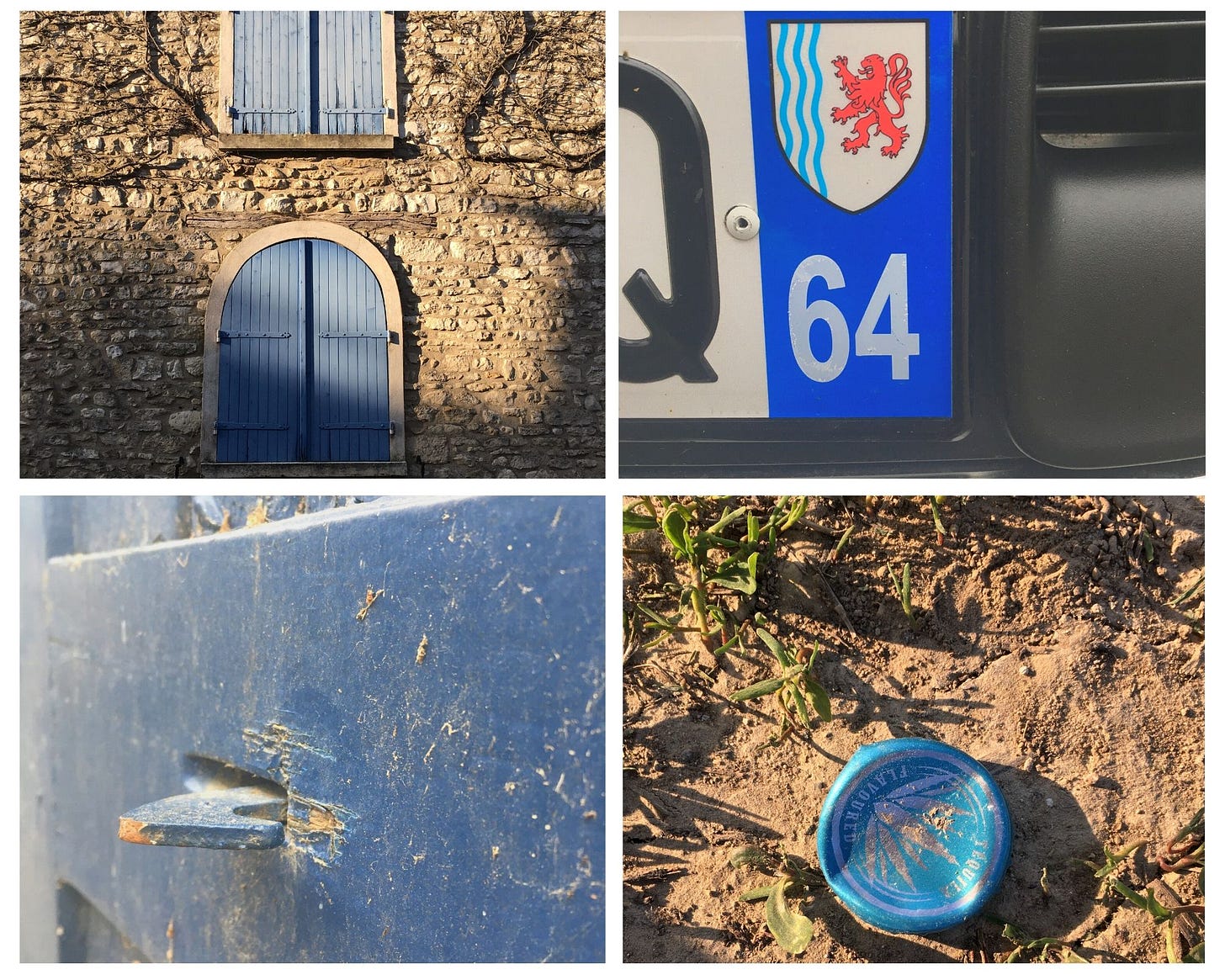 Reader Henrie Richer, who lives in France, shared the results of a "blue walk" — a poetic shorthand for looking for blue things, in a variation on an exercie from the book. She frames this as the themed walk:
For parents of young, or even not so young, children, a themed walk can be presented as a treasure hunt. And in this time of worldwide confinement, you could even play this as an inside game. If you want to make an indoors treasure hunt last, I suggest you ask your children to sketch the things they have to find.
I think that's terrific! (Read the rest here.) And I love hearing about activities or adventures or projects or experiments or uses the book has inspired. Send yours to consumed@robwalker.net
Icebreaker Of The Week
As mentioned, there's now a central collection spot for all the icebreakers to date, here.
I want to stay short and upbeat, so let's go with this one, submitted a while back by friend of TAoN Daniel S Dunnam.
Have you been pleasantly surprised by anything recently?
A good time to ask that question, even of yourself.
I'm still working through the icebreaker backlog, but I'm happy to hear more new ideas! So as always:
Send your favorite icebreaker (whether you made it up or got it elsewhere) to consumed@robwalker.net
In Other News
Okay, that's it! As always, I value your feedback (suggestions, critiques, positive reinforcement, constructive insults, etc.), as well as your tips or stories or personal noticing rituals, and your icebreakers: consumed@robwalker.net.
Thanks for reading!
rw

P.S. If you enjoyed this, share it and/or sign up here: robwalker.substack.com.
Twitter | Facebook | Medium | RobWalker.net | NB: I use Amazon Affiliate links