Discover more from The Art of Noticing
Ideas, inspiration, and provocations for creativity, work, and staying human. From author Rob Walker.
Over 39,000 subscribers
TAoN No. 38: Draw What You Hear
Plus: Looking At Sound, "Have A Seat!," and a New Icebreaker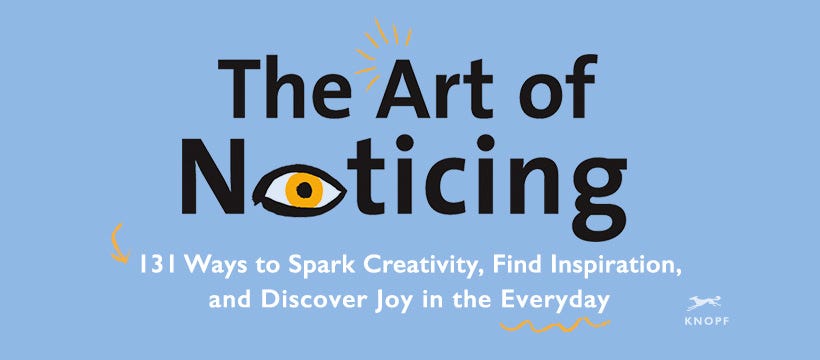 The Art of Noticing: 131 Ways to Spark Creativity, Find Inspiration, and Discover Joy In the Everyday offers exercises, prompts, provocations, games and things you can actually do to build attention muscles, stave off distraction, pick up on what everybody else overlooked, and experience the joy of noticing. Indiebound | Amazon | Barnes & Noble | Knopf | All purpose link for readers in UK/Europe or US. This newsletter offers related news and ideas and noteworthy projects that have come along since I finished the book. Subscribe or unsubscribe at: robwalker.substack.com.
Draw What You Hear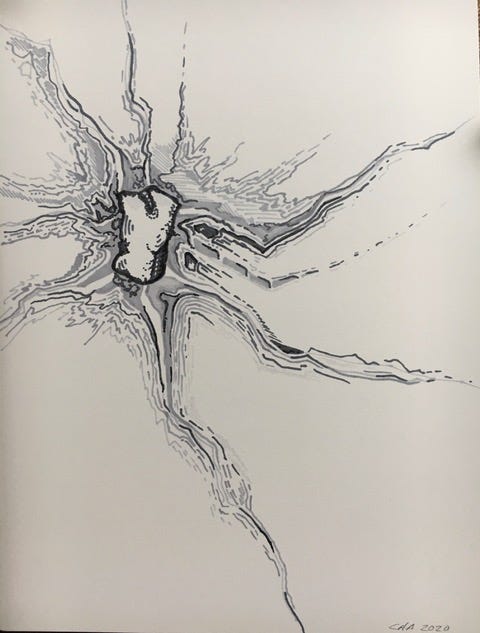 Art by Cathy Hannah Amos (@amoscathy on Instagram)
A couple weeks back, I gave a talk to a very lively group of docents at the Michael C. Carlos Museum at Emory University. I was already a fan of Emory and The Carlos (and its excellent book shop!), but this was a really great audience. The post-talk discussion was particularly enjoyable, and I want to share one highlight (among many).
Prior to my visit, the docents had been given a selection of prompts and exercises from The Art of Noticing to try on their own. It was extremely fun to discuss the results, and the most surprising example came from Cathy Hannah Amos. I followed up with her later via email to make sure I had the details right.
Cathy decided to try one of the listening-oriented exercises, but "I didn't really do it as assigned," she explains. Turns out she has tinnitus, and that kept interfering and distracting her. But instead of a problem, this turned out to be an opportunity, as she "decided to really focus on the sound [of the tinnitus] and try to visualize it." She continues:
It is funny, I am an art teacher and have told students to "draw what you see" for over 40 years, but never thought to say "draw what you hear," or visualize and then draw it.
This has so many possibilities! Drawing what you hear (but can't see) in various settings, from the quiet to the chaotic. Or drawing an interpretation of music. Or, as Cathy did, drawing based on a more interior form of listening. Her tinnitus visualization is above. She adds:
The sound of tinnitus is unique to each of us. Mine is evidently mild compared to others but it rings and hums and sings and cycles. What I saw was monochromatic, shades of gray with the most intense sound darker and less intense lighter with outward movement from a central core. I did a little each day for 5 or 6 days. As the sounds changed, the drawing grew. The process seemed therapeutic and I think the sound is much less annoying now, and more like music.  
(As an aside, she mentions that one of her colleagues suggested the drawing looked a bit like the work of Unica Zürn, a 20th century Surrealist, currently on display at The Carlos — perhaps a subconscious influence?)
Even if you didn't actually draw it, trying to really visualize what you can only hear (whether that visualization is abstract or as realistic as possible) strikes me as a great way to sharpen the senses, creatively. I love it. Thanks so much to Cathy — and to everyone at the Carlos, and my Emory hosts! One last note from Cathy:
A few days ago I got shampoo in my ear while I was showering and it sounded bubbly. Here was another sound inside my ear only I could hear. For fun, I made a mental note of that sound and tried to visualize it, too. The resulting drawing was fun and playful, but probably more representative of stereotype, the idea of foam or bubbles. It was a mental snapshot of the sound, not the continuity of sound.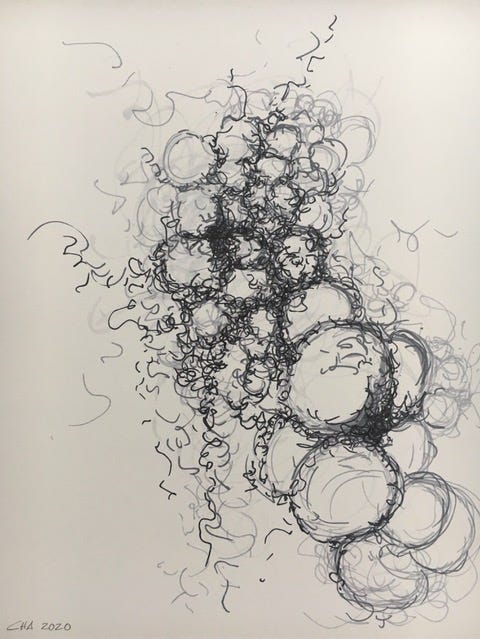 Art by Cathy Hannah Amos (@amoscathy on Instagram)
Looking at Sound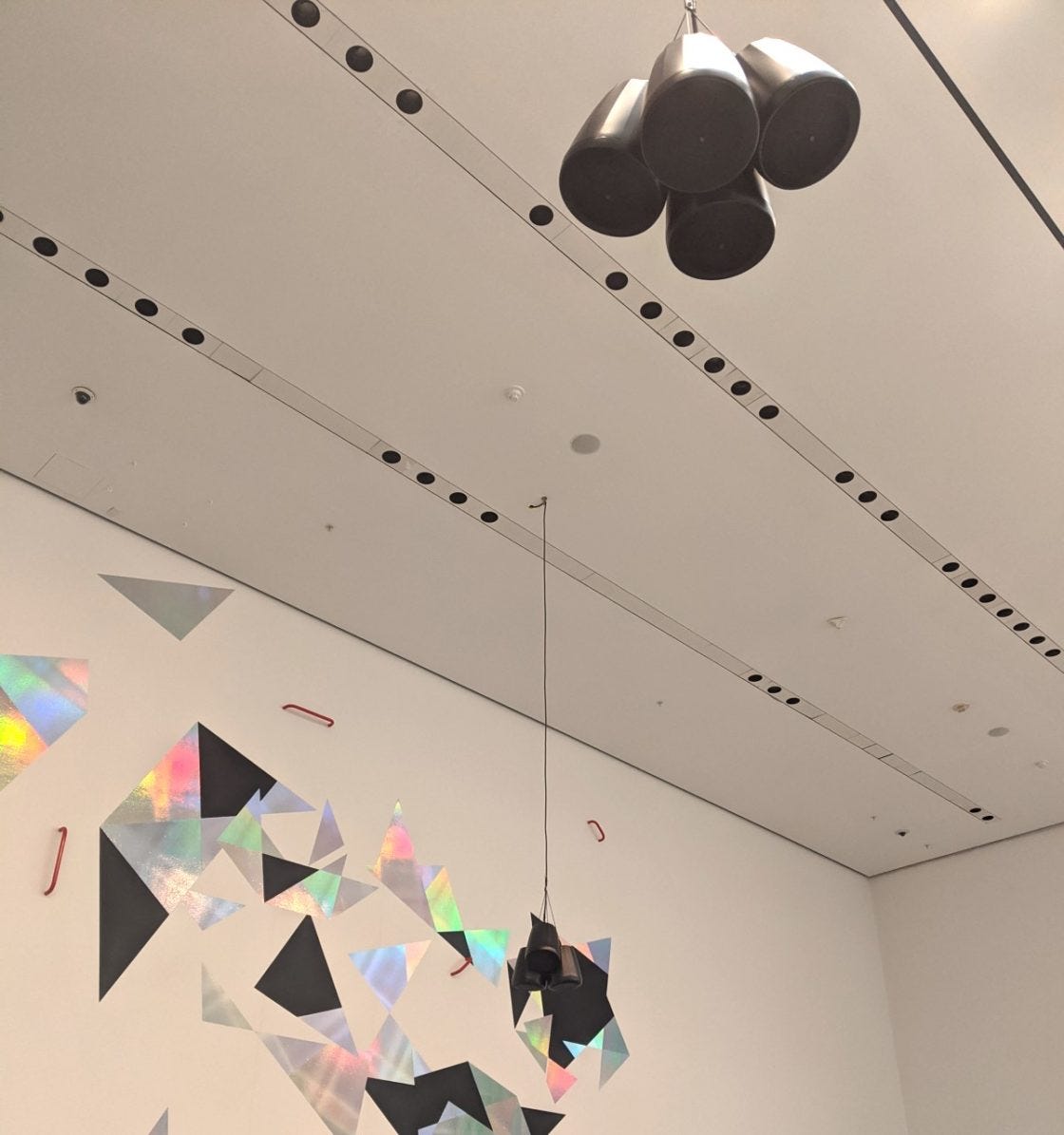 Continuing the theme of the aural and the visual, friend of TAoN Marc Weidenbaum (he's mentioned in the book a couple of times, in fact) has a fun writeup on his Disquiet site on looking at where the sound is coming from at the Museum of Modern Art, producing this Taxonomy of Speakers at MoMA." He writes:
The range of audio speakers throughout the newly redesigned MoMA, their placement and purpose, provided hints at the role sound was intended to play in the varied exhibits.
As it happens, this is an excellent variation on the single-object scavenger hunt from the book, and a great example of paying attention to the "wrong" thing. No surprise, really — Marc is a world-class noticer! Read the post here. (I also recommend his fantastic This Week In Sound newsletter.)
"Have A Seat!"
The other day I was listening to an interview with Maria Bamford (one of my favorite comedians) on Bullseye with Jesse Thorn (a great interviewer), and there was a passing mention of Bamford installing a bench in front of her house. This was intended to attract interesting people, and did. (Not always in a good way, apparently.)
This sounded crazy (in a good way) to me, so I looked into it a bit. Here's a passage from a 2014 New York Times Magazine profile:
A few years ago, after reading in a book that people who feel a strong sense of community have been proven to lead longer and happier lives, Bamford started working to overcome her natural shyness and fear of interaction by saying hello to her neighbors in Eagle Rock, a diverse and partly gentrified area on the northeastern edge of Los Angeles. She bought a park bench and had it installed on the median strip in front of her house. She then spray-stenciled the words "Have a Seat!" on the sidewalk in front of it. To her delight, the bench is often occupied. "It's like a bird feeder for humans," she says.
Impressive.
Icebreaker Of The Week
As mentioned, there's now a central collection spot for all the icebreakers to date, here.
This week's icebreaker comes from Amy Varga, who calls it her go-to:
If you had to describe how you're feeling right now as a weather pattern, what's your forecast?
She adds: "Another riff I also often use is: If you had to describe how you're feeling right now as an amusement park ride, what ride are you on?"
A two-fer! I like them both, and even more I like Amy's underlying thinking: "The invitation to use a metaphor really inspires more reflection and creativity." Very nice!
Side note: I'm embarrassed at how long it's taken me to share this one; I'm really making an effort to dig back through the submissions that have stacked up over the months. That said, I'm happy to hear more! So as always:
Send your favorite icebreaker (whether you made it up or got it elsewhere) to consumed@robwalker.net
In Other News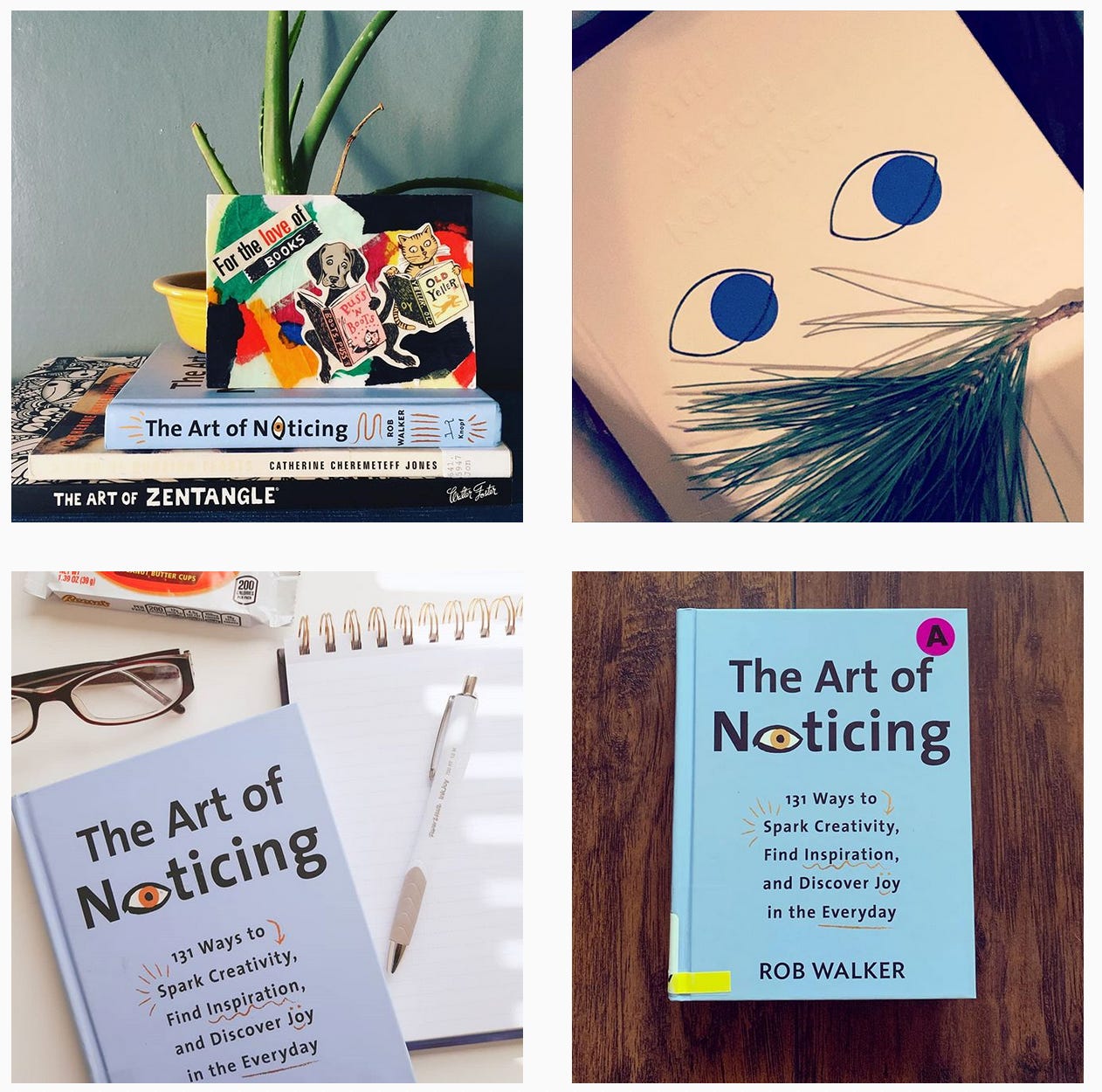 Clockwise from upper left: @rhode_reads, @aliciademaravilla, @istanski, and @diadoozy. Thanks!
Okay, that's it! As always, I value your feedback (suggestions, critiques, positive reinforcement, constructive insults, etc.), as well as your tips or stories or personal noticing rituals, and your icebreakers: consumed@robwalker.net.
Thanks for reading!
rw

P.S. If you enjoyed this, share it and/or sign up here: robwalker.substack.com.
Twitter | Facebook | Medium | RobWalker.net | NB: I use Amazon Affiliate links.