Discover more from The Art of Noticing
Ideas, inspiration, and provocations for creativity, work, and staying human. From author Rob Walker.
Over 39,000 subscribers
TAoN 40: Look Out!
Plus: Play-by-play the every day, a new icebreaker, and more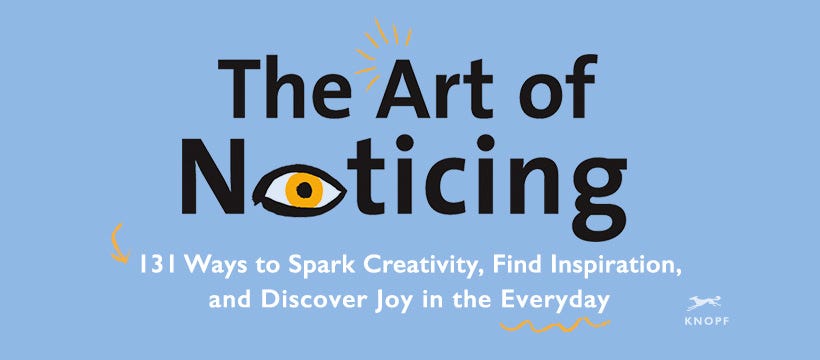 The Art of Noticing: 131 Ways to Spark Creativity, Find Inspiration, and Discover Joy In the Everyday offers exercises, prompts, provocations, games and things you can actually do to build attention muscles, stave off distraction, pick up on what everybody else overlooked, and experience the joy of noticing. Indiebound | Amazon | Barnes & Noble | Knopf. This newsletter offers related news and ideas and noteworthy projects that have come along since I finished the book. Subscribe or unsubscribe at: robwalker.substack.com.
Look Out! (The Window)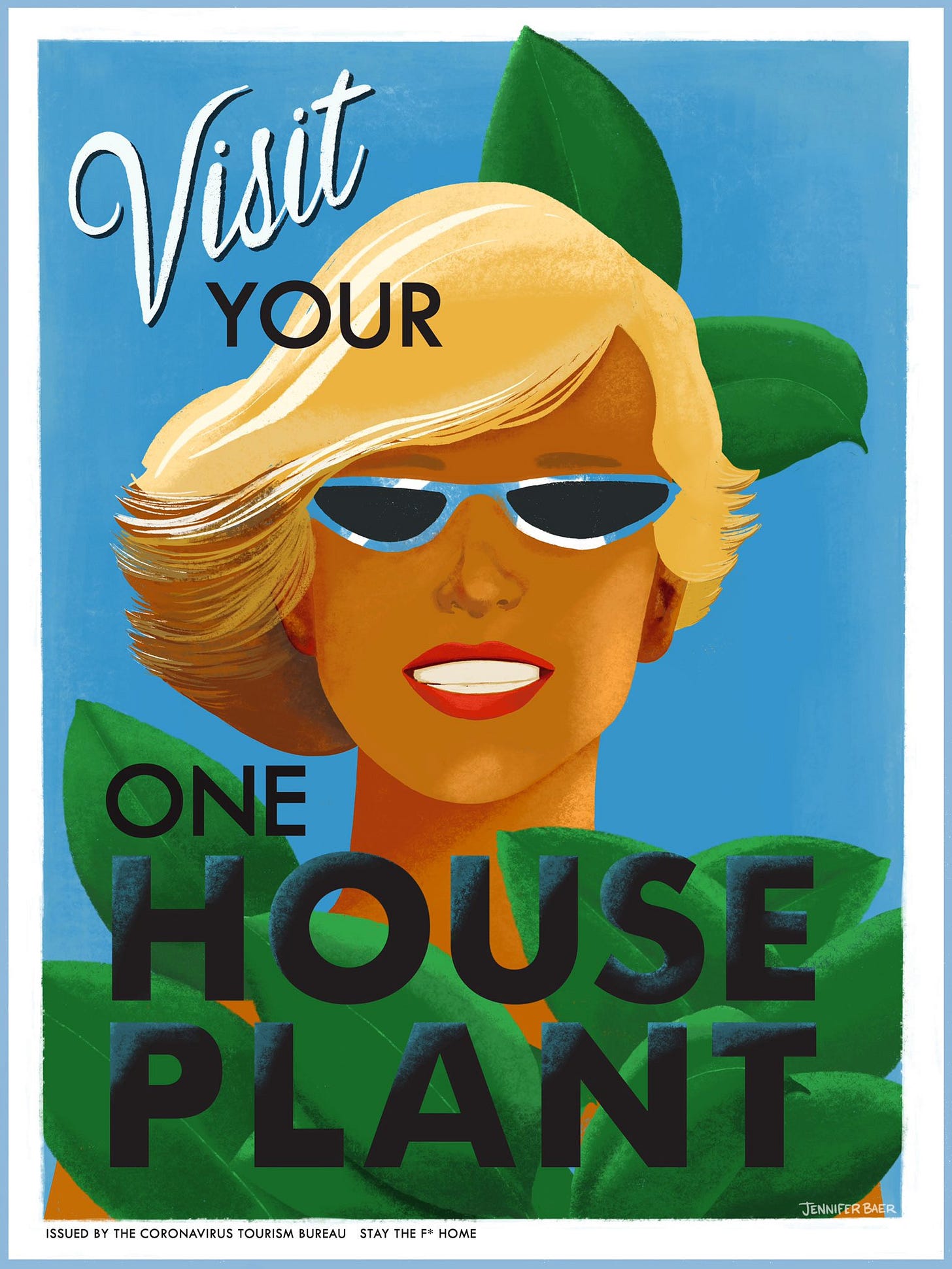 Jennifer Baer, from her series of posters promoting staying at home. Via.
Been feeling cooped up lately? I know I have. And I intended to make this edition of the newsletter a collection of indoor-friendly prompts. But then I got stuck on the first one: Look Out A Window.
I've mentioned before that this is one of the easiest prompts in The Art of Noticing (and was inspired in part by a terrific New York Times Magazine essay by Sam Anderson). But lately I keep running into window-related ideas. So here's a roundup, to encourage you to reconsider the window(s) in your life.
The NYT issued a call out for pictures of "the view from your window." A really cool idea, although the presentation of the final results (a grid of tiny pictures) is not very satisfying. Surely there's a better way to do that. But maybe it's best not to worry about how to turn the idea into a public project. Instead: Take a picture of the view out your window, send it to a friend you miss, and ask them to send back the view from their window.

I'm lucky that my home office window looks at a neighbor's yard that is often inhabited by their two dogs — who, to be honest, I totally have a crush on. But this is trumped by NPR reporter Miles Parks' window view, which includes nest-building in progress. We can't all be so fortunate, but Parks is making the most of it. The lesson: If you spot something interesting, look closer. Here's the start of his Twitter thread, with pix:

I randomly encountered this Soundcloud playlist, "What do you hear from your window" by someone who in fact recorded out their window, for several days straight, in chunks about 10 or 15 minutes long. You can do this without recording; just pay attention to what your window lets you hear.

Even more recently I've learned of "Window Serenade" a project from friend of TAoN Rebekah Modrak and inspired by quarantined Italians singing to each other from their balconies. It invites artists to "look to windows as frames, viewfinders, exhibition spaces, and stages and, most importantly, as sites of connection." If I follow correctly, the idea is to consider what you might share via your window. More about the project is here.

Maybe this shouldn't count, but I enjoyed this photo essay looking through a car window. (As it happens, E and I took a drive through New Orleans' empty tourist and business and shopping districts the other day; I wanted to cry.)

Finally, a couple of times I've visited the Tulane classes of friend of TAoN Jill Stoll, and she's given students a modified version of the book's basic "look out a window" assignment. I've tweaked that slightly and now it goes like this:

"Spend five solid minutes looking out a window. … Best of all is a window you've walked past a million times. Explore the very edges of what you can see. Note five specific things you can see. Now note five more. Notice what you didn't notice earlier. Ask why. Pay attention to what has changed in the five minutes since you started looking. Spend five minutes sketching what you see."

Actually, wait, one more idea: If you're looking for a way to document this strange time (as recommended here) try a variation on the exercise above: Every day, look out the window and note one thing; then note one thing about what's going on the world that has captured your attention. Or reverse the order. Think how the two things relate — or don't. Always end by looking out the window again, with as much openness and hope as you can muster.
Play-by-Play The Everyday
Okay this has been written about pretty widely, but it truly delighted me so I have to pass it along: "Without live sports to cover because of the coronavirus outbreak, [Nick] Heath, a freelance rugby commentator, has turned to covering everyday life in London," one article explains. He posts results on Twitter (tagged #LifeCommentary #LiveCommentary).
In my opinion, Heath is a Hero of Noticing, brilliantly extracting joy from the totally mundane, through the sheer power of wit and observation.
A day or two after I shared all this with E, she told me about the below — another underemployed sport announcer, Andrew Cotter, giving play-by-play of his two dogs eating. So charming!
I have to mention that this reminds me, indirectly, of one of the more esoteric exercises in the book: Narrate A Piece of Quotidian Footage. Basically, find or make a short, random, totally banal video of people or objects moving around; study it closely; and invent a potential voiceover that makes it seem as if you are directing the action. This (weird? but fun!) idea was inspired by a John Smith's wonderful short art film: The Girl With The Chewing Gum. I'm not going to try to explain it, check it out:
Not enough Icebreakers? Check
this
out
Reader Kriti D. sent a nice note the other day about enjoying the newsletter, and particularly the icebreakers, and adding: "I came across this poem called A Jar of Balloons or The Uncooked Rice by Matthew Yeager which is basically a long list of icebreakers."
People, do you know this poem? I did not. And it is mind-blowing! It starts:
Have you ever had a haircut so bad you cried?
Which, yeah, actually, I have. But that's another story. Anyway it goes on from there … and goes on .. and … just check it out. Thank you Kriti!
Icebreaker Of The Week
As mentioned, there's now a central collection spot for all the icebreakers to date, here.
Before I get to this week's icebreaker: A recent writeup in Forge takes on the subject of conversation in this moment when we are all obsessing about the virus — "How To Talk About Literally Anything Else." It includes lots of conversation-starter prompts, some of which obliquely respond to the moment, but in ways designed to uplift; other prompts avoid current events altogether. So if you're hungry for that, check it out.
But this week's icebreaker comes from a casual friend in New York, and it is absolutely inspired by this weird era of quarantine and lockdown. I don't want to make that a habit, but this really made me think, so I've decided to share it:
Have you had any unanticipated quarantine-specific cravings for comfort foods (and if so, what)? Have you rediscovered any old passions?
I know that looks like two questions — but I see them as variations on the same idea.
I'm still working through the icebreaker backlog, but I'm happy to hear more new ideas! So as always:
Send your favorite icebreaker (whether you made it up or got it elsewhere) to consumed@robwalker.net
In Other News
An amazing email came in the other day from a reader using exercises from The Art of Noticing to get through this lockdown era and to create a new blog, The Art of Isolating. "It is likely that we will have 12 weeks of isolating and social distancing, so let's get creative. I will capture moments through photography, poetry, audio and any other platforms my mind palace can conjure." Check it out here — I'm following along and enjoying it thoroughly!

Austin Kleon had a terrific post about "birdfeeders for humans." (Let's hope we can enjoy them again soon.)

A work link: Here's my argument for a tech company "moon shot" that would really matter — giving delivery workers everything they want and more.

You're right, I'm 24 hours late with this issue. Sorry!
Okay, that's it! As always, I value your feedback (suggestions, critiques, positive reinforcement, constructive insults, etc.), as well as your tips or stories or personal noticing rituals, and your icebreakers: consumed@robwalker.net.
Thanks for reading!
rw

P.S. If you enjoyed this, share it and/or sign up here: robwalker.substack.com.
Twitter | Facebook | Medium | RobWalker.net | NB: I use Amazon Affiliate linksRemember something for the rest of your life