TAoN #39: One Foot in Front of the Other
Plus: Travel Where You Are, Mindful Handwashing, and a New Icebreaker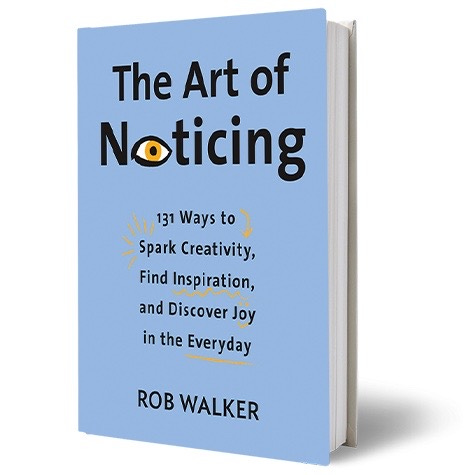 The Art of Noticing: 131 Ways to Spark Creativity, Find Inspiration, and Discover Joy In the Everyday offers exercises, prompts, provocations, games and things you can actually do to build attention muscles, stave off distraction, pick up on what everybody else overlooked, and experience the joy of noticing. Indiebound | Amazon | Barnes & Noble | Knopf | All purpose link for readers in UK/Europe or US. This newsletter offers related news and ideas and noteworthy projects that have come along since I finished the book. Subscribe or unsubscribe at: robwalker.substack.com.
One Foot in Front of the Other, a Few Thousand Times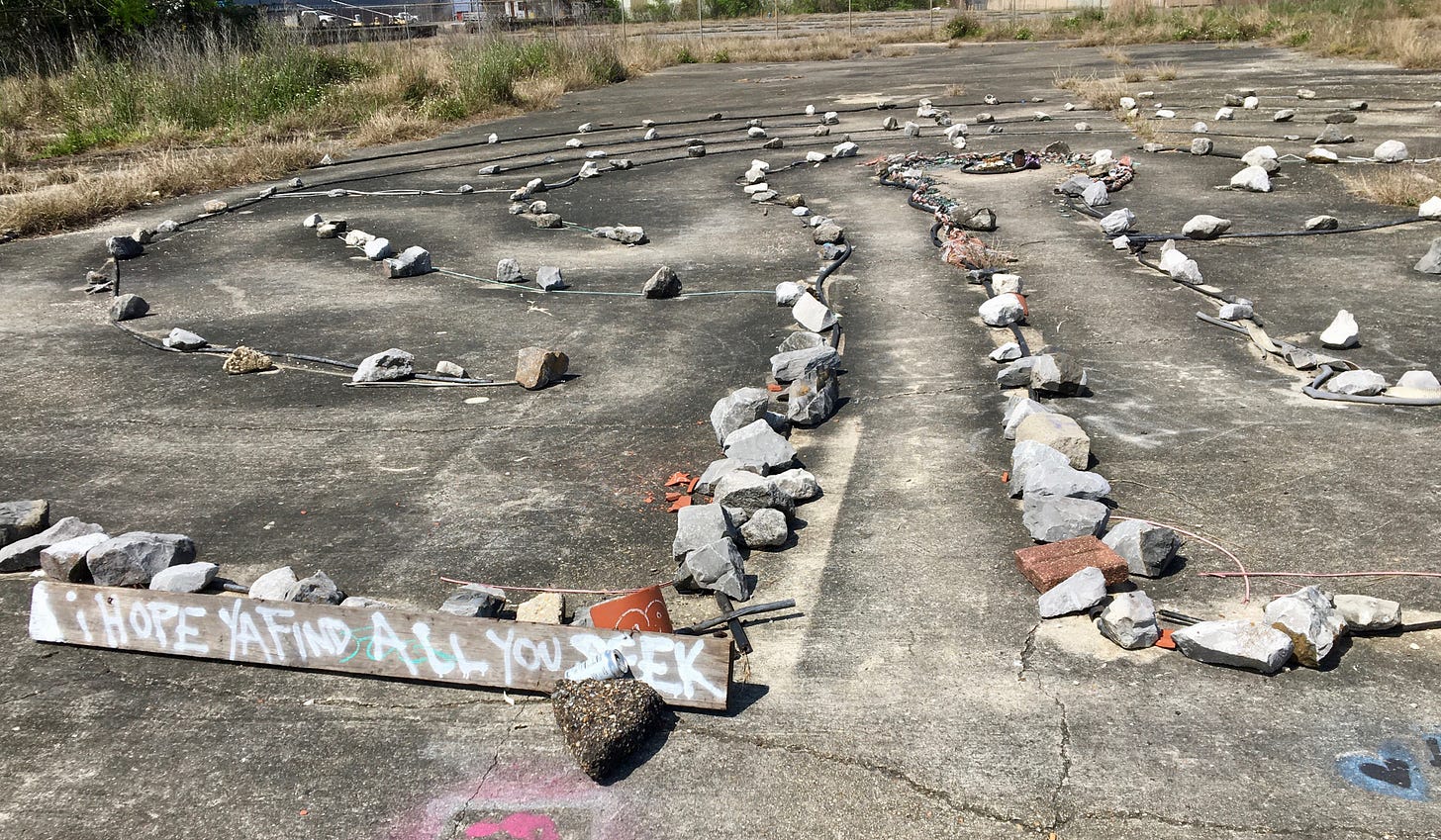 So it has come to this: The New York Times recently published a story with headline, "Is It OK to Take a Walk?"
Thankfully the answer is still yes. (Well, mostly, but not if you're under formal quarantine, and I gather that Italy may close public parks, so… .) Certainly the question is understandable. With so many people in various shelter-in-place conditions, working from home and educating kids at home and just being at home as a result of the pandemic, the simple act of taking a walk has probably never meant so much, to so many. As the piece says:
Both transportation and meditation, the leisurely New York walk, long celebrated in literature, has come to symbolize not only a crucial thread in the city's social fabric, as we migrate our social and, in many cases, work lives online, but a thread to sanity itself.
Despite that New York emphasis, the same basic point applies anywhere. I already walk our dog every day here in New Orleans, and enjoy it, but lately I've valued the practice more than ever. Many of my other crucial rituals (ranging from swimming to visiting my favorite bar) have been cut off, and to be honest I've just been draggy and sad. So I'm happy to walk.
I've tried to add fresh (and sometimes dog-free) walks (and bike rides) to my regimen. But I've also tried to make more of my regular walks. Specifically, I've been taking my own advice (from a prompt in The Art of Noticing) and challenging myself to Notice Something New Every Day — an architectural detail, notable foliage, random graffiti, a noisy bird, whatever. It's a good way to force myself to zone in, however briefly, on something other than the news. And I'm pleased to report I'm not the only one doing this.
The book actually has a number of ideas for souping up a walking routine. You could:
plot a map of neighborhood highlights — or even neighborhood sounds

take a "color walk," looking for only for a single color in all its variations

count with the numbers you find (search for a 1, then a 2, etc.)

make an effort to tune into scents

attempt to take in the world the way a child would

try to focus on how different points on your walk make you feel
And so on. Now, I don't want to be disingenuous here: I'm not spinning what we are currently living through as a self-improvement opportunity; it's a tragedy, period. But you can still give yourself permission to make something of these strange moments, from time to time. That NYT story quotes a resident of New York's East Village:
Just putting one foot in front of the other a few thousand times has proved to be kind of a great reminder to take things as they come right now, day by day.
Travel Where You Are
Sorry to cite two New York Times stories in a row, but this caught my eye: the travel section wondering what to do with itself in a moment when recreational travel is pretty much verboten. The interesting answer:
We'd like to create a special "36 Hours in Wherever You Are" — the first reader-generated column in its long history. … Write 50 words or so about one thing your fellow Travel readers can do over a weekend wherever they are, and why you're suggesting it.
Suggestions include "taking a walk around your neighborhood," of course ;)
If you want to contribute your ideas go here. I'm very curious how this will turn out!
Worthless Delight
On a different subject …
I always love a project that takes something worthless, and converts it into something delightful. A great recent example is Subpar Parks, which borrows snippets from foolish, one-star online reviews of our nation's amazing national parks. Artist Amber Share uses these phrases from worthless reviews as the starting point for poster-style illustrations, advertising the very parks being thoughtlessly criticized. For example, a reviewer who visits Joshua Tree and complains that — well, see below. Delightful!
Well, yeah.
(PS: I saw this a few places, but this Kottke item is the one that reminded to include the project here.)
Wash Up, Mindfully
When you get back from your next walk, or other journey into the world, you'll want to wash your hands. And as we've all heard, you're supposed to do that for 20 seconds, and you can sing "Happy Birthday" or any number of alternative tunes to pass that time.
Or you could sing nothing at all.
Lifehacker points to a video that coaches you to "turn hand-washing into a mindful experience." Does that sound silly? Well, I have an item in the book on "taking a mindful shower," so I say no, it's not silly at all: Why not take the prompt to turn this task into something to slow down and really focus on — embrace the idea that "moments of hand-washing can actually be an opportunity to clear our heads and be present." More here.
It's certainly better than repeating "Happy Birthday" again.
Icebreaker Of The Week
As mentioned, there's now a central collection spot for all the icebreakers to date, here.
This week's icebreaker comes from Mary Aviles, who got it from a TEEN Hype event last year:
What's one word you would use to describe yourself as a teenager?
My own answer, with no hesitation, is "jackass." I was a difficult kid.
Anyway, it's a fun question! And this is another one that it's taken me way too long to share. Thank you, Mary! I'm still working to dig back through the submissions that have stacked up over the months, and I apologize for being so slow with this one.
That said, I'm happy to hear more! So as always:
Send your favorite icebreaker (whether you made it up or got it elsewhere) to consumed@robwalker.net
In Other News
Clockwise from upper left: @diadoozi, @jenlis137, @pressingconcernbooks, and @kisiwa82. (Note: It's worth checking out the follow-up to the @jenlis137 post zeroing in on the "look like a child" exercise — right here.) Thanks all!
I don't really have any other news. And really, aren't you kinda newsed-out lately? I mean, the two weeks since the last newsletter have been … harrowing. I hope you're holding up okay. I got nice newsletter- and book-related notes from a number of you in that time, and I really appreciate that — all connections feel extra important these days. Be good, be well, be safe.
Okay, that's it! As always, I value your feedback (suggestions, critiques, positive reinforcement, constructive insults, etc.), as well as your tips or stories or personal noticing rituals, and your icebreakers: consumed@robwalker.net.
Thanks for reading!
rw

P.S. If you enjoyed this, share it and/or sign up here: robwalker.substack.com.
Twitter | Facebook | Medium | RobWalker.net | NB: I use Amazon Affiliate links