Discover more from The Art of Noticing
Ideas, inspiration, and provocations for creativity, work, and staying human. From author Rob Walker.
Over 36,000 subscribers
TAoN #36: Observe A Poem
PLUS: Fake news vs. a momentary pause. And a new icebreaker.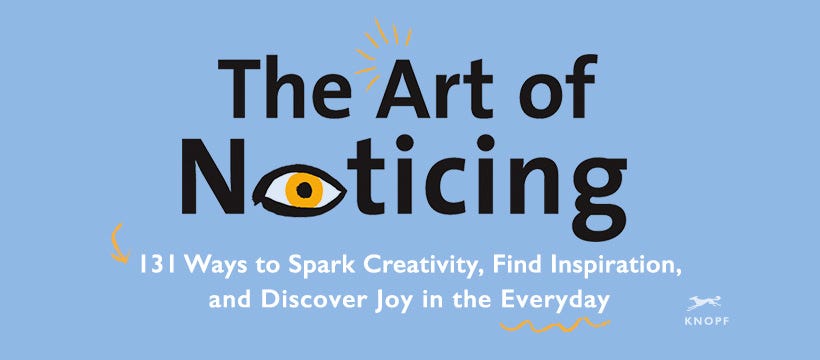 The Art of Noticing: 131 Ways to Spark Creativity, Find Inspiration, and Discover Joy In the Everyday offers exercises, prompts, provocations, games and things you can actually do to build attention muscles, stave off distraction, pick up on what everybody else overlooked, and experience the joy of noticing. Indiebound | Amazon | Barnes & Noble | Knopf | All purpose link for readers in UK/Europe or US. This newsletter offers related news and ideas and noteworthy projects that have come along since I finished the book. Subscribe or unsubscribe at: robwalker.substack.com.
Observe A Poem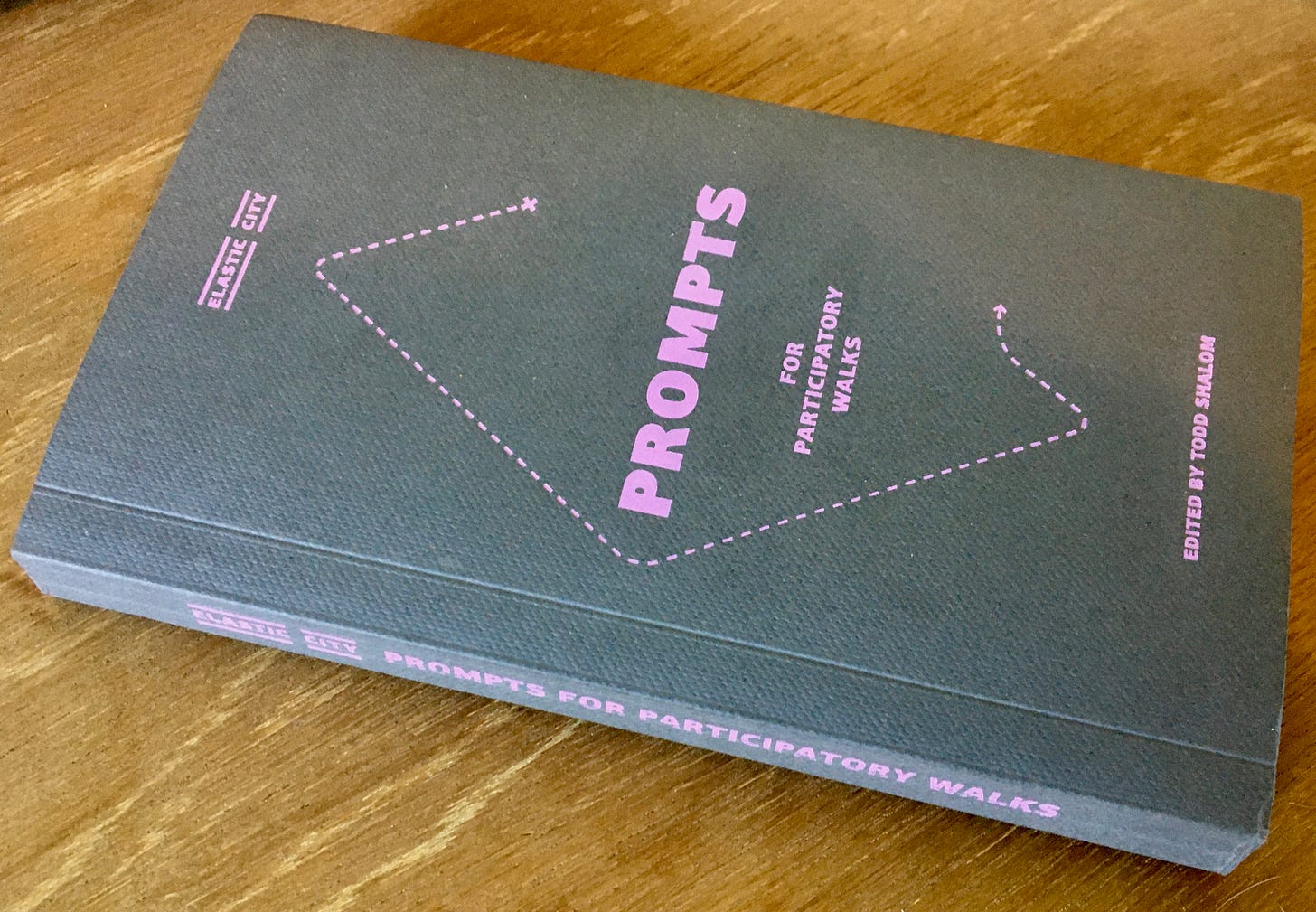 Last year my friends at Fathomers alerted me to a Kickstarter project from Elastic City, an admirable arts group that devises, and encourages others to devise, innovative artist walks. I jumped on the bandwagon and was thrilled to get a copy of the resulting book: PROMPTS For Participatory Walks.
There's a section with lots of practical advice for dreaming up and organizing your own group walk. And (more to my interest) there are lots of examples of such walks that Elastic City and its many artists collaborators have created and executed, and the prompts those walks incuded. For weeks now I've struggled to pick out one cool example to share here. But with the caveat that I might add others later, I'm finally going to settle on a modified (by me) version of one prompt I've thought of often since I first read it:
In a setting such as a city street or a shopping mall or an airport or anywhere where there is a lot of signage and whatnot, pause and take note of all the texts that surround you.

"Using your memory (or use your phone), take three to five minutes to create a poetic phrase or short poem using only words that you see."

Don't add any words.

In the participatory walk version of this prompt, those comfortable are encouraged to share their observed creation with the group. In my solo variation, you can share it with whoever you want, or no one at all.

Try this again in a week. Make it a habit.
I have seen or read similar exercises, but I like the way this one is framed in the context of a walk. And in general, PROMPTS is filled with delightful ideas along these lines that encourage fresh engagement with the world. You can get a copy directly from Elastic City.
Icebreaker Of The Week
As mentioned, there's now a central collection spot for all the icebreakers to date, here.
This week's icebreaker is from the excellent Amy Santee:
What material are you most like? (E.g., plastic, porcelain, dirt, silk, stone etc.)
I'm still mulling my own answer to this one. As Amy adds: "The interesting thing about this question is that it forces you to really focus on one or two or maybe three major qualities of yourself." And the more you think about it, the more other dimensions might come into play, leading to answers like blue porcelain or 20,000 year old granite or sparkling water …. "We're all so complex," Amy concludes, "but this provides a fun and challenging exercise." I agree!  
As always:
Send your favorite icebreaker (whether you made it up or got it elsewhere) to consumed@robwalker.net
In Other News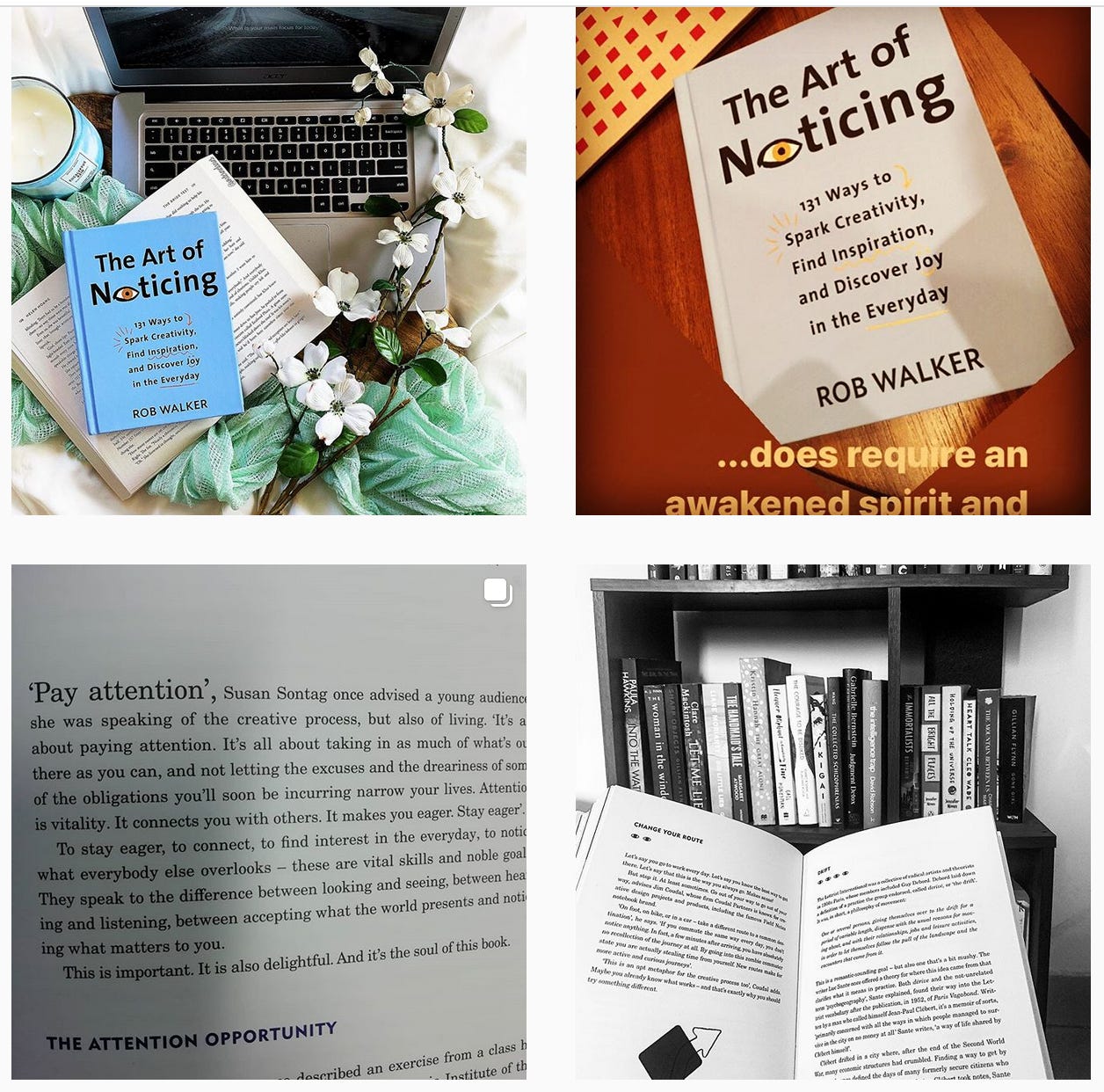 Clockwise from upper left: @watermelanies, @e3story, @tejasnirbhavane, @beeleven_11. THANK YOU! #theartofnoticing
An interesting column in The Guardian by Oliver Burkeman suggests that one way to "stop the spread of fake news" might simply be to "pause for a moment." The argument:
Most people prone to sharing fake news do think it's important to share only true stories, and are capable of detecting fabricated ones. It's just that they get distracted – by, among other things, the urge to share the story they're reading – before they've had a proper chance to reflect on its veracity.
I certainly like that sentiment. And a tag at the end of the column points readers to a related listen: "The writer Rob Walker explores how uncomfortable it can feel to slow down in It Hurts To Be Present, an episode of the Hurry Slowly podcast," which was a really enjoyable interview with the very thoughtful and smart Jocelyn K. Glei (@jkglei.)
Okay, that's it! As always, I value your feedback (suggestions, critiques, positive reinforcement, constructive insults, etc.), as well as your tips or stories or personal noticing rituals, and your icebreakers: consumed@robwalker.net.
Thanks for reading!
rw

P.S. If you enjoyed this, share it and/or sign up here: robwalker.substack.com.
Twitter | Facebook | Medium | RobWalker.net | NB: I use Amazon Affiliate links.