Discover more from The Art of Noticing
Ideas, inspiration, and provocations for creativity, work, and staying human. From author Rob Walker.
Over 39,000 subscribers
TAoN #35: Trees!
Or rather: Odditrees, and how to spot them. Plus: Faces, a new icebreaker, and more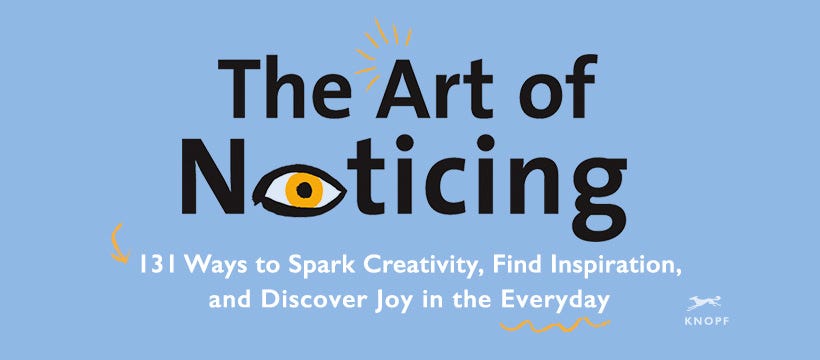 The Art of Noticing: 131 Ways to Spark Creativity, Find Inspiration, and Discover Joy In the Everyday offers exercises, prompts, provocations, games and things you can actually do to build attention muscles, stave off distraction, pick up on what everybody else overlooked, and experience the joy of noticing. Indiebound | Amazon | Barnes & Noble | Knopf | All purpose link for readers in UK/Europe or US

This newsletter offers related news and ideas and noteworthy projects that have come along since I finished the book. Subscribe or unsubscribe at: robwalker.substack.com.
TREES! (Or: Odditrees, and How to Spot Them)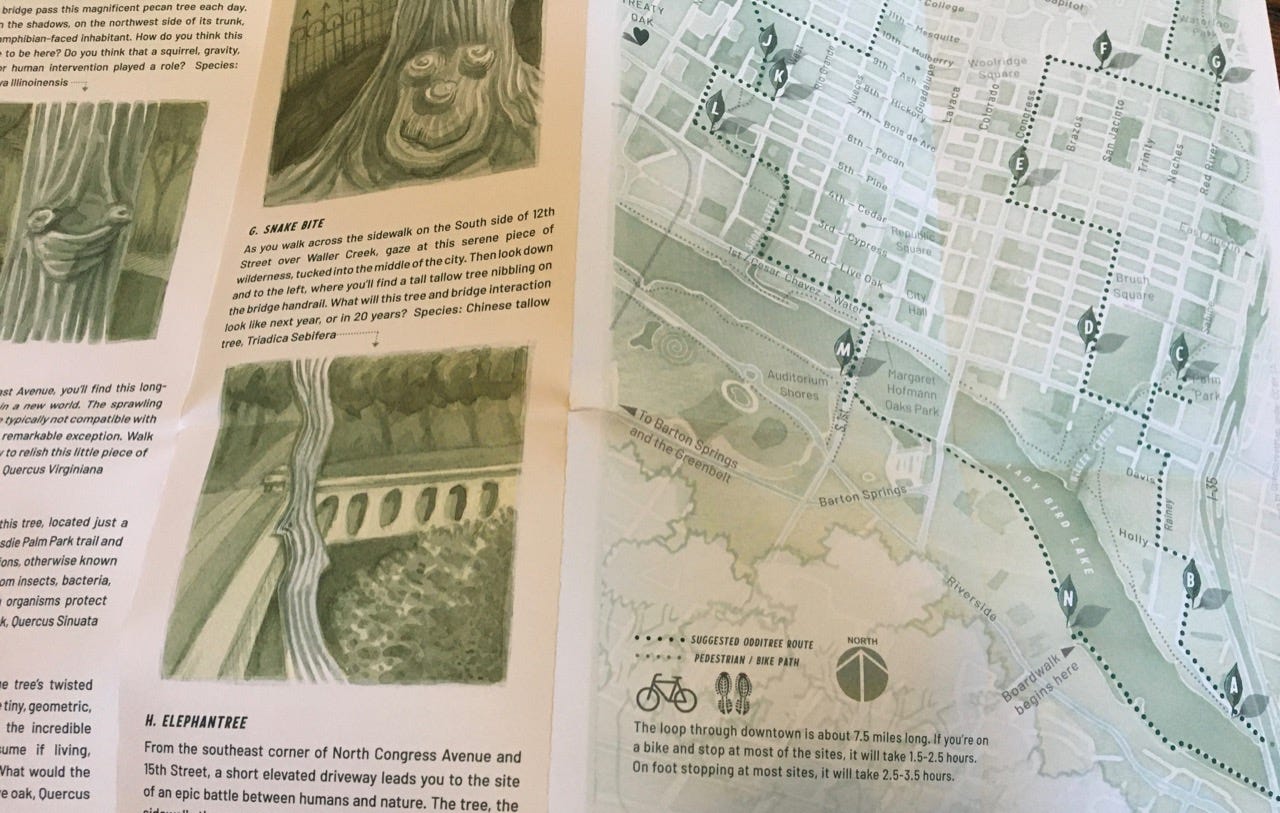 I recently received some truly charming and useful correspondence on the subject of trees — odd trees.
The Odditree Society is an Austin, Texas-based project, revolving around spotting and appreciating, well, "odditrees." That's defined as: "a tree whose appearance deviates from what is to be expetected, often in response to external conditions." For examples, see @odditree_society on Instagram.
Odditree Society founder Ann Armstrong mailed me the group's absolutely fantastic "Pocket Guide to Austin's Most Peculiar Trees," a wonderful print object that includes an "Odditree Lexicon," which is a typology of sorts (Sidewinders, Incredible Hulks, and other types are defined), plus a map of notable odditrees around Austin, and lots of other fun and useful info.
You can pick up one of these guides at a few spots in Austin, or via mail in the USA; details here. Or you can check out this somewhat abridged but still super-inspirational digital version, here.
But I'm not here to tell you to get this guide, as lovely as it is. I'm here to tell you spend some time looking for odd trees on your own.
You can learn Odditree's definitions, or make up your own: Just look out for and pay attention to trees that are … different. I happen to be particularly drawn to the way old trees where I live have intertwined with the built environment — buckling sidewalks, wrapping around power lines. But follow your own interests. Make a map of the most unusual or compelling or otherwise notable trees in your neighborhood. (If you like, you might take a picture and tag it #odditrees on Instagram.)
Ann made a point to credit this Urban Oddities Guide as an inspiration. And I'd like to make a point to shout out Tree, by Matthew Battles, an entry in the Object Lessons book series: It's as thoughtful a meditation on tree-ness as you're likely to encounter, and is particularly interesting on distinguishing among the wild, domesticated, tame, and feral (ideas that can be applied to other creatures and objects).
Icebreaker Of The Week
This week's icebreaker is extracted from this icebreaker guide I read on Medium. In general, the guide is a little too calculated and practical for my taste, but it's worth a look. And this question jumped out to me as a really great one:
If you did not have to sleep, how would you spend the extra 8 hours?
As always:
Send your favorite icebreaker (whether you made it up or got it elsewhere) to consumed@robwalker.net
Random Endorsement:
FACE: A Visual Odyssey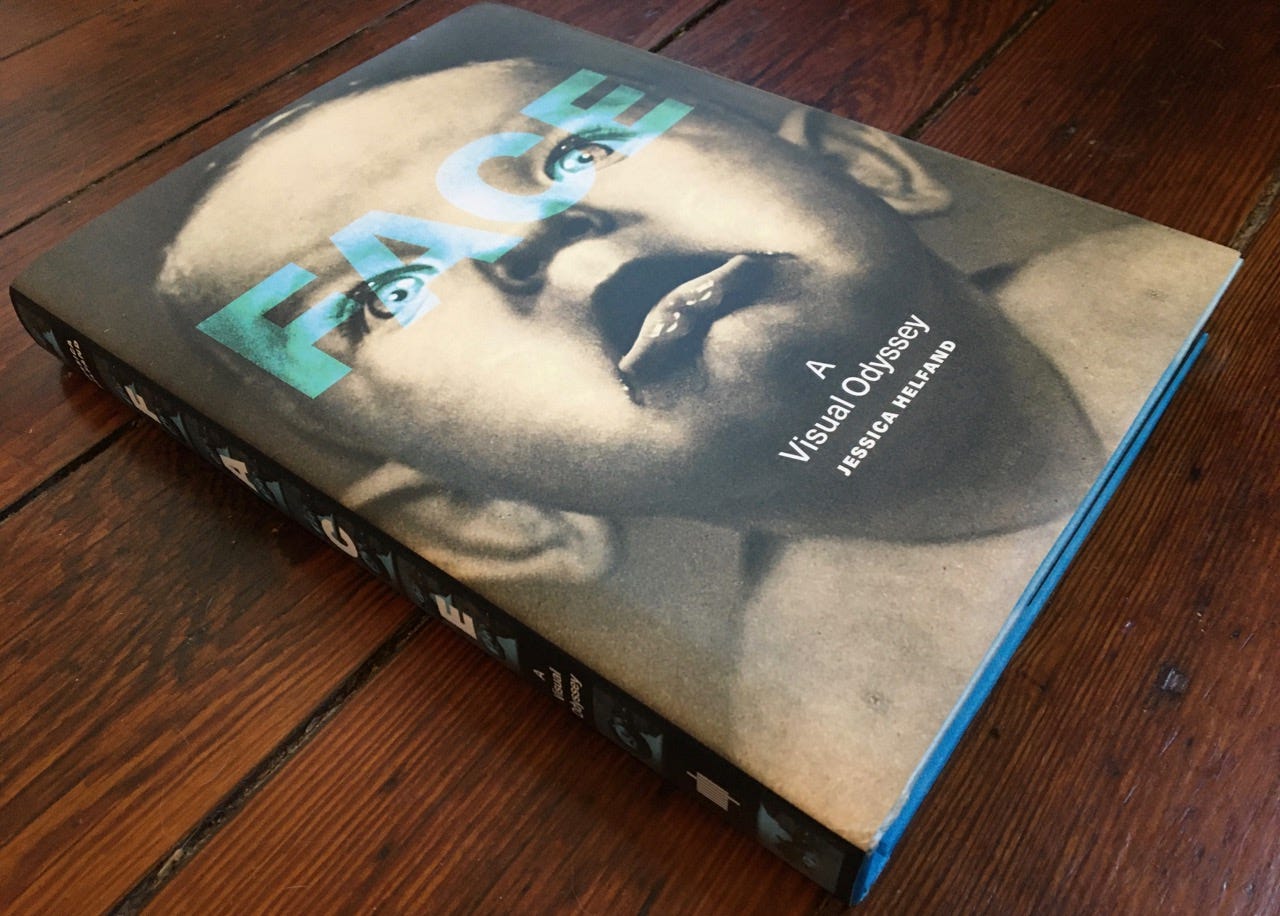 The amazing writer/designer/artist Jessica Helfand's new book is a real stunner. Face: A Visual Odyssey is in her words "a Wunderkammer of musings on the power and legacy of the face." This is true, but modest. Visually lush and seductive and dazzling, the book dives deep into how we can and do and sometimes don't think about faces, how that thinking and seeing is mediated, and why. It's an achievement.
In Other News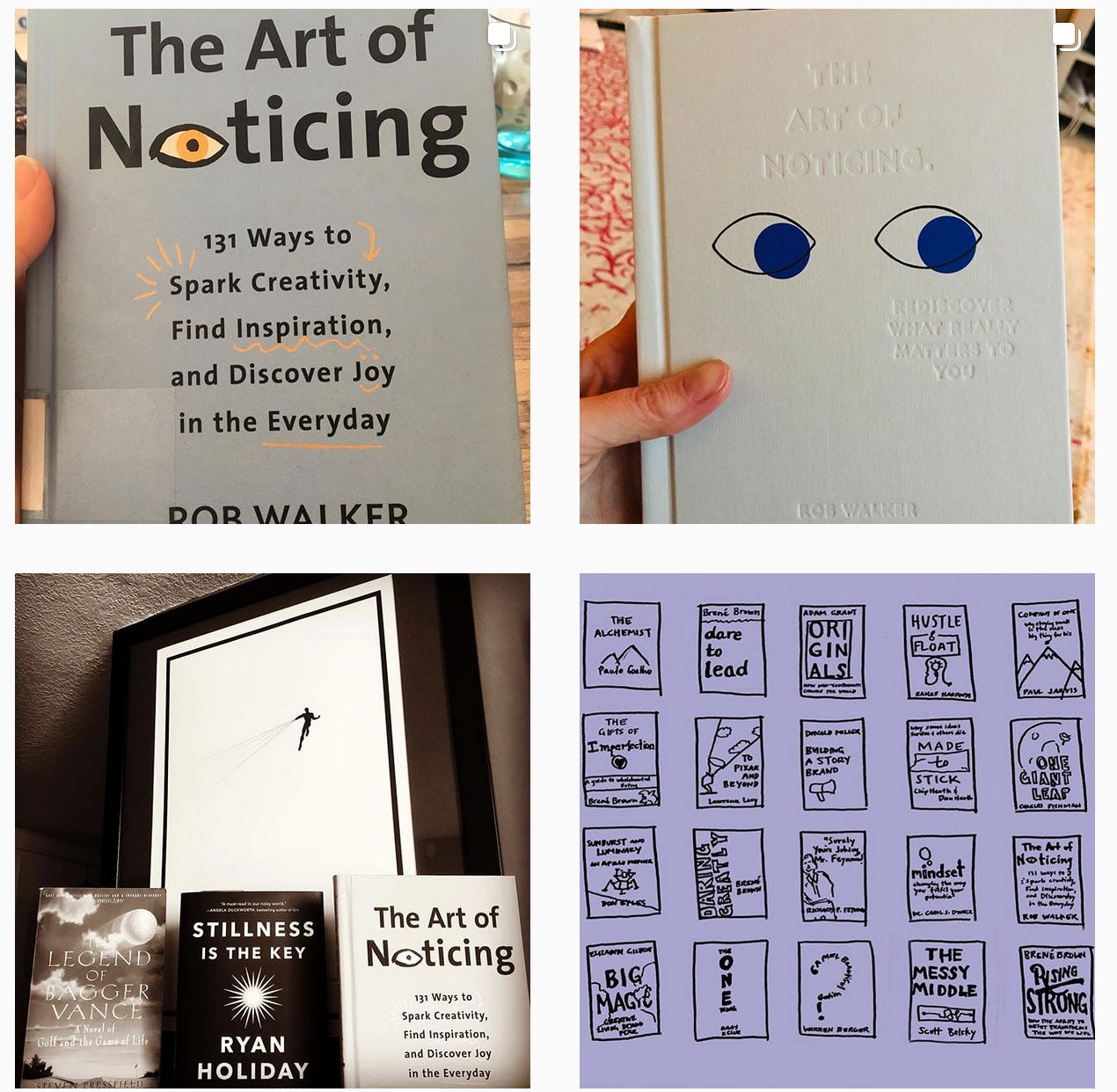 Clockwise from upper left: @jenniharmon, @rosiegloyoga, @pretavoyager, @productivityist. THANK YOU! #theartofnoticing
Programming Note
As mentioned in a previous issue, I recently signed on as a full-time writer at Marker, a new business publication from Medium. I'm enjoying it quite a bit; my latest is about how Spirit Airlines can be a terrible brand and a successful business at the same time. (Follow me on Medium here, or Marker here, or both!)
This has required some adjustments for the newsletter, which has now become a weekend project. So my new plan is to send TAoN out every other Monday. Starting… now!
Okay, that's it! As always, I value your feedback (suggestions, critiques, positive reinforcement, constructive insults, etc.), as well as your tips or stories or personal noticing rituals, and your icebreakers: consumed@robwalker.net.
Thanks for reading!
rw

P.S. If you enjoyed this, share it and/or sign up here: robwalker.substack.com.
Twitter | Facebook | Medium | RobWalker.net | NB: I use Amazon Affiliate links.