Discover more from The Art of Noticing
Ideas, inspiration, and provocations for creativity, work, and staying human. From author Rob Walker.
Over 39,000 subscribers
TAoN #33: The Adventurous Lunch Hour
PLUS: I have a job! And, of course, a new icebreaker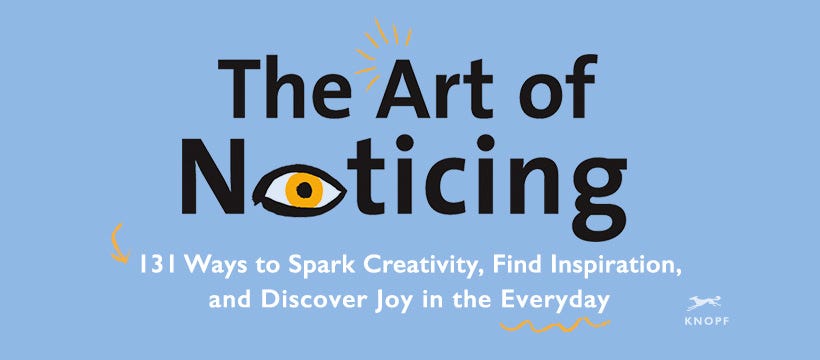 The Art of Noticing: 131 Ways to Spark Creativity, Find Inspiration, and Discover Joy In the Everyday offers exercises, prompts, provocations, games and things you can actually do to build attention muscles, stave off distraction, pick up on what everybody else overlooked, and experience the joy of noticing. Indiebound | Amazon | Barnes & Noble | Knopf | All purpose link for readers in UK/Europe or US

This newsletter offers related news and ideas and noteworthy projects that have come along since I finished the book. Subscribe or unsubscribe at: robwalker.substack.com.
Making Your Lunch Hour An Adventure
A little while back, I got a really cool email from reader Rob Kilner. Here's the important part:
I've got a noticing project, based around my home town. In my office job lunch hour I used to go on mini-adventures, city breaks. I reframed the day and began to see my swivel chair as a holiday destination, one from which I could act like a tourist for an hour every day.
Here's Kilroy giving a short 2017 talk about his mini-adventures, and here's a related piece he wrote last year for The Idler. As he explains in the latter, his practice started out simply enough, just spending his lunch hour off (from a financial call center job in Leeds) walking — "for half-an-hour before turning back, to see how far I could get." He continues:
I plotted a circular lunchtime range on a map, which revealed an area the size of a small country (the Polynesian Island nation of Tuvalu) at my disposal. And the lunch hours add up. Twelve months of them equate to around two weeks of free time.
Kilner describes some of his adventures, and the ways he's gotten more ambitious and thinking in terms of a #workerslunchtime movement of sorts, in the Idler piece. But here's the latest: He's how developing a (Leeds-focused) calendar highlighting midday events and activities "to encourage organisations to let their employees get outside and be part of the community in which they work." Check that out here: https://tockify.com/workerslunchtime.
This is all super inspirational — I love it as a simple personal practice, and admire the idea of spreading it thoughtful ways. Kilner says:
I'm looking for advice, connections and feedback. Particularly around research and evidence that activities like these have positive implications for employers. I'd be interested to hear if you've come across any studies.
If you have #workerslunchtime ideas, write to him at: ROB_KILNER_4@hotmail.com
A Personal (Exciting!) Note:
In a development that I certainly didn't see coming, I've taken a job! As of mid-November, I'm officially a senior writer for Marker, a new business-focused publication from Medium. I was already writing a column for Marker; now I'll be doing feature-y pieces as well.
I'm really excited about it. The people are terrific, Medium's (ad-free) mission is something I'm totally behind, and Marker is already publishing a lot of great stuff. If you're a Medium user (you should be!) follow Marker here and/or me here.
Icebreaker Of The Week
This week's icebreaker comes from reader Lassie:
What thing from nature are you? (Excluding animals. )
"There are so many interesting responses," Lassie reports. Including: stone at the bottom of a river; a smoldering ember; a geyser; a vine; moss; an unattached leaf. "It really seems to get people thinking hard. I say I am dirt — dirt can take on many different qualities under different situations, and it's the stuff from which plants grow, so there is an element of creativity to it."
Nice. I'm going to go with "weed" for me. Thanks, Lassie! As always:
Send your favorite icebreaker (whether you made it up or got it elsewhere) to consumed@robwalker.net
Random Endorsement:
In Other News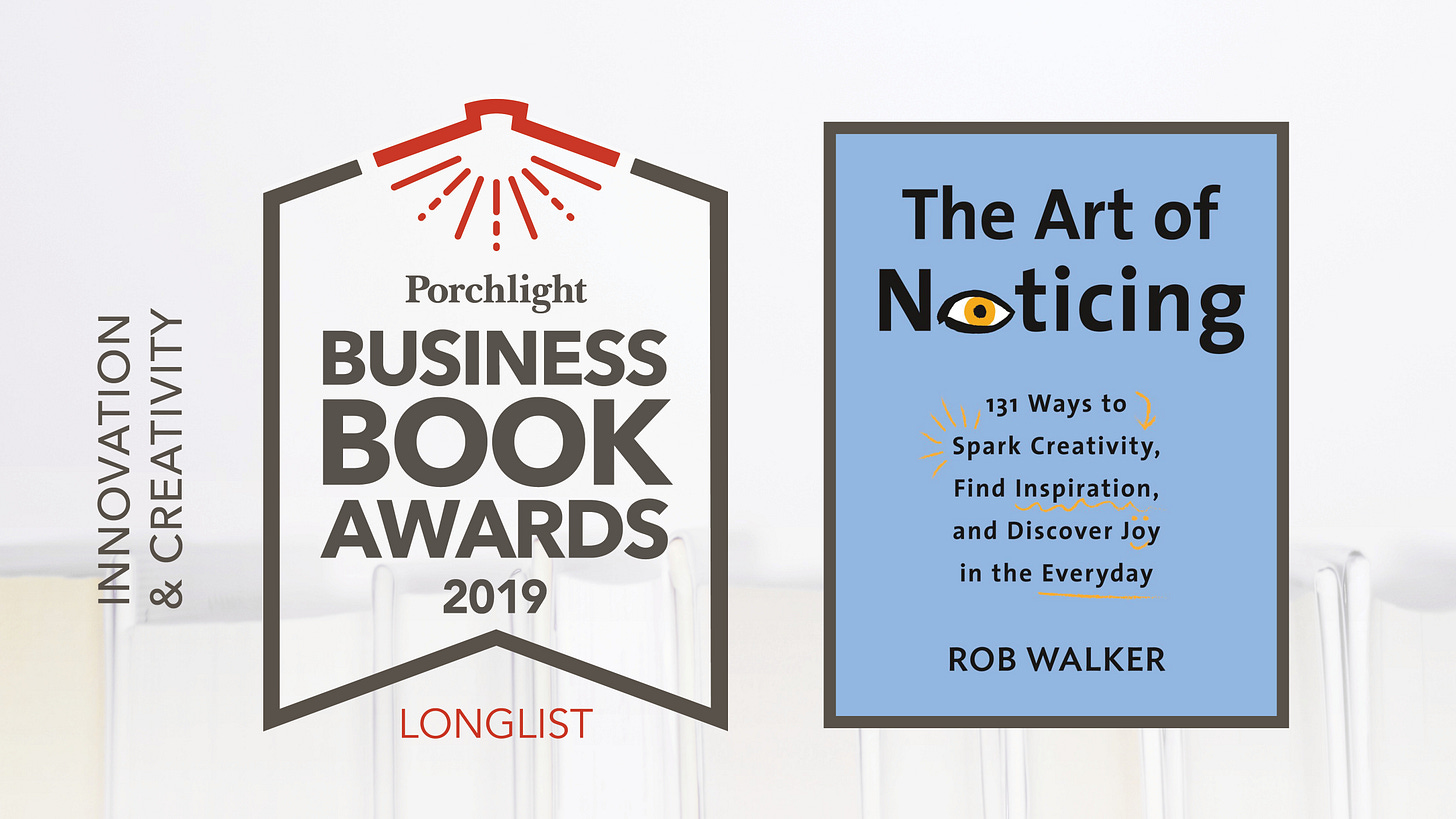 Okay, that's it! As always, I value your feedback (suggestions, critiques, positive reinforcement, constructive insults, etc.), as well as your tips or stories or personal noticing rituals, and your icebreakers: consumed@robwalker.net.
Thanks for reading!
rw

P.S. If you enjoyed this, share it and/or sign up here: robwalker.substack.com.
Twitter | Facebook | Medium | RobWalker.net | NB: I use Amazon Affiliate links.