TAoN #32: Do It Again
PLUS: New Icebreaker, "Book Freak," more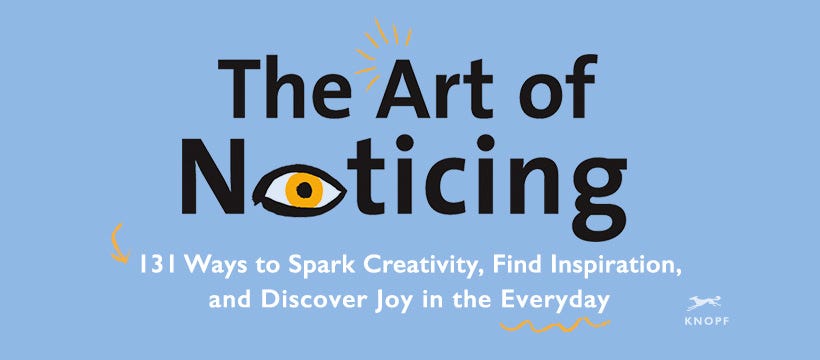 The Art of Noticing: 131 Ways to Spark Creativity, Find Inspiration, and Discover Joy In the Everyday offers exercises, prompts, provocations, games and things you can actually do to build attention muscles, stave off distraction, pick up on what everybody else overlooked, and experience the joy of noticing. Indiebound | Amazon | Barnes & Noble | Knopf | All purpose link for readers in UK/Europe or US

This newsletter offers related news and ideas and noteworthy projects that have come along since I finished the book. Subscribe or unsubscribe at: robwalker.substack.com.
Do It Again
Is novelty overrated? This NYT Smarter Living piece on "the unexpected joy of repeated experiences" says so.
In short, the piece argues that we're so often so obsessed with the new and novel that we fail to appreciate the familiar. "You're far more likely to enjoy something the second time around than you think," writer Leah Fessler maintains.
I can get behind that. In fact, there's an exercise directly related to this in The Art of Noticing. Here's that entry:
Artist Adam Henry uses repetition in his work "to set up parameters of comparison and to slow down the viewing experience." This reflects his own cultural consumption habits. Rereading a particular book or watching the same movie over and over is "a way for me to understand and study the logic behind things," he has said. "For the last three years I have read and reread the same book on every trip I've taken. I think I'm up to nine reads. It's been an incredible experience to try to truly know this book and how the content changes depending on the place where I am reading it." The book, incidentally, is The Invention of Morel, by the Argentinean writer Adolfo Bioy Casares.

I suspect we all share mixed feelings about repetitious cultural consumption. There is so much to take in, there is so much else to do and enjoy—not just new, but the classic we haven't made time for yet. This makes the act of returning to a known favorite feel like some variety of squalor.

Resist that feeling. Pick some cultural object right now that made an impression on you, and make it a top priority to revisit it.

Maybe this experience will be disappointing, or maybe it will be invigorating. Doesn't matter. Take it for what it is.

Consider how you have changed, and how you haven't. Consider whether you should return to the same cultural object one year from now.
Icebreaker Of The Week
This week's icebreaker comes from an episode of the podcast Startup. It's an old episode (the podcast has concluded), and it deals with Gimlet Media getting acquired by Spotify. In one crucial meeting leading up to the acquisition, the head of Spotify asked the Gimlet founders:
What would you do if I gave you a billion dollars?
His point (as I see it) was to get a better sense of the nature of the Gimlet folks' ambitions — and to prod them to think at a bigger scale. As one of the Gimlet founders says: "Of all the questions we prepared for, we did not prepare for that." (The Spotify guy says he asks the question often, and good answers are rare.)
All that said, of course this question can be extracted from the context of a startup, or work.
Okay, I promise to get back to your submissions (I've got a backlog) next time. But as always:
Send your favorite icebreaker (whether you made it up or got it elsewhere) to consumed@robwalker.net
Random Endorsement: "Book Freak"
I really dig the newsletter Book Freak, in which Mark Frauenfelder culls "short pieces of advice from books." Issue 33, for example, draws on Robert Greene's 2012 book, Mastery, such as "fail by doing instead of not doing." Issue 34 has useful extracts from Kurt Vonnegut's If This Isn't Nice, What Is?, a collection of graduation speeches. Issue 32 has advice inspired by Mihaly Csikszentmihalyi's Flow, including a passage Mark summarizes as "Drop out of the society of the spectacle." The passage is worth quoting again here in full:
The tremendous leisure industry that has arisen in the last few generations has been designed to help fill free time with enjoyable experiences. Nevertheless, instead of using our physical and mental resources to experience flow, most of us spend many hours each week watching celebrated athletes playing in enormous stadiums. Instead of making music, we listen to platinum records cut by millionaire musicians. Instead of making art, we go to admire paintings that brought in the highest bids at the latest auction. We do not run risks acting on our beliefs, but occupy hours each day watching actors who pretend to have adventures, engaged in mock-meaningful action.
That's from 1990 — but it sure sounds familiar!
Subscribe to Book Freak here. Mark is (among other things) also co-author of the terrific Recommendo newsletter, which I also endorse. See also the recent Recommendo book — "500 brief reviews of cool stuff."
Noticing Notes
I am quite impressed by this assessment, and rating, of every horse emoji. This is my idea of top-notch design criticism.

I would love to play this incredibly boring-sounding game: "Airplane Mode … tasks you with sitting through a nearly six-hour transatlantic flight... in real time. You have to stave off the tedium using the all-too-familiar resources of a cramped coach seat, including the (sometimes flaky) in-air WiFi, outdated shows on the seatback entertainment system and crossword puzzles in the airline's travel magazine." Check out the trailer. I really think the game-makers need to team up with Nina Katchadourian.

NYT contributor Winnie Hu has a "how this story happened" writeup that I actually found more interesting than the story itself! In short, she noticed "aggressive" architectural elements of the city, like spikes that prevent one from sitting on a ledge. "With so many people, and so little space," she writes, "I wondered about these little corners of the city that were essentially off limits." I have a longstanding interest in this subject — see this 2015 Design Observer piece on "decorative deterrents" — but on a higher level I just love the way Hu walks us through the process of noticing something that everybody else was taking for granted, and following her curiosity. Nice work!
In Other News: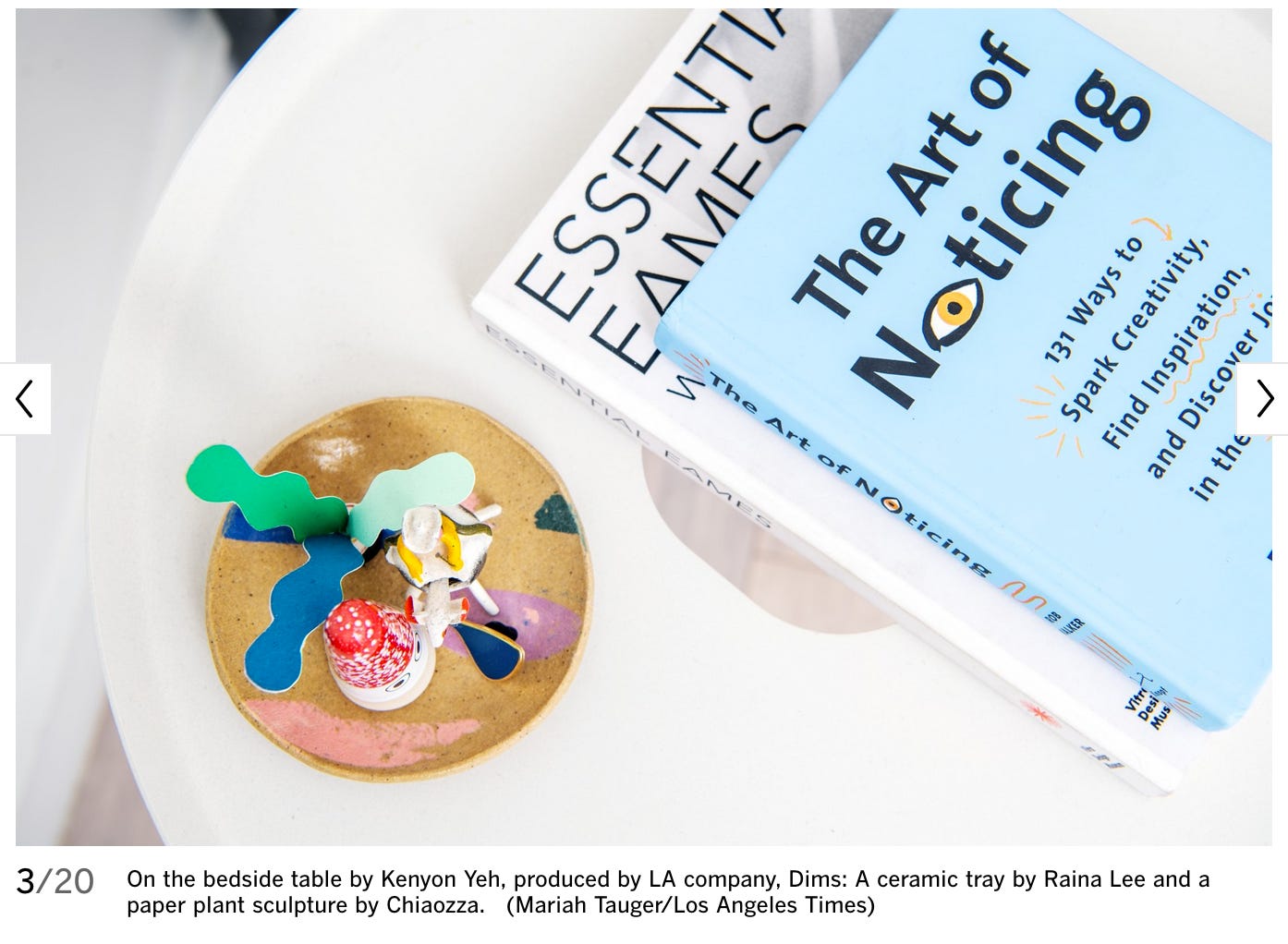 Okay, that's it! As always, I value your feedback (suggestions, critiques, positive reinforcement, constructive insults, etc.), as well as your tips or stories or personal noticing rituals, and your icebreakers: consumed@robwalker.net.
Thanks for reading!
rw

P.S. If you enjoyed this, share it and/or sign up here: robwalker.substack.com.
Twitter | Facebook | Medium | RobWalker.net | NB: I use Amazon Affiliate links.