Discover more from The Art of Noticing
Ideas, inspiration, and provocations for creativity, work, and staying human. From author Rob Walker.
Over 39,000 subscribers
TAoN #27: Look Out the Window (for Ten Years)
Plus: Taking perfunctory architecture seriously, and a new icebreaker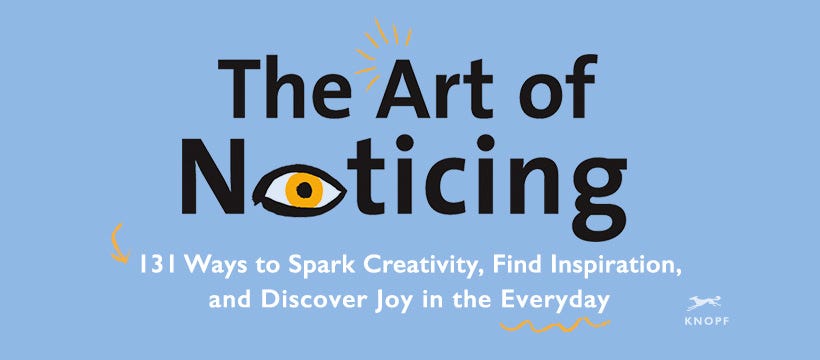 The Art of Noticing: 131 Ways to Spark Creativity, Find Inspiration, and Discover Joy In the Everyday offers exercises, prompts, provocations, games and things you can actually do to build attention muscles, stave off distraction, pick up on what everybody else overlooked, and experience the joy of noticing. Indiebound | Amazon | Barnes & Noble | Knopf | All purpose link for readers in UK/Europe or US

This newsletter offers related news and ideas and noteworthy projects that have come along since I finished the book. Reminder: I've switched from Tinyletter to Substack for sending out these newsletters. Subscribe or unsubscribe at: robwalker.substack.com. Concerns? Reach me at consumed@robwalker.net.
Look Out the Window (for Ten Years or More)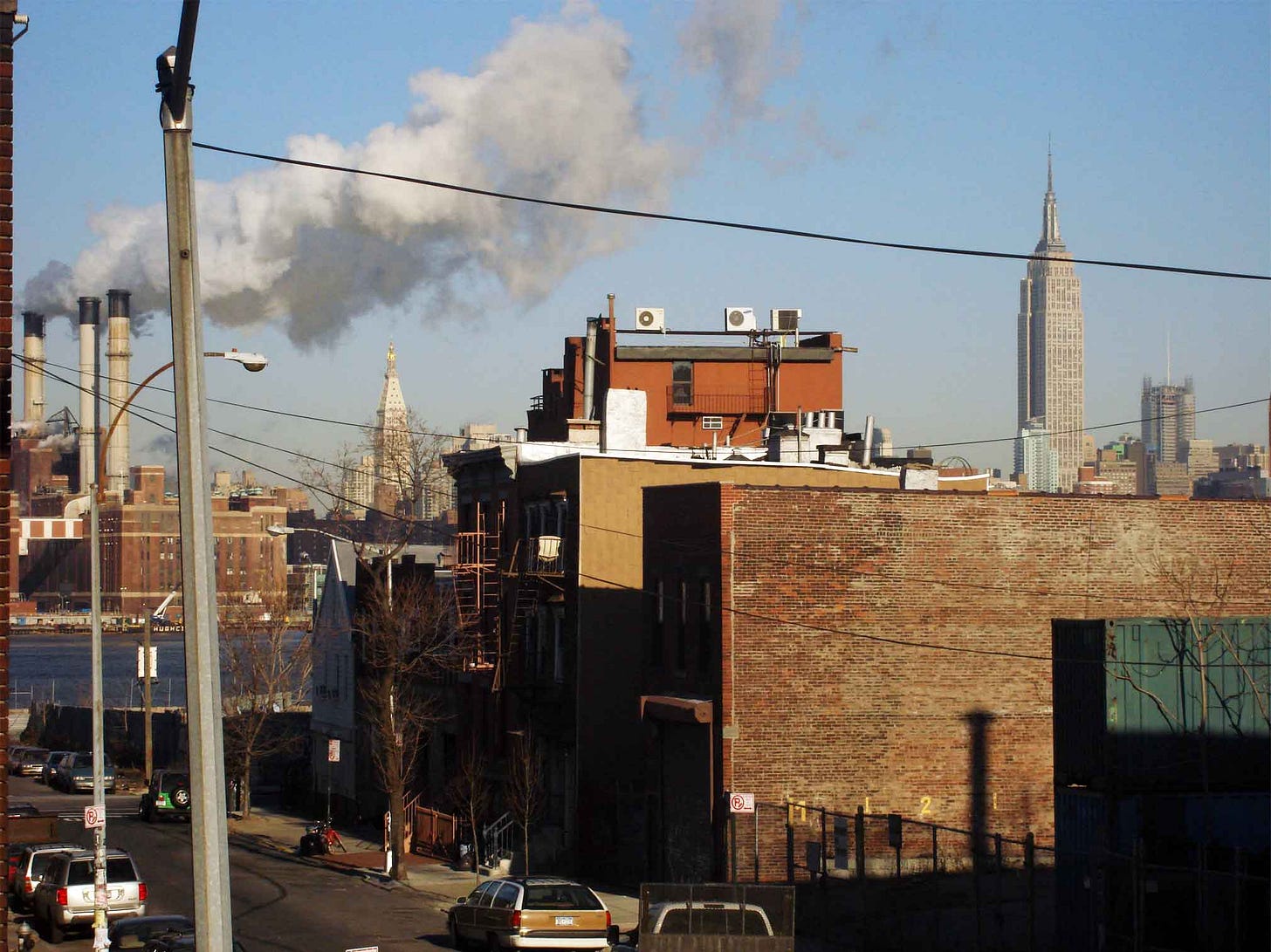 The Art of Noticing offers difficult prompts, and easy ones. One of the easiest is "Look Out A Window." That's pretty much the whole assignment: Pick a window you walk past all the time without ever bothering to peer through it, and spend some time seeing what you can see. This was inspired in part by a terrific New York Times Magazine essay by Sam Anderson.
But here's an example of where such a simple action can lead. Responding to an earlier newsletter item about taking "useless" photos of one place, over and over, for a period of years, to track how it changes, my friend Daniel S Dunnam reminded me of his WB Flashback series, documenting "a decade of hyper-development in north Brooklyn." The Camilo Vergara work I mentioned in that newsletter generally plays out very gradually, but Daniel's project documents jaw-dropping change in a pretty short period of time.
And the most astonishing example, turns out, is simply the view from his desk: Back in 2007, Daniel looked through the window and took a picture. Click through to see how radically the view through that window has been transformed, and more of Daniel's documentation of fast-changing Williamsburg.
Now, go find a window. See what's out there. Check back again later. And later still. What's changed? What hasn't? Continue to do this for a decade or more. Then let me know what you notice.
Respect for Boring Architecture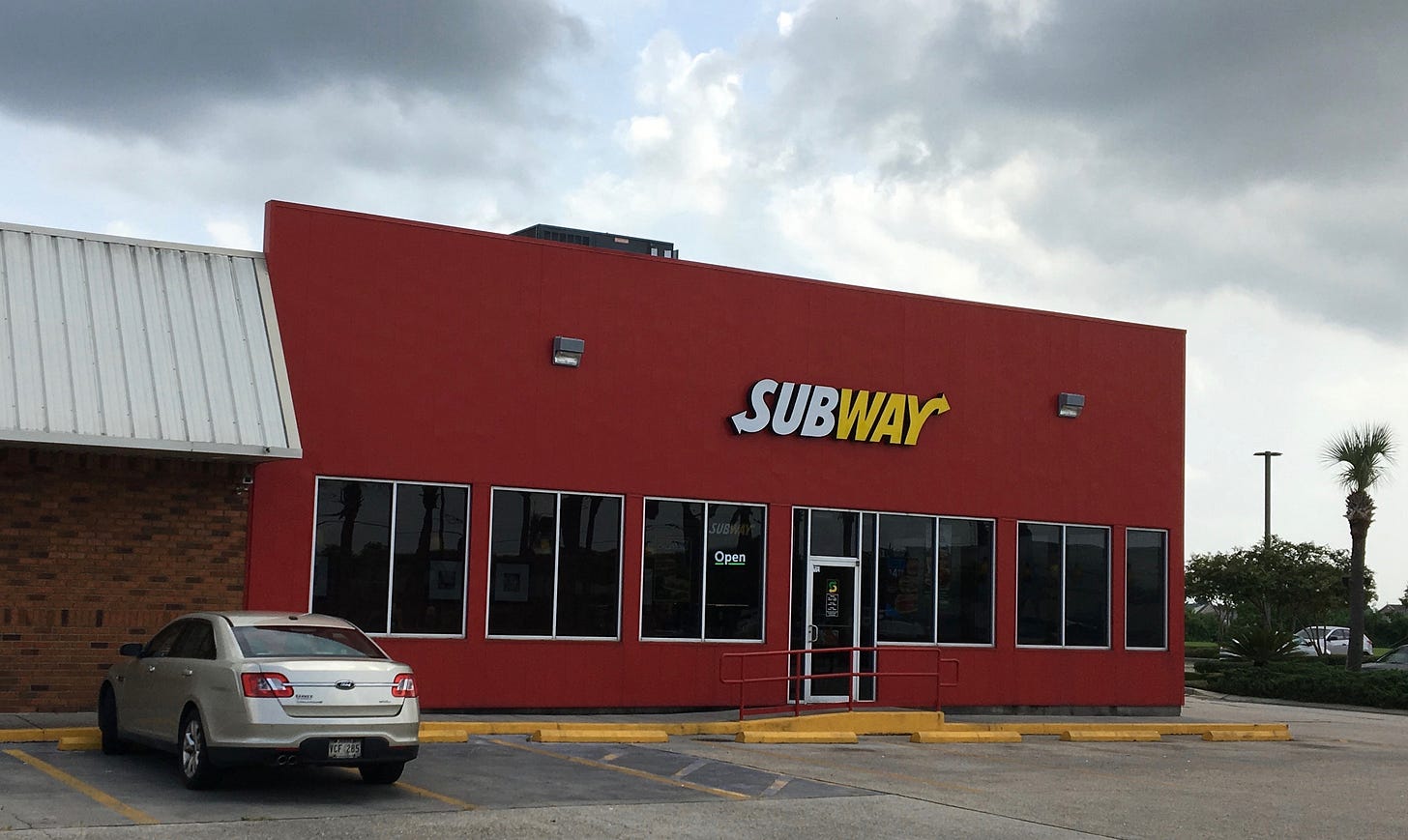 Filling my car with gas the other day, I was struck by, and took the above useless picture of, this Subway. It raised so many questions.
Who, exactly, designed this building, and what might their goals have been? How much more boring, how uninviting, how perfunctory, can architecture get? Does Subway have any kind of brand standards for what sort of structure its franchises can occupy? How hungry do you need to be to decide, "Yeah, I want to sit in that building, and eat"? What's it like inside? How long would you linger? Do the patrons, the employees, have any feeling about this space? Is that feeling a vague sense of dread?
Or do they think it's just fine, and I'm simply a snob?
A day or two later I saw a headline, Why Everyday Architecture Deserves Respect. I got excited. But it turned out the piece wasn't about "everyday architecture." It was about examples of exemplary — and thus exceptional — small-scale architecture.
That's fine. But it made me wish I could start a whole magazine devoted to actual everyday architecture. Not necessarily celebrating it or picking out great examples. I like the word "respect." Just looking hard and asking serious questions, explaining how things like this Subway come to exist. Maybe suggesting how they could be better … or maybe not, maybe even explaining that they're better than I think. But mostly just trying to address why they are the way they are.
Everyday architecture really does deserve respect. It's much more a part of our lives than great architecture, large or small.
Icebreaker Of The Week
This week's icebreaker comes from Michael Shiloh:
What question do you wish people would ask you?
"You can imagine various variations on this," he adds, "but I think this captures the essence." Agreed. I'm definitely going to use this.
As always:
Send your favorite icebreaker (whether you made it up or got it elsewhere) to consumed@robwalker.net
In Other News: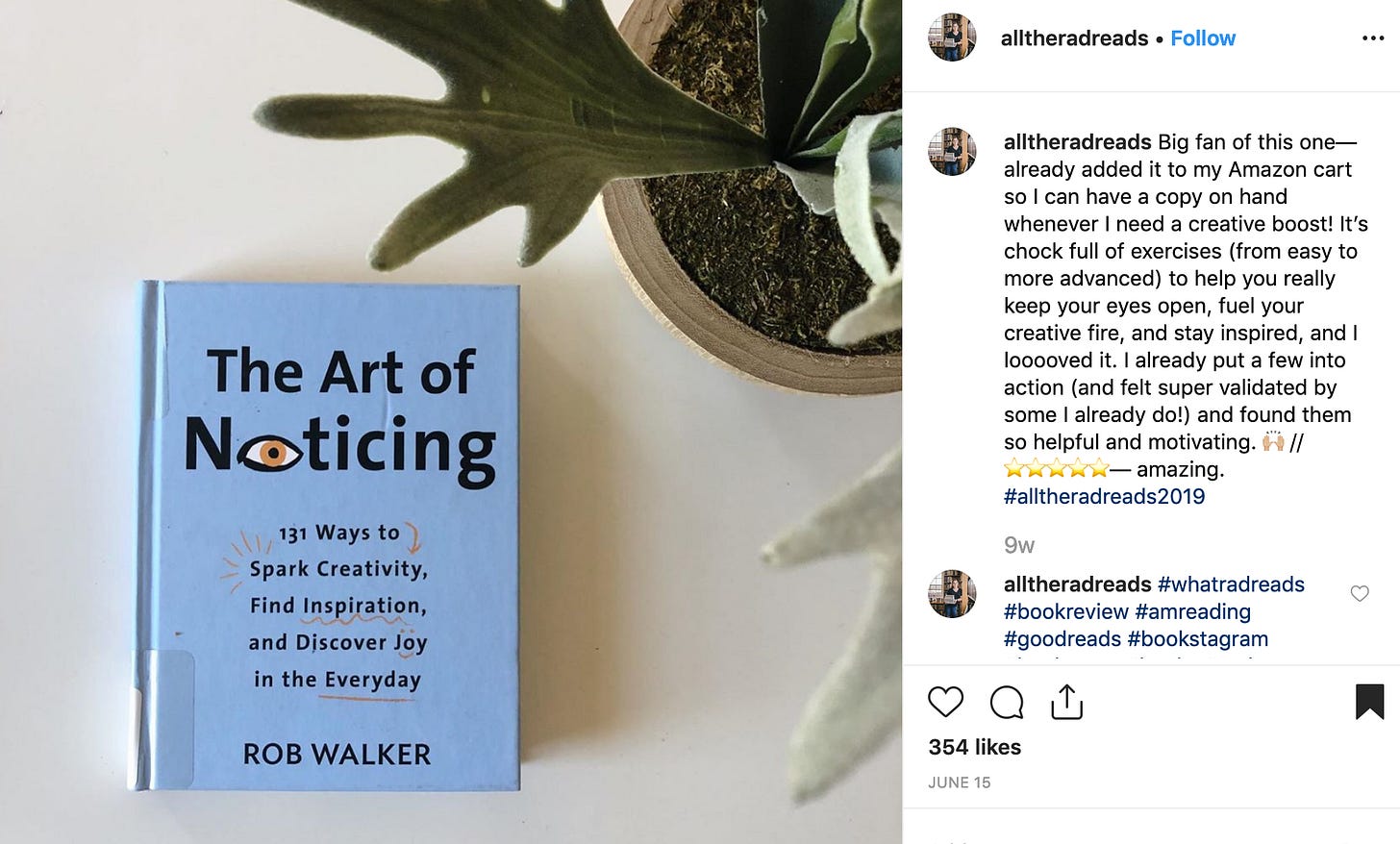 Some other quick book-related notes:
Had the pleasure to talk to Marty Moss-Coane on Radio Times on WHYY, along with fellow guest Jenny Odell (!) — all about noticing, attention, and doing nothing. Listen here.

"Walker reminds us of interesting things going on all around us if we pay attention." Marvin Olasky, World Magazine

The Dutch edition of The Art of Noticing is now available. If you know anybody who should know, spread the news. I know this rather niche information, but I'm just excited that the translator, @NinaWest71, tweeted about it, and that there have been other Dutch tweets — this one being my favorite.
Okay, that's it! As always, I value your feedback (suggestions, critiques, positive reinforcement, constructive insults, etc.), as well as your tips or stories or personal noticing rituals, and your icebreakers, and links to (no attachments please) pictures of your pet curled up next to a copy of The Art of Noticing : consumed@robwalker.net.
Thanks for reading!

rw

P.S. If you enjoyed this, share it and/or sign up here: robwalker.substack.com.

Twitter | Facebook | Medium | RobWalker.net | NB: I use Amazon Affiliate links.