Lost Objects
TAoN No. 106: A prompt inspired by my new book (!) with Joshua Glenn and an all-star cast of writers and artists. And more.
Note before we begin: A Google Doc in progress collecting ways people can help out with the awful situation in Ukraine is

here

. And here is

a New York Times link to ways you can help

. Now, if you're up for a small break from the news, here goes.
---
THE PROMPT: Think of an object that meant something to you — and that went missing. Maybe lost, maybe stolen, maybe broken, maybe misplaced, maybe just slipped away while you weren't looking. Why does it linger in your memory?
Today's prompt is simple, but for reasons that will become clear, I'm pretty excited about it.
For starters, regular TAoN readers know of my interest in objects as carriers of story and meaning, and therefore value. I've explored this in collaboration with Joshua Glenn through our fiction-about-objects project Significant Objects, and our nonfiction series Project:Object.
And in this newsletter, I've had prior reflective prompts about objects that signify "home," about objects that took on new meaning during lockdown, and on imagining the "career" of an object.
So today I'm thrilled to announce the latest iteration of my object explorations with Josh — LOST OBJECTS: 50 Stories About the Things We Miss and Why They Matter. Published by Hat & Beard Press, which does amazing work, it's a collection of essays from a stellar cast of writers, accompanied by full-color illustrations from an equally amazing crew of artists.
Among our contributors: Lucy Sante, Ben Katchor, Lydia Millet, Neil LaBute, Laura Lippman, Geoff Manaugh, Paola Antonelli, Margaret Wertheim, Miranda Melllis, Nina Katchadourian, Seth, Kate Bingaman-Burt, Oliver Munday, Lisa Congdon, Matt Wuerker, Anita Kunz, Linzie Hunter, Alex Eben Meyer, Gary Panter, Kelli Anderson, and many more. Plus a foreword by the great Debbie Millman!
The terrific design is by Tony Leone Design; Hat & Beard has just started accepting pre-orders, here. (N.B.: The book publishes in the spring, probably late May at the earliest, so it won't ship for a couple months.)
Back to today's prompt:
Addressing "lost" objects as a theme was Josh's idea, so I'm allowed to say that it was a brilliant one. I suspect everyone has (or rather, had) some object whose meaning and importance only really became clear when it was gone. Maybe that's a source of regret; maybe that's a source of relief. But sometimes the most important objects are the ones that exist only, for better or worse, in memory.
Our Lost Objects contributors explore those themes in all sorts of ways, some comic, some tragic, some philosphical. But clearly it's a limitless subject, and a great prompt to write about, to draw, or just to remember that lost thing that haunts you.
In connection with the book, we're launching a new Instagram account, @lostobjectsbook. Among other things, as the publishing date approaches we'll be asking for more lost object memories … maybe yours? Give it a follow!
One last exciting note about Lost Objects: Hat & Beard, working with Feature Studios, is producing a set of poster-size prints of a handful of the remarkable illustrations in the book, each in a (very) limited edition. Again, the publication date isn't until late spring, but you can order print/book combo sets (or just the book) starting today.
This project has been in the works for a while, and as you can tell I'm super excited to be able to share all of this at last. Aside from the book itself, and the prints, I just love the idea. And that part, of course, you can enjoy without ordering a thing. Either way, your lost object thoughts are welcome.
---
Programming Notes
The Dictionary of Missing Words will return next time. I know I said that last time, but that was before I knew I'd be doing a long Lost Objects post today.

Thursday's post for paid subscribers will be about whether, when it comes to judging online "success," we are measuring the right things. Last Thursday's post was about TAoN inspiring some excellent student work that in turn inspired me.

TAoN depends on reader support. Please consider becoming a paid subscriber for full access to all posts. Or, tell someone about TAoN. Your help in spreading the word is really important. Thanks!
If you desperately want access to paid subscriber posts but you just can't afford it, write to me at consumed@robwalker.net and I'll see what I can do. Give a gift subscription

here

. Underwrite a subscription for someone who doesn't have the budget right now,

here

.
---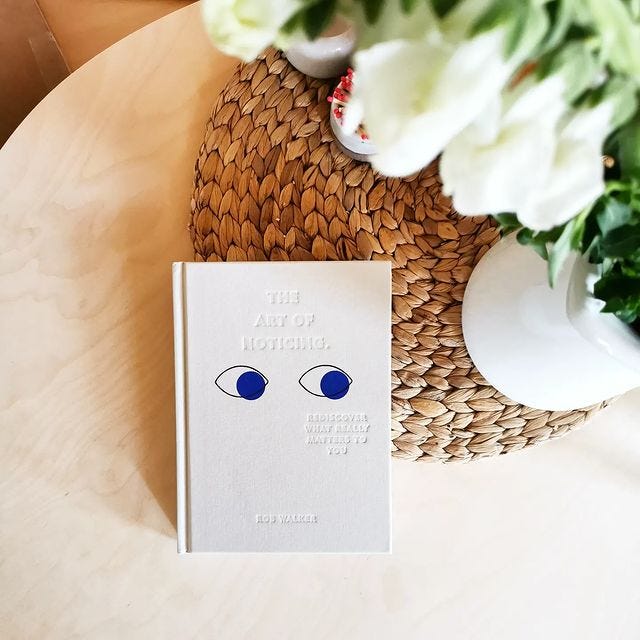 ---
Okay that's it!
As always, I value your feedback (suggestions, critiques, positive reinforcement, constructive insults, etc.), as well as your tips or stories or personal noticing rituals, things we need a word for, and of course your icebreakers: consumed@robwalker.net. Or use the comments.
—> Or just click the heart symbol. That always makes my day.

And thanks for reading …
rw

Twitter | RobWalker.net | NB: I use (some) Amazon Affiliate links
All this by Rob Walker PO Box 171, 748 Mehle St., Arabi LA 70032 
To unsubscribe see the grey box at the bottom of the email, or go here.
---