Life in the Details
TAoN No. 120: Attending to specific little quirks. Plus: a new icebreaker, and more.
---
An interesting article in The New Yorker the other day asked "Are You the Same Person You Used To Be?" While the piece is of course inconclusive on such a sweeping question, it comes at matters of identity over the course of a lifetime from many angles, and it's a thought-provoking read. I recommend it.
But … as I am prone to do … I got caught up on a passing aside. "Even seemingly unimportant or trivial elements can contribute to who we are," Joshua Rothman writes, musing about a recent family get-together that made him think about how his father's Star Trek fandom, however un-vital it may be, is "a through line in my dad's life." He continues:
"We tend to downplay these sorts of quirks and enthusiasms, but they're important to who we are. When Leopold Bloom, the protagonist of James Joyce's 'Ulysses,' wanders through a Dublin cemetery, he is unimpressed by the generic inscriptions on the gravestones, and thinks they should be more specific. 'So and So, wheelwright,' Bloom imagines, or, on a stone engraved with a saucepan, 'I cooked good Irish stew.'

"Asked to describe ourselves, we might tend to talk in general terms, finding the details of our lives somehow embarrassing. But a friend delivering a eulogy would do well to note that we played guitar, collected antique telephones, and loved Agatha Christie and the Mets. Each assemblage of details is like a fingerprint. Some of us have had the same prints throughout our lives; others have had a few sets."
Maybe this jumped out at me because I've been thinking about friendship and connection a lot lately. And that bit about the hypothetical "friend delivering a eulogy" made me consider how much the practice of attending to others' "quirks and enthusiasms" is kind of what friendship is about.
Pay attention to those seeming "unimportant and trivial" details (the "fingerprints") of the people you care about. And find a way to let them know you're paying attention — to use what you've noticed as a way to connect.
While you're at it, you might reflect on your own quirks and enthusiasms. As Rothman suggests, we often downplay such things in considering "who we are," but they can be important and revealing through lines, as he puts it.
Not to be macabre, but channel Joyce's Bloom wandering that cemetary, and imagine what specific fact could serve as your distinctly non-"generic" epitaph. List 10 potential answers. Be specific. Get your friends (or perhaps classmates or colleagues) to do the same. Compare notes; see what you learn about the details of life that matter to them — and to you.
---
Today's icebreaker comes from reader Estelle Metayer: 
Describe your first car, and what it meant for you.
My first car was a Pontiac T1000, which I promptly totalled. But that car had other, happier associations, too! First cars are special objects, no doubt. People always have stories about them. So thanks for this great contribution, Estelle!
As usual, I'm still working through the disorganized backlog of icebreaker submissions. But as always, I want more.
—> ATTENTION NEW READERS:
Please send your favorite icebreaker (whether you made it up or found it elsewhere) to consumed@robwalker.net
---
COMING UP
THE NEXT FREE MONDAY EDITION IN TWO WEEKS!
---
IN OTHER NEWS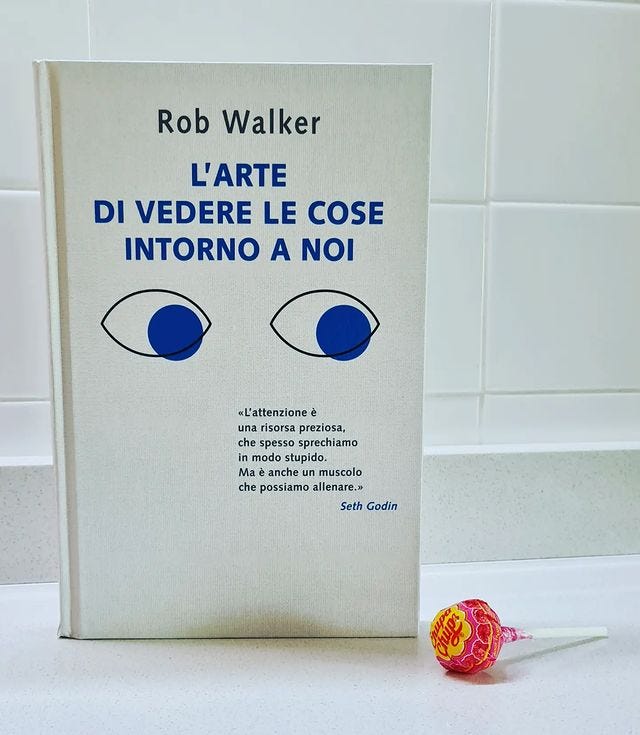 ---
OKAY THAT'S IT!
All this by Rob Walker PO Box 171, 748 Mehle St., Arabi LA 70032 
To unsubscribe see the grey box at the bottom of the email, or go here.