Keeping It Simple
TAoN No. 108: 11 easy ways to engage. And more.
Reminder: A Google Doc in progress collecting ways people can help out with the tragic situation in Ukraine is here. And here is a New York Times link to ways you can help.
---
---
This week, a short and simple dispatch.
The fine folks over at Recomendo recently pointed to this Guardian piece, "100 ways to slightly improve your life without really trying."
Some of the entries are definitely in the realm of TAoN. Here are my favorites:
8 Send a voice note instead of a text; they sound like personal mini podcasts.

16 Set aside 10 minutes a day to do something you really enjoy – be it reading a book or playing Halo.

25 Look closely.

30 Be polite to rude strangers – it's oddly thrilling.

34 Go for a walk without your phone.

47 Take out your headphones when walking – listen to the world.

55 Learn the names of 10 trees.

56 Call an old friend out of the blue.

73 Thank a teacher who changed your life.

79 Ignore the algorithm – listen to music outside your usual taste.

98 Make a friend from a different generation.
This all happens to fit my mood this week: minimal, simple, let's not overthink things, etc. So in that spirit, I don't really have anything to add — other than to say sometimes an easy idea is the right idea.
---
The Art of Noticing is Rob Walker's newsletter about attention, creativity, and staying human. Your support makes it possible.
---
Up Next
Give a gift subscription here. Underwrite a subscription for someone who doesn't have the budget right now, here.
---
In Other News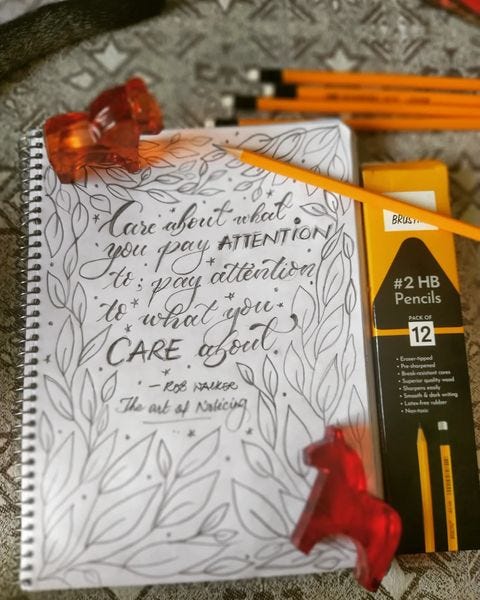 ---
Okay that's it!
As always, I value your feedback (suggestions, critiques, positive reinforcement, constructive insults, etc.), as well as your tips or stories or personal noticing rituals, things we need a word for, and of course your icebreakers: consumed@robwalker.net. Or use the comments.
—> Or just click the heart symbol. That always makes my day.

And thanks for reading …
rw

Twitter | RobWalker.net | NB: I use (some) Amazon Affiliate links
All this by Rob Walker PO Box 171, 748 Mehle St., Arabi LA 70032
To unsubscribe see the grey box at the bottom of the email, or go here.
---