Discover more from The Art of Noticing
Ideas, inspiration, and provocations for creativity, work, and staying human. From author Rob Walker.
Over 39,000 subscribers
Enjoy the Trip
TAoN No. 147: Even (especially?) when it's boring. Plus a new icebreaker, and more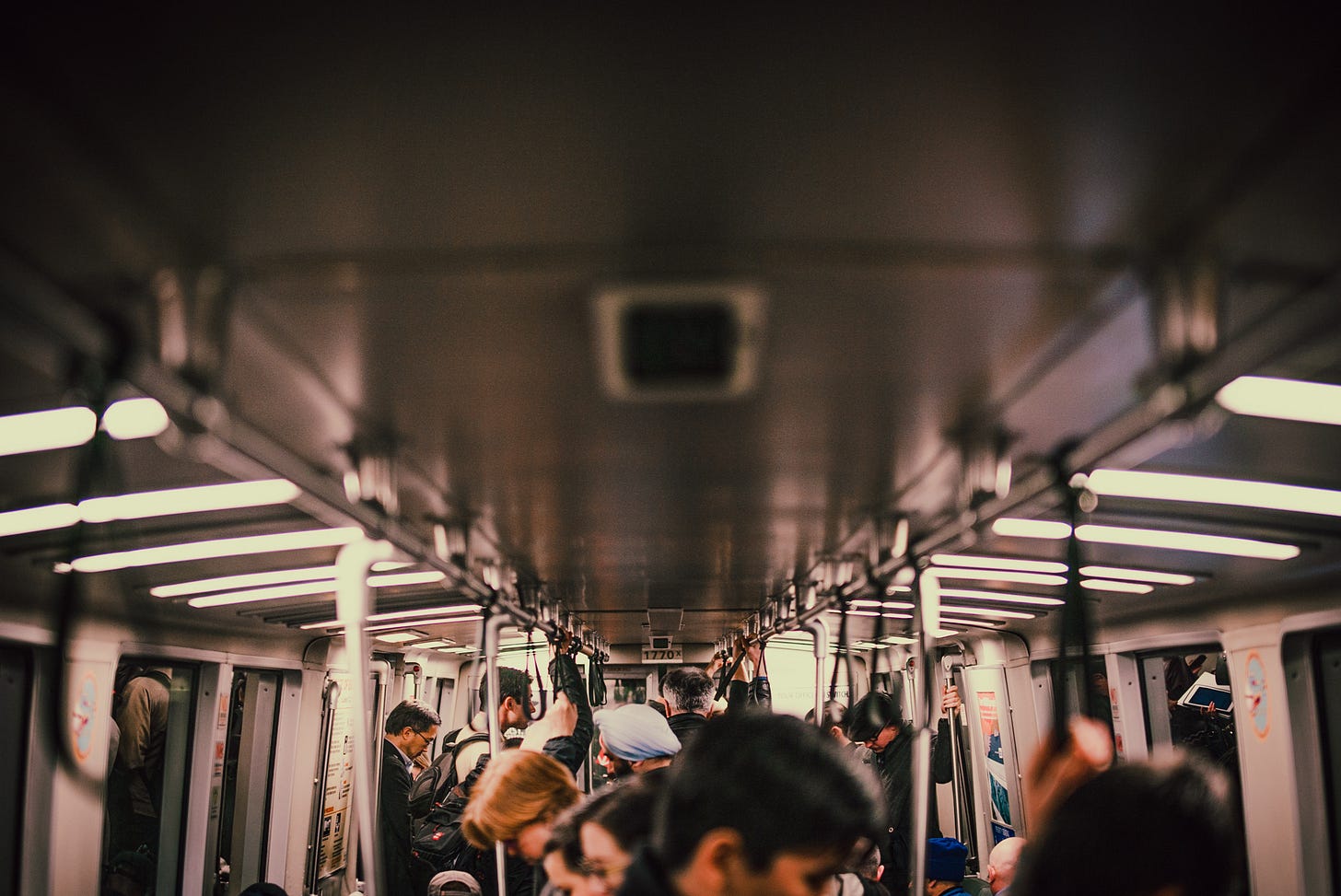 ---
Several weeks back, I received something I can't recall ever receiving before: a request for a noticing assignment.
Even better, it came from everyone's favorite Substack writer, Anne Kadet of Café Anne. She explained that she was spending a week doing no multitasking, and had a challenge coming up: several hours on the subway traveling around Brooklyn and Queens. "Because of my multitasking ban," reading a book on the train was "not allowed," she explained. "I have to just sit there, staring into space, or whatever.
"So I am hoping...could you assign me a special noticing project?"
I was certainly excited to try! And it turned out that much of what I suggested could apply to any mass-transit trip. So I thought I'd share it here. Put down that book, turn off that podcast, and uni-task on paying attention! Here's some of what I offered:
When the train is above ground, focus on what you can see out the window. Maybe note some specific business that you could later visit. Improvise — count churches or gas stations or whatever the trip presents. (I love NY subway rides that include above-ground segments.)

When you're underground of course it's just you and other riders. Broadly speaking, turn these people into a series of games. Guess what stop someone will get off. Evaluate "would I wear that?" Etc.

When you start a given ride, try to keep track of who is on the train for the longest portion of your trip. (Make a prediction — who will be on this car the longest with me?) In a general sense, pay attention to how the rider demographic changes as you go: does it get older, younger, more diverse, less touristy, whatever.) See if your observations are borne out in reverse when you travel back. 

Finally, engage other senses: Be alert to the best (and worst?) sound on a particular trip.
The idea is to treat the no-multitask trip as a major opportunity: Learn everything you can from what's going on around you!
Obviously I suggested too many tasks, but read what Anne actually did, and how it worked out, here.
---
WHAT THE "ASSIGNMENT" TAUGHT ME
I was going to write about this sooner, but there was an additional, very cool footnote: One of Anne's readers responded to her post by a sharing a different subway game, one that a co-worker of his used to play:
"It entailed trying to figure out who would take charge of the car in the event of some kind of disaster. She concocted these complicated hierarchies and power struggles among the disparate riders in the train."
Great stuff! (Anne even polled her readers on the role they'd play in a disaster scenario.) And proof of the real lesson of this "assignment" — that there's plenty of entertainment to be had by engaging with real life. In fact, there's room to be creative about it, if you give yourself permission.
Take a boring trip — and invent a new way to make it interesting
---
TAoN IS A READER-SUPPORTED PUBLICATION:
Become a paid subscriber to

TAoN

and I'll entertain

your

request for a "special noticing project"! More to the point, you'll get full access to past and future subscriber-only posts, discussion threads — and most important, you'll help keep this free edition alive for all.

Support TAoN

with a

paid subscription

.

Extending the fall sale on annual subs for another week or so:
THE NEXT FREE EDITION IN TWO WEEKS
---
Noticing is about other people, too. The Icebreaker series aims to help with that. There's a central collection spot for all the icebreakers to date, here.
Today's icebreaker comes from reader M.W.:
You're the organizer of a music festival; pick any two music headliners, living or dead. 
"I'm a trainer/instructor for restorative practices, so we do circles to build community," M.W. explains. "For a warm-up or closing I like this prompt." I like it, too! Fits with some of the recent music-listening posts, as well. Thanks, M.W.!
Please send your favorite icebreaker (whether you made it up or found it elsewhere) to consumed@robwalker.net
---
IN OTHER NEWS
---
OKAY THAT'S IT!
As always, I value your feedback (suggestions, critiques, positive reinforcement, constructive insults directed at me, not at anyone else, etc.), as well as your tips or stories or personal noticing rituals, things we need a word for, and of course your icebreakers: consumed@robwalker.net. Or use the comments.

—> Or just click the heart symbol. That always makes my day.
And thanks for reading …
rw
All this by Rob Walker PO Box 171, 748 Mehle St., Arabi LA 70032. Send me mail!
To unsubscribe see the bottom of the email, or go here